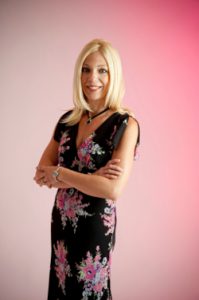 Tina Marie Singh, RESA Member and Principal at Lionsgate Design, brings a touch of glamour to everything she does. Having recently designed and built her own home, Tina is currently working on decorating her dream home while bringing stunning design to her clients as well. Today Tina talked to me about her new home, her favourite decor pieces, her experience on the Divine Design show, a stunning fashion district condo she recently decorated and more. Read on to find out what Tina had to say. – Crystal Williams
Tina At Home
Have you always had an interest in home decor?
Yes, I have always had an interest in home decor. When I was growing up I was constantly changing my room around and adding new decor. I've had a love of design since I was a child. I picked it up from my Mother who is like a "Martha Stewart". She is very creative and someone who I look up to.
How would you describe your personal decor style?
My personal decor style is a classic contemporary look with lots of glam. People who know me know that I like bling and add it in every design detail. Who doesn't like a bit of bling? I did a kitchen design (my own kitchen) and added a bit of bling with the hardware, swarovski crystal handles and knobs.
What one room in your home would you say is your favorite and why?
My favourite room in my home is the kitchen/great room area. It's one big open space. I recently built my own home from ground up and designed the house. The main living area is the hub of the home, everytime we entertain everyone gathers in the kitchen so I designed a big open area with a big 84″x84″ island in the kitchen so it's easy to entertain. The picture shows the space before I furnished it – it is still in progress. I'm going for a rustic, classic, contemporary look.
If you could pick one room in your home that needs to be redone, which room would it be and why?
I would have to say my Master Bedroom. I'm in the midst of decorating all the other spaces in the home and leaving my master bedroom for the last. My side tables at the moment are my chandelier boxes. My husband made a comment about having a beautiful home but our bedroom has boxes as side tables and a bed that sits on the floor so I think I should finish that space to make it complete: our oasis from the kids.
If you could have a designer come into your home, who would you pick and why?
I actually had the opportunity of having my favourite designer come into my home. Candice Olson designed my basement for us for an episode of Divine Design. I was very fortunate to have been contacted when I wrote in for the casting call. Candice has always been my inspiration. I love her style and she's so very down to earth in person just like she is on TV.
If you could pick one piece in your home that would be your favorite, what would it be?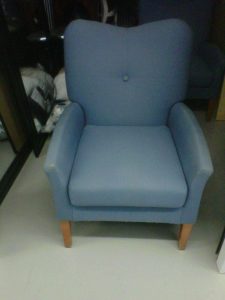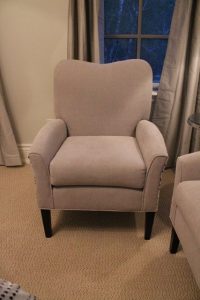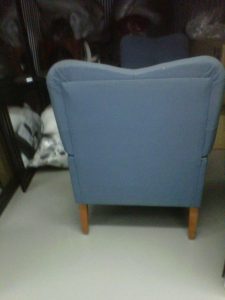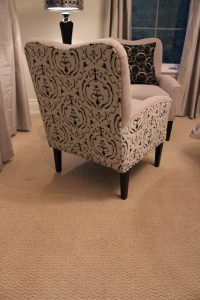 The chairs I designed and had re-upholstered. I love them!!
Tina on Home Trends & Inspiration
Where do you find inspiration?
I find inspiration through my travels, magazines, online and HGTV shows
What current home decor trends do you love?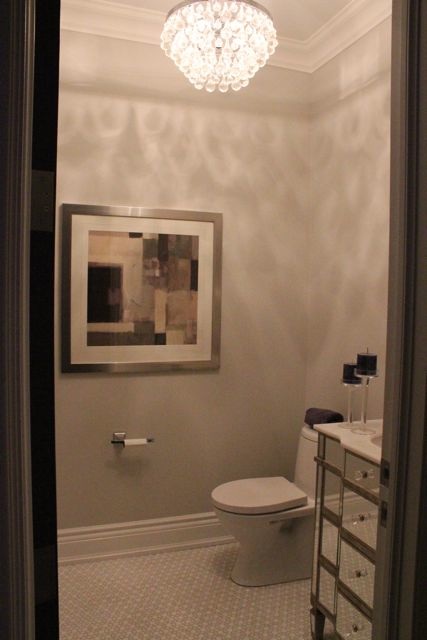 Current home decor trends I love… the colour buzz – PURPLE!! Such a luxiourious colour symbolizing royalty, magic and mystery. Purple is perfect for a bedroom or powder room!! The pictures shows a powder Room I designed with purple in the artwork and hand towel. Goes nicely with the marble sunflower tile on the floor, the mirrored vanity and the paint colour on the wall. I also love Turquiose. It reminds me of the sea – very calming and relaxing.
What current home decor trends do you think should go?
I'm not a big fan of weathered kitchens.
Tina at Work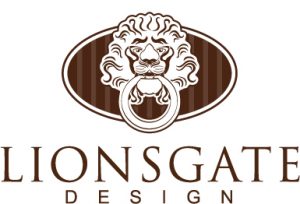 How did you get involved in the Home Staging industry?
I got involved in the staging industry by first attending QC Design School while I worked my full time corporate job. I knew I wanted to pursue my passion and thought staging would be great. I loved the entire process and after the course I staged my home and sold it within 4 days with multiple offers in a bidding war.
Can you share before and after photos of one or two of your favorite staging projects and tell us a little about them?
My favourite staging project was a 500 sq foot vacant condo that was on the market for 6 months prior with another agent. It was staged but got no bites. The new agent contacted me and asked that I stage the vacant unit. It was a very big challenge with such a little space and the client was a bit hesitant with staging because it was already staged before. No pressure… 🙂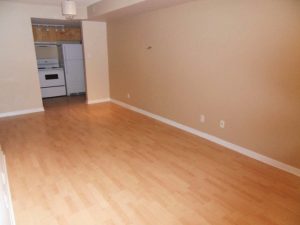 The condo was in the fashion district so I dialed in my buyer by bringing the dream to them. I wanted to target a young, hip female who was into fashion and loved the nightlife. I created zones to make the space appear larger. By creating a focal point with the electric fireplace I was able to create a cozy living area, a small dining area and an office space for the fashionista to create her fashion designs. I made the condo a cool boutique suite. As a result it sold in 5 days $20,000 over the asking price!
What is the biggest thing you have learned about design as a home stager?
The biggest thing I have learned about design as a home stager is that when staging a home you have to target the majority of people. It is best not to go with the trends but to stay as neutral as possible.
What is your favourite part of the staging process?
My absolute favourite part of the staging process is the end result. I love it when the homeowners say they wish they had spent the money when they were living in the space so they could enjoy it as opposed to spending the money and leaving. I tend to get the decorating job when they buy new. 🙂
The following two tabs change content below.

Crystal Williams
As Online Editor for Canadian Home Trends Magazine, Crystal has a passion for design and decor. She enjoys browsing the web to find new, exciting decor ideas, DIY projects and unique products to share with her readers. With formal training in graphic design and a background in the event planning/design business, Crystal looks at design from all angles to give readers a fresh perspective.

Latest posts by Crystal Williams (see all)