Choosing the right fixture to hang above your dining room table is an important step in planning the overall design of your space. This fixture is the statement piece of your room, defining the style of the space while creating a design statement that can be carried through into your furniture and accessories. We're taking a closer look at the types of fixtures available for your dining room and sharing some great tips from the experts at Living Lighting to help you select the best option for your home!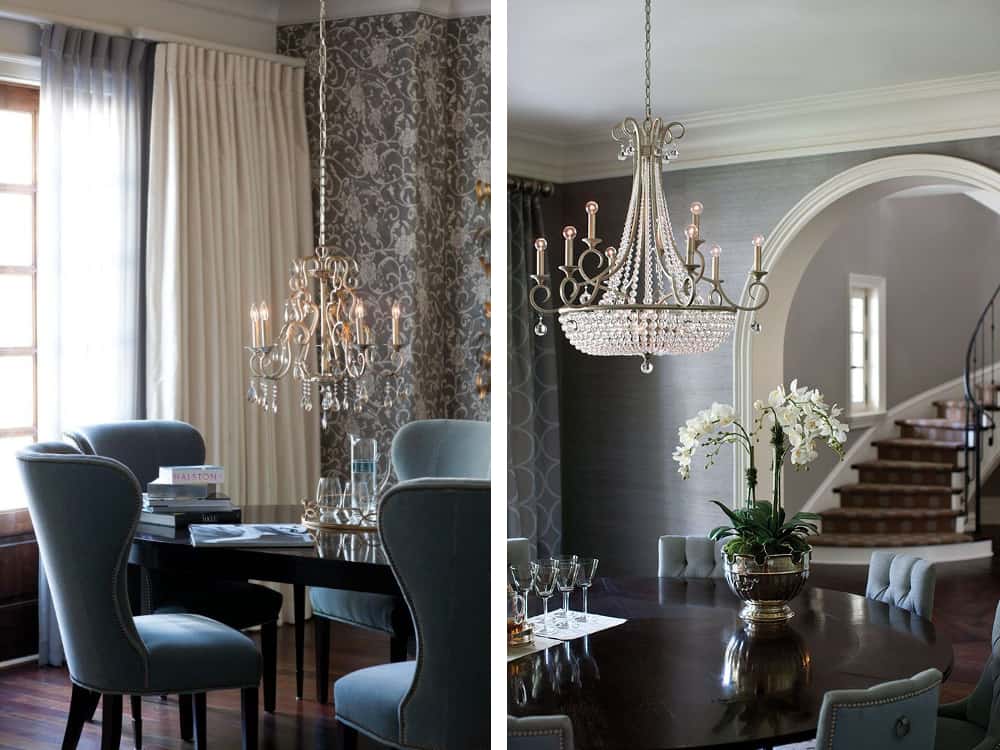 Chandelier
A chandelier whether traditional or contemporary, offers optimal dining room lighting. A chandelier to suit a round or oval table, a harvest table or a square table can be found in both traditional and contemporary styling and adds a feeling on luxury and glamour to the space.
LIVING LIGHTING TIP: Choose a chandelier that is 6″ narrower than the smallest width of the dining table. A dining room fixture should hang approximately 30″ above the tabletop in an 8′ ceiling. For each additional foot of ceiling height, add one inch. For a 10′ or higher ceiling, the chandelier should hang approximately 32″ above the table.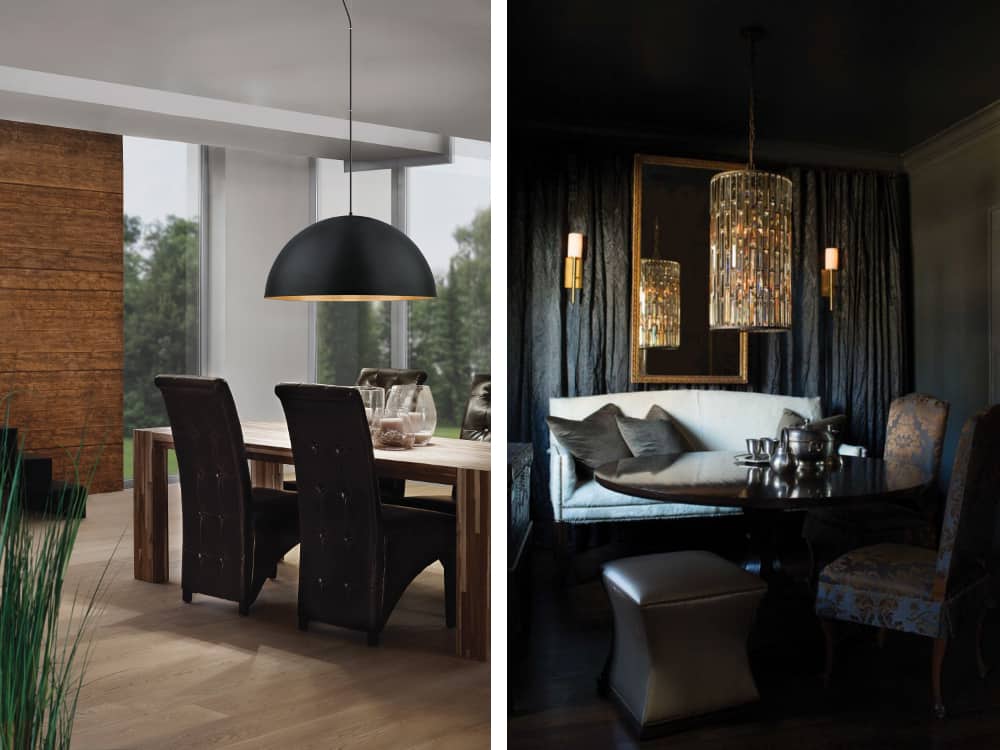 Large Pendant or Lantern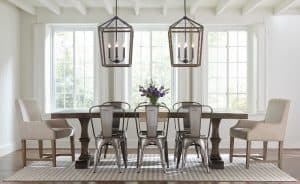 Similar to the chandelier, a large pendant or lantern can work well for a round or square table. Pendants are available in a wide variety of styles: from luxurious glam to sleek modern. In general, a pendant light offers a more contemporary feel then a chandelier, making it a great choice for contemporary and transitional spaces.
LIVING LIGHTING TIP: If you have a large formal dining room with a long table, hanging two chandeliers or large pendants over the table can make a beautiful design statement! When choosing fixtures, you will need to consider not only the width but also the combined length of both fixtures and desired space between the two.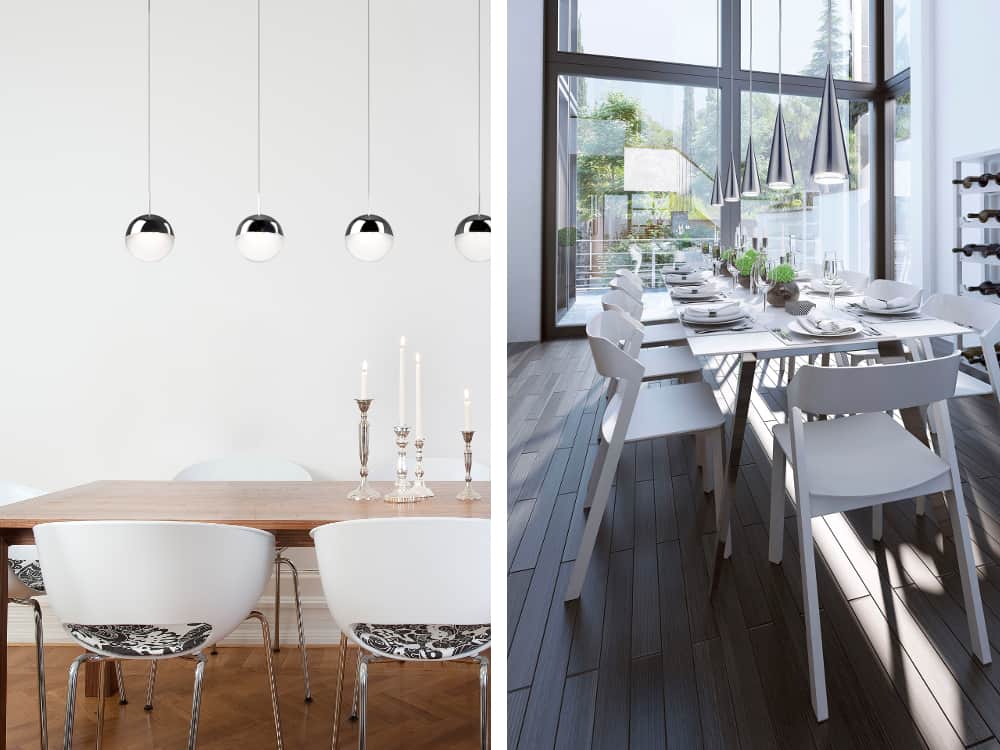 Mini Pendants
While mini pendants are more commonly seen above a kitchen island, a series of mini pendants can make a unique and memorable lighting choice for a dining room as well. Mini pendants can be grouped together at various heights over a round table, or hung in a line over a rectangle table, similar to how they would hang over a kitchen island.
LIVING LIGHTING TIP: If you love this look but only have a single light outlet to work with, consider a track system that uses a rail with pendants suspended from the rail, all feeding from one outlet. This is also a great solution if you are renovating and the existing outlet isn't centered above the table.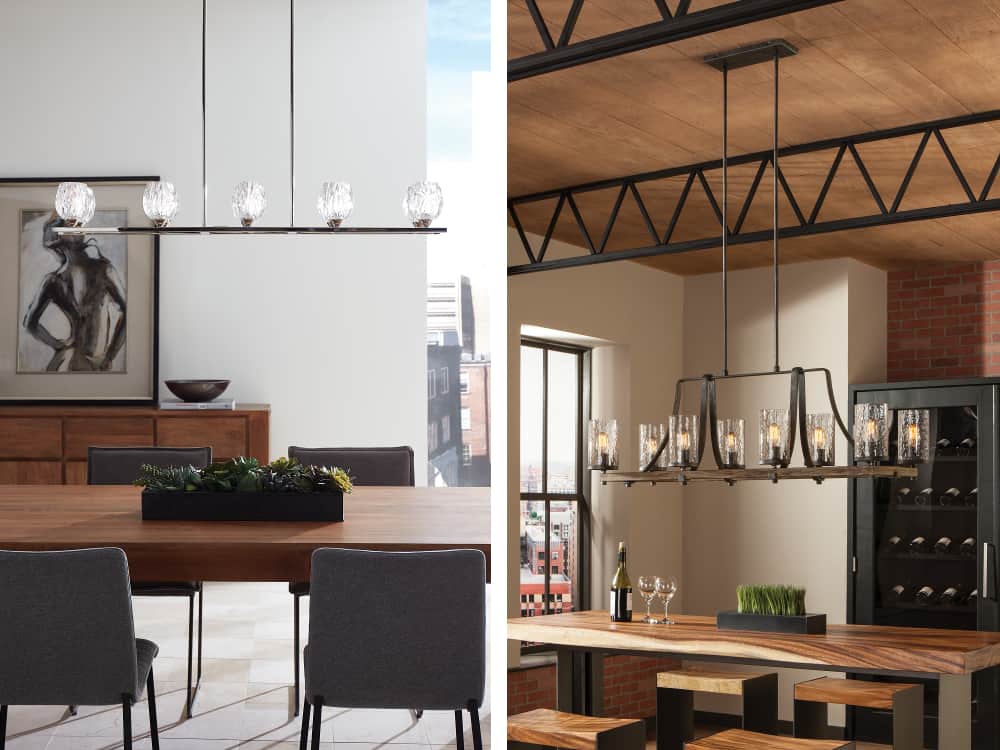 Linear Fixtures
A linear fixture, sometimes referred to as an island or bar fixture, works best over a rectangular table and creates the same long, linear shape as a series of mini pendants would but with a single outlet. Available in a wide variety of styles, a linear pendant can work well in a minimalist setting, a formal, traditional setting and everything in between.
LIVING LIGHTING TIP: When choosing a linear table, your fixture should be 12″ smaller then the dimensions of the table. For example, if you have a 3′ x 6′ table, the maximum linear fixture size is 2′ x 5′.
For more great lighting ideas and advice, speak to one of our experts at your local Living Lighting showroom.
The following two tabs change content below.

Crystal Williams
As Online Editor for Canadian Home Trends Magazine, Crystal has a passion for design and decor. She enjoys browsing the web to find new, exciting decor ideas, DIY projects and unique products to share with her readers. With formal training in graphic design and a background in the event planning/design business, Crystal looks at design from all angles to give readers a fresh perspective.

Latest posts by Crystal Williams (see all)