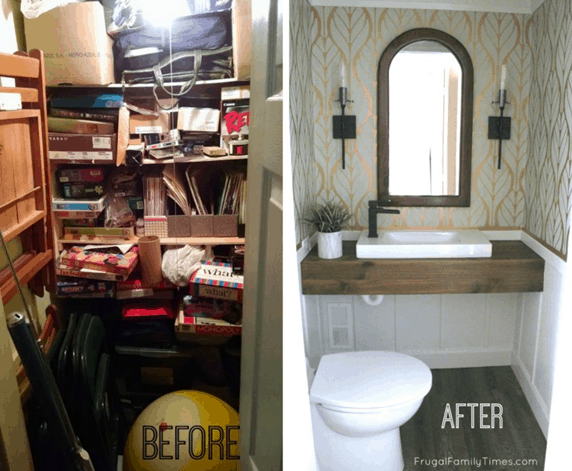 According to an article published on HGTV.com, bathroom remodels tend to yield 100 percent return on investment – at least. A similar tune can be sung when it comes to adding a second bath. A National Association of Realtors study, conducted by Florida State University professors G. Stacy Sirmans and David Macpherson, revealed that adding a bathroom can increase the selling price of a home by about 24 percent.
That said, while it may make fiscal sense to add a bath, logistics can be another story entirely. For homeowners without a lot of space to spare, converting a spare closet into a half bath could be a clever workaround. Here are three important things to consider before you do so:
Consider: Resale Value
As any real estate agent will tell you, homes with at least two bathrooms tend to be more appealing to home buyers – but adding a full bathroom can be costly, time-consuming, and stressful. Half baths, on the other hand, demand less space, are generally more manageable to install, and add value. Long story short: if you have a conveniently located closet, you likely have the requirements necessary to add a half bath. When styling your half bath, stick to simple, neutral styles, which will bode better as far as resale is concerned.
Consider: Layout
Once you've determined where your half bath will go, start brainstorming what will go in it. As important as style is, functionality is key, so you may want to skip the fancy storage unit and decorative accents and stick to the half-bath-basics: a sink, mirror, and toilet. If possible, give priority to adding a window, which is a clever and effective way to add ventilation and natural lighting. If a window is not possible, opt for a fan/vent system to prevent stuffiness.
Consider: SANICOMPACT, by SANIFLO
It's a shame that our houses don't evolve as our families do; fortunately, bathroom technology is evolving. At the forefront of bathroom, kitchen, and laundry room innovation is SANIFLO. The SANICOMPACT system by SANIFLO is a compact and self-contained pumping system, which makes it possible to install a new bathroom without a plumbing rough-in. The SANICOMPACT system utilizes up flush technology and features a sleek tankless design. In addition to being an affordable alternative to a traditional plumbing system, SANICOMPACT uses minimal amounts of water, making it an environmentally friendly choice as well.
To learn more about the SANICOMPACT system, visit the SANIFLO website.
The following two tabs change content below.
Zakiya Kassam
Zakiya is a freelance writer/editor based out of Toronto. You can follow her on Twitter: @zakkassam
Latest posts by Zakiya Kassam (see all)