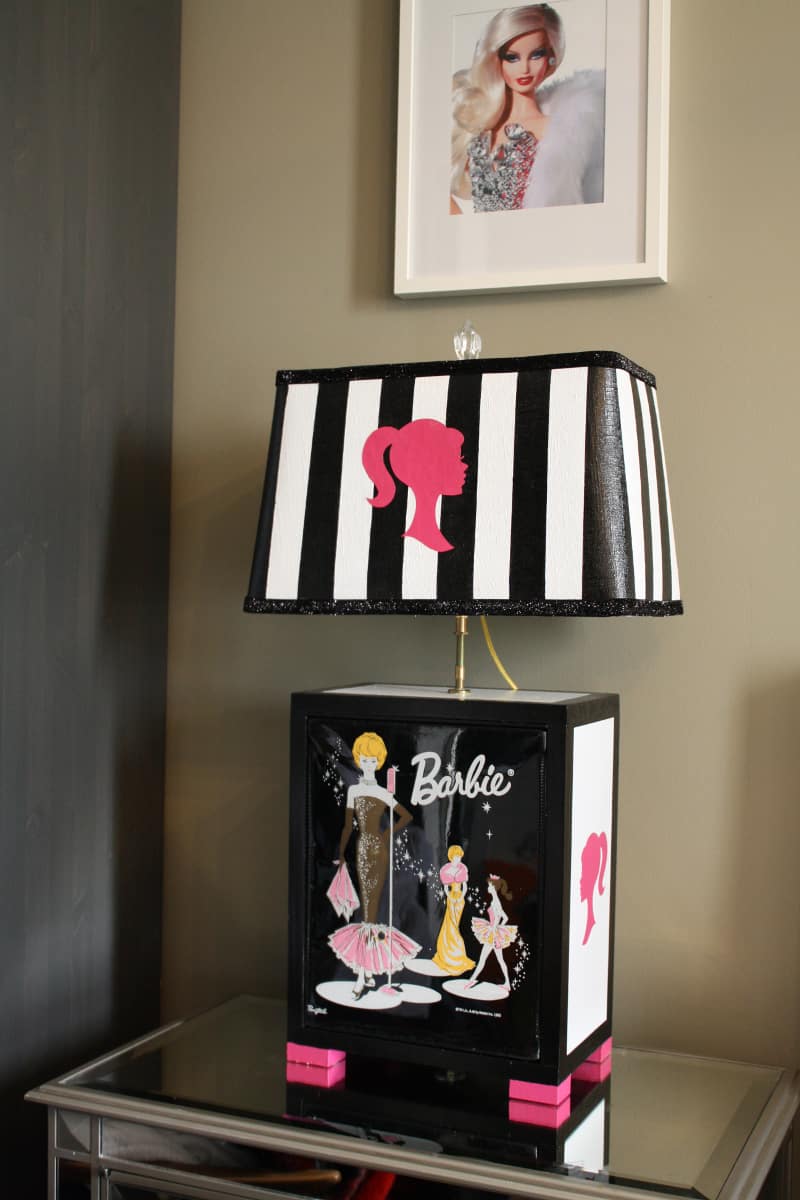 Barbie DIY Lamp Makeover – All Barbie girls eventually grow up so what to do with a client's vintage but broken barbie closet. Nicholas Rosaci has a bright idea and refashions them as fashionable Barbie lamps.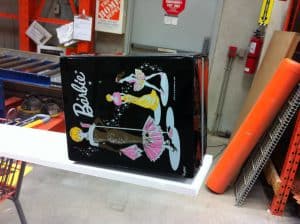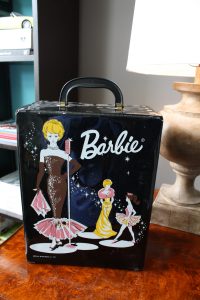 What you will need:
An old 'Barbie Wardrobe" or similar.
Wood plank cut into 4 lengths (Home Depot Cutting service)
No Nails wood glue and small 1 1/2 in. finishing nails
Lamp kit and threaded lamp rod
Lampshade
4 small lamp feet
Rustoleum paint – gloss – white / black / pink
Masking tape
Glitter ribbon banding
Glue gun and sticks
Barbie silhouette logo
Barbie DIY Lamp Makeover STEPS: Cut wood into 4 planks needed to create a tightly fitted box (open-sided) around the Barbie Wardrobe. Sand edges smooth. Use wood adhesive and small finishing nails at the edges to join the planks. Glue 4 small wooded squares "lamp feet" to the underside of the bottom base plank. Drill a small hole in the center of the top / bottom sides of the wardrobe and open-sided box just large enough to accommodate the lamp rod kit.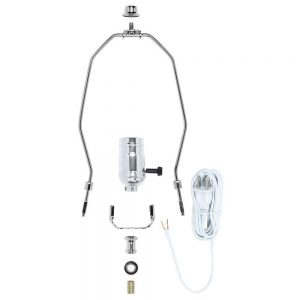 Prime all areas of the box, let dry, and then paint all sides black. Use silicone glue to affix the wardrobe inside the open side box. Feed the lamp rod through the box top and bottom hole and secure all lamp hardware according to lamp kit instructions.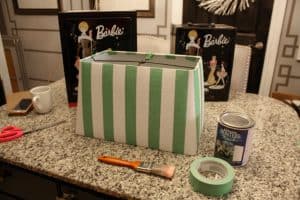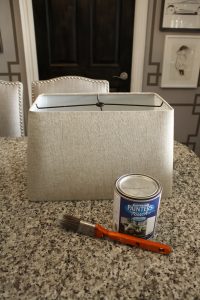 Square lampshades were in the wrong color so they were painted with white gloss paint. When dry, masking tape was applied to create bold painted stripes in black gloss. The shades were finished with a pink Barbie silhouette, sourced online, printed to size, and cut with a craft knife to create a stencil used to trace (using a pencil) the image onto the lamp sides and shade. The outline images were painted Barbie Pink, and a glittery ribbon was glued on to band the shades for a glittering final Barbie touch! For more unique items for your home,
click shopCHT.com.
For more great ideas,
click here.
The following two tabs change content below.
Nicholas is the DIY Editor for Canadian Home Trends Magazine, an award-winning Designer Decorator, and appears as a guest expert on City TV's CityLine. As Principal Designer, Interior Decorator and Stylist for
Nicholas Rosaci Interiors
, Nicholas creates chic, confident and glamorous spaces that cross the divide between Modern and Traditional.
Latest posts by Nicholas Rosaci (see all)