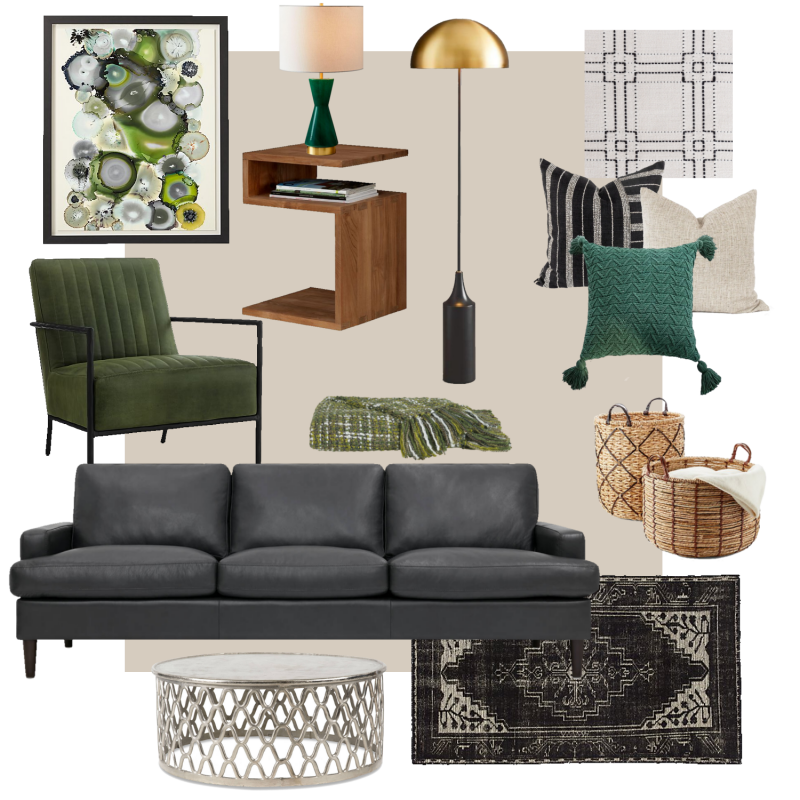 Family Room Decor Concept – I was given the challenge to imagine a space inspired by a green, tasseled throw pillow from ShopCHT. I chose a family room design concept for this project and included a hint of emerald green which is both on-trend and rich-looking. The goal for this space is a contemporary, casual space with an air of sophistication, timeless details and a touch of bohemian charm.
The black leather sofa is a timeless detail. It will always be a classic because it can coordinate with any design style. As the largest piece in the room, this makes it a smart investment that you will enjoy for many years to come, even as styles and trends change!
Family Room Decor Concept includes artwork. This is a great way to bring a color scheme together. I chose a piece that included blacks and greys mixed with a variety of greens to pull together the various greens through-out the space. To add a natural warmth to the space, I included a wood side table and wicker baskets. Sophisticated finishes like leather, velvet and metallics are balanced with the casual bohemian accents in the carpet, baskets and pillows.
Design Board Concept by Designer Jacklynn Little
Sources:
For more unique items for your home, click shopCHT.com.
For more great ideas, click here.
The following two tabs change content below.

Jacklynn Little, Principle Designer and founder of
Jacklynn Little Interiors
, has been designing most of her adult life and turned her talent and passion into a full time career 15 years ago. Her focus is always to help her clients achieve a functional and beautiful home all while giving them a positive design experience. Jacklynn takes the overwhelming design and renovation stress away from her clients so they can focus on the end results, "it can certainly be overwhelming." She works collaboratively with her client's style, needs and budgets to develop a space that is both creative, contemporary, and unique to her client's lifestyle. Jacklynn believes that everyone deserves to live in a beautiful home.

Latest posts by Jacklynn Little (see all)