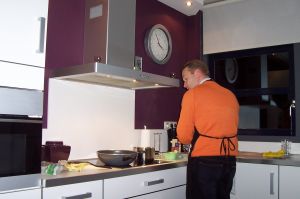 How can I save money on my kitchen reno?
HIRE A PRO
Other than making your new kitchen look fabulous, there are two other excellent reasons to hire a designer and contractor. An established interior designer will be able to offer big discounts from suppliers while an experienced contractor will reduce the number of costly mistakes.
COUNTER TOPS COUNT
There are so many gorgeous options for counter tops on the market that it's just a matter of choosing the right one. Consider both style and functionality. If you don't mind some nicks and marks showing, then good old-fashioned butcher's block is an affordable and practical choice. There are several natural and manufactured stone surfaces available in practically the same price range. Quartz counter tops are very popular as they mimic the look of marble but without requiring the high maintenance care. For a seamless look, continue the counter material all the way up the wall to create a matching backsplash.
There are tricks to getting a beautiful counter on a budget. If you love granite, there are various grades available that range in price. The counter top will dictate the colours and style of the space, so choose wisely.
GO LIGHT ON THE LIGHTING
The more lights you require, the more your labour cost will increase. Plan for a combination of lighting to ensure that all areas of the kitchen are well lit. A couple of hanging pendants with under cabinet lighting is a great combination. Scour flea markets and thrift shops for a single chandelier that will make the space unique.
EVERYTHING BUT THE KITCHEN SINK
Try not to move existing plumbing if you can avoid it. By keeping the sink where it currently resides, you will save yourself lots of money in plumbing costs. If you have completely changed the layout of your kitchen and must move the sink, plan to upgrade your pipes at the same time so you won't have to do it in the future. An undermount sink is a design trend that is not likely to disappear anytime soon. Figure out if you would get more use out of a single or a double sink. Add a stylish faucet to finalize the look.
The following two tabs change content below.

Kim Bartley, Principal of Kim Bartley Design, brings 25 years of business ownership and management to the table. Kim's keen eye for design lends her rooms an edgy sophistication while remaining current and functional. Her philosophy is that your home should make you happy and reflect your lifestyle and changing needs. Focusing on unparalleled client care, Kim aims to make the design experience positive and enjoyable at each phase of the project. She works collaboratively with her clients to develop spaces that are clean and modern but still warm and approachable. Kim believes that everyone deserves to live in a beautifully designed space and focuses on truly "getting" her clients.

Latest posts by Kim Bartley (see all)