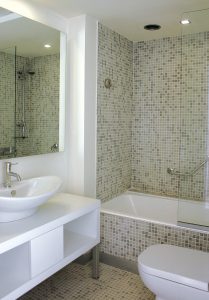 Question: What are some repairs I can do myself to update my bathroom?
A complete bathroom renovation can be a very costly endeavour. But with a few simple, cost effective changes, your outdated powder room can become a style oasis.
MIRROR, MIRROR ON THE WALL
Bathroom mirrors are often frameless and uninteresting but they don't have to be. Replace your existing mirror with a one-of-a-kind from a thrift shop. Or visit your local framer to add a decorative touch to your frameless version. Whether it's deco, modern or rustic, choose the style of frame to complement the rest of the room.
HOOKED UP
A simple bistro shelf with hooks can often be found hanging in a foyer. Change it up by adding one to your bathroom and you'll have a place to hang towels and a shelf to show off those apothecary jars or seashells you have collected over the years.
IT'S CAULKING TIME
Though a practical project, applying new caulking to your sink, tub and shower will give the entire room a facelift. Adding a fresh feel to your space, this diy task will also help to prevent leaks and water damage in your bathroom for years to come.
SHOWER THE PEOPLE YOU LOVE
A new showerhead can take your staycation to the next level. Depending on your personal preference, you can install a dual showerhead with varying pressures and speeds, or a rain showerhead that delivers a softer, more relaxing experience. Either way, you might never want to go away on vacation again.
LET LIGHT IN
Nothing makes a bathroom look more outdated than an old light fixture. Adding a fancy flea market chandelier or modern sconces on either side of the vanity will brighten up the space in more ways than one. With so many gorgeous fixtures on the market now, swapping it out will really change the space for a relatively low cost. It's also relatively easy to do compared to other projects. Make sure to hire an electrician though if you don't know what you are doing.
REDECORATE
The quickest update is also the easiest one for those of us who are not handy. Change up the accessories and decor. Nothing beats a new set of white, fluffy spa towels, a luxurious bathmat and a coordinating shower curtain for reinventing a space. Pick a special piece of art to hang and add a vase of fresh flowers for a bathroom you will want to escape to.
The following two tabs change content below.

Kim Bartley, Principal of Kim Bartley Design, brings 25 years of business ownership and management to the table. Kim's keen eye for design lends her rooms an edgy sophistication while remaining current and functional. Her philosophy is that your home should make you happy and reflect your lifestyle and changing needs. Focusing on unparalleled client care, Kim aims to make the design experience positive and enjoyable at each phase of the project. She works collaboratively with her clients to develop spaces that are clean and modern but still warm and approachable. Kim believes that everyone deserves to live in a beautifully designed space and focuses on truly "getting" her clients.

Latest posts by Kim Bartley (see all)