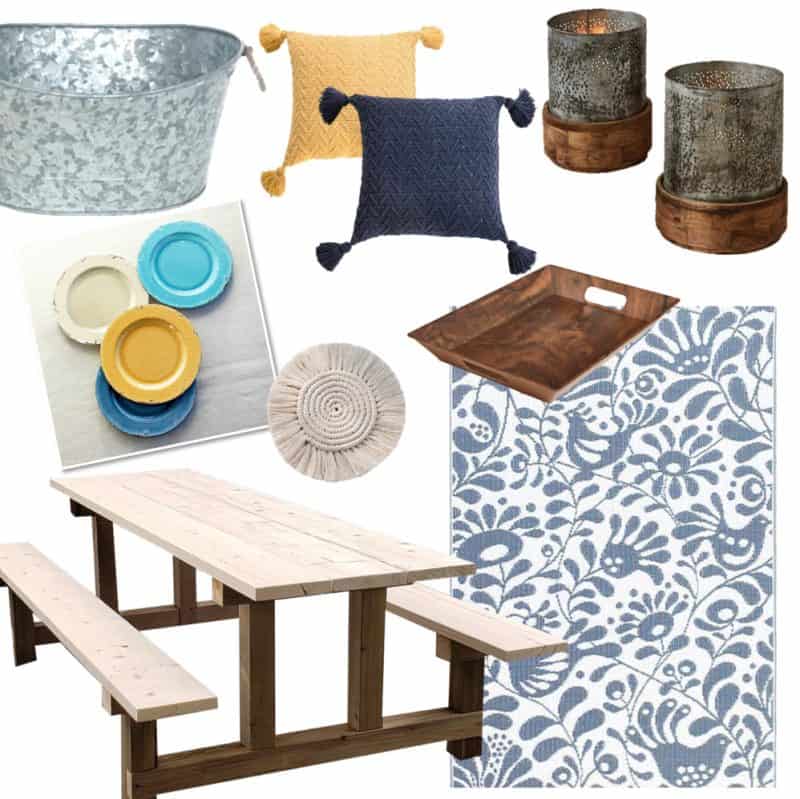 The two-tone finish on this rustic picnic table inspired me to create a backyard oasis inspired by afternoons spent at the beach. A color palette that combines a mix of ocean-inspired blues with bright, sunny yellows is complimented with vintage details and rustic, drift-wood inspired wooden finishes.
If you've ever watched one of my design segments on the Marc & Mandy Show, you'll know that I love mixing and matching dinnerware to add more visual depth and interest to a tablescape. This outdoor place set, which is available in 4 different colors, is the perfect way to do just that! I added in a wood-look tray and rustic wood and steel candle holders to bring that natural, vintage feel to the tablescape. A simple macrame style drink coaster at each place setting is the perfect finishing touch to add a it of textured detail.
A pretty printed outdoor rug elevates the space, giving it a touch of elegance while a few throw pillows in a soft knit add texture and create an inviting, cozy feel to the space. To finish the look, a vintage style steel bucket is the perfect place to display a selection of beverage on ice!
Expanded From: Canadian Home Trends Magazine Cottage & Outdoor Living Special Edition 2021!
The following two tabs change content below.

Marc Atiyolil is the editor-in-chief of the home décor publication, Home Trends Magazine. His charismatic, down to earth approach can be seen first hand as the co-host of the Marc & Mandy Show airing on networks across North America. His mantra, "Be bold, be different, be unique – Yet keep it simple" is reflected in all of his work. Marc is an avid promoter of breaking down the myths of design and offering simple alternatives to complicated design processes.

Latest posts by Marc Atiyolil (see all)