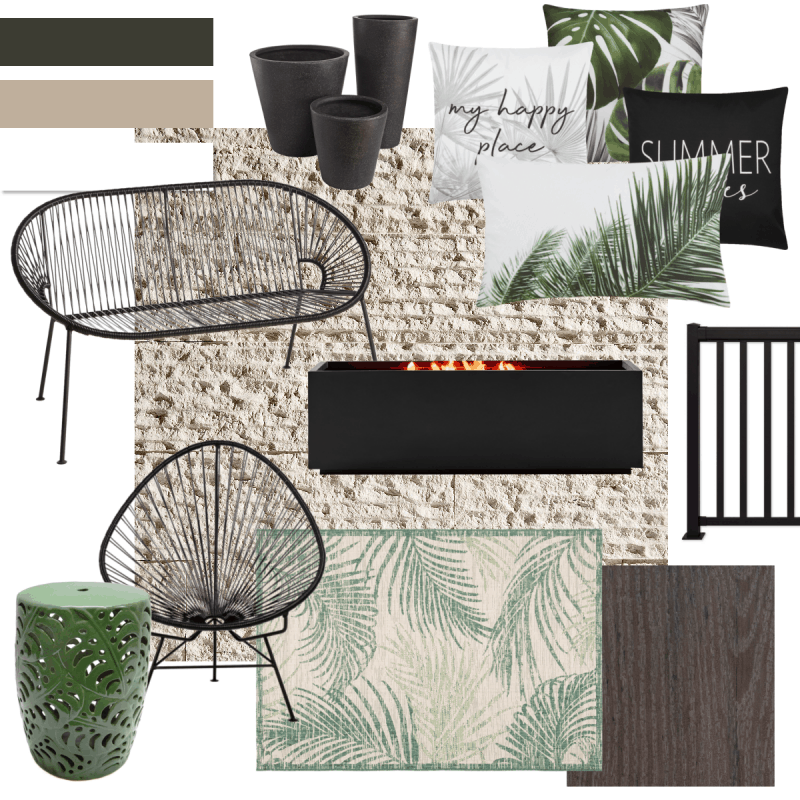 Urban Chic Patio – There is nothing more striking than a black and white color scheme! To create this dramatic look, perfect for a brownstone patio or sleek urban city housing, I paired a textured stone veneer with a warm. chocolate brown vinyl deck in a Walnut look and finished the space with stately black Picket System aluminum railings for a modern, low-maintenance space. Choosing materials that require little or no maintenance will ensure that you get to spend your summer enjoying your patio instead of repainting or repairing!
A timeless black and white combination of furniture and accessories makes it easy to update your urban chic patio simply by changing out a few accents! To create a truly upscale look, opt for ample natural greenery and a few accents in leafy patterns. This adds a bit of color and visual interest to the space without taking away from the clean, urban feel of the black and white color scheme.
Urban Chic Patio Sources:
The following two tabs change content below.

Marc Atiyolil is the editor-in-chief of the home décor publication, Home Trends Magazine. His charismatic, down to earth approach can be seen first hand as the co-host of the Marc & Mandy Show airing on networks across North America. His mantra, "Be bold, be different, be unique – Yet keep it simple" is reflected in all of his work. Marc is an avid promoter of breaking down the myths of design and offering simple alternatives to complicated design processes.

Latest posts by Marc Atiyolil (see all)