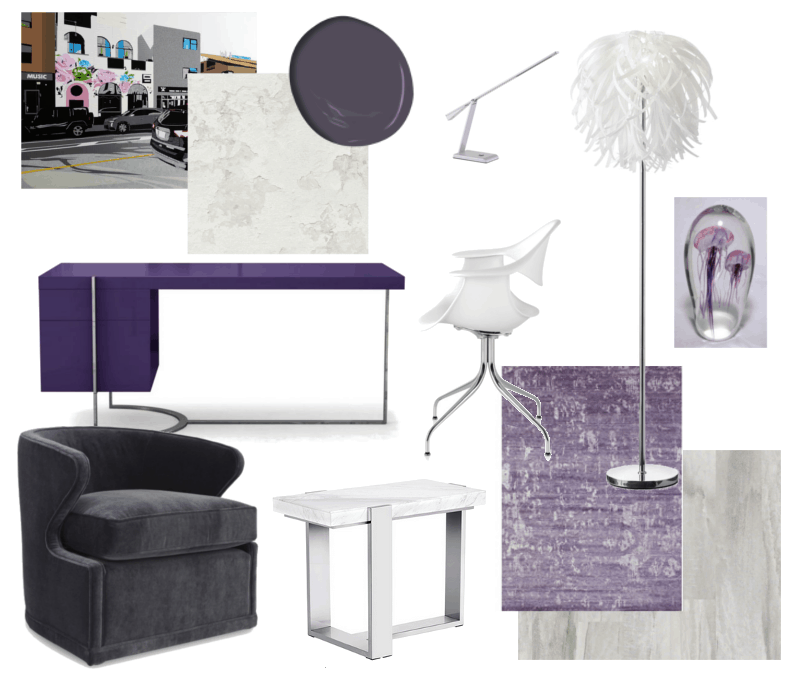 In this home office, the mixture of textures is key in adding layers of visual interest. The illusion of weathered plaster walls and whitewashed floors, achieved using Weathered Plaster wallpaper from the
Precious Moments by Nina Hanock
collection and resilient flooring are juxtaposed with the vibrant, high gloss desk, velvet guest chairs,
feathered lampshade from Living Lighting
, and mottled area rug. All patterns are soft and minimal, allowing the room to be punctuated with the love of art, on walls, and in accessories. Mixing textures appeal to many of our senses and heightens our experience of comfort. There's no magic formula. Embrace experimenting until the balance feels right in your soul. Sources:
Wallpaper,
Desk in Voilet
,
Desk Chair,
Desk Lamp
,
Area Rug
,
Flooring
,
Flower Power Artwork
,
Guest Chair
,
Side Table
,
Floor Lamp
,
Paint Color
,
Art Glass Accessory
The following two tabs change content below.
Michelle Cook is the owner and Principal Designer at Indesign. Since 2000, her talented team has produced stunning designs in residential, commercial and hospitality projects in Canada and the US. She gained expertise as a Salon and Spa Designer with Wella Canada before joining the Benjamin Moore Corporate Design Team. Michelle helped create countless home makeovers, photo shoots and set designs and partnered with Benjamin Moore Corporate US to produce colour trend research and forecasting. She was honoured to work on the multi-­‐million dollar renovation of the Wellspring Wellness Centre at Sunnybrook Hospital along with 28 top designers. Michelle has also been featured many times on CityTV's CityLine, Home Day. Her light spirit and confident vision are always on.
Latest posts by Michelle Cook (see all)