In small spaces, it's no secret that every bit of floor and counter space is valuable real estate. While the 'less is more' principle applies, the reality of everyday living requires us to be storage sleuths, always on the hunt for one more square foot or inch. Here are our top 3 tips to help with your eternal search for space by designer extraordinaire Michelle Cook.
1. Plants are timeless and classic infusions of colour and texture. Where to put them when you don't have the space? Try vertical gardening! It's low maintenance living art that hangs on your wall.
(Photo Source: SuitePlants.com)
2 .Under-cabinet storage can be added when there's no light valence installed to the bottom of your cabinets. This coffee-pod holder clears clutter in a discreet and neat drawer. In bathrooms, where counter space is a luxury, mount several picture ledges to hold small toiletries.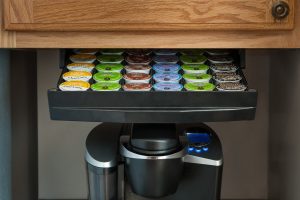 (Photo Source: Koncealit.com)
3. Look at fixed design elements differently. The space under a bar height breakfast counter overhang can be utilized by placing a desk or small bookcase. This narrow depth console table fits perfectly under a counter overhang, with enough room for office essentials.
(Photo Source: Structube.com)
Small Space Reality Check
Myth: A small space's colour scheme should be light and neutral.
Reality Check: Don't be afraid to use a dark hue in a small space. Simply balance the colour with plenty of natural and artificial light, so that the room does not feel dark but rather warm and cozy.
Myth: Small spaces are cluttered.
Reality Check: Two words – multi-functional furniture! A small space doesn't have to look cluttered, especially when using furniture with built-in storage. Avoid clutter buildup by having a designated spot for items. If you are organized, you will be more likely to put items away after using them.
Myth: A small space calls for small furniture.
Reality Check: Don't fall into the trap of buying ONLY small-scale furniture. Filling a space with smaller furniture will make it "feel" small. Instead, mix-and-match a large piece with a few smaller ones to create a balanced look.
Text by Michelle Cook, As Seen In: Canadian Home Trends Spring 2014 – On newsstands April 2014! Pick up a copy today or subscribe to our digital edition for 20% more content!
The following two tabs change content below.
Michelle Cook is the owner and Principal Designer at Indesign. Since 2000, her talented team has produced stunning designs in residential, commercial and hospitality projects in Canada and the US. She gained expertise as a Salon and Spa Designer with Wella Canada before joining the Benjamin Moore Corporate Design Team. Michelle helped create countless home makeovers, photo shoots and set designs and partnered with Benjamin Moore Corporate US to produce colour trend research and forecasting. She was honoured to work on the multi-­‐million dollar renovation of the Wellspring Wellness Centre at Sunnybrook Hospital along with 28 top designers. Michelle has also been featured many times on CityTV's CityLine, Home Day. Her light spirit and confident vision are always on.
Latest posts by Michelle Cook (see all)