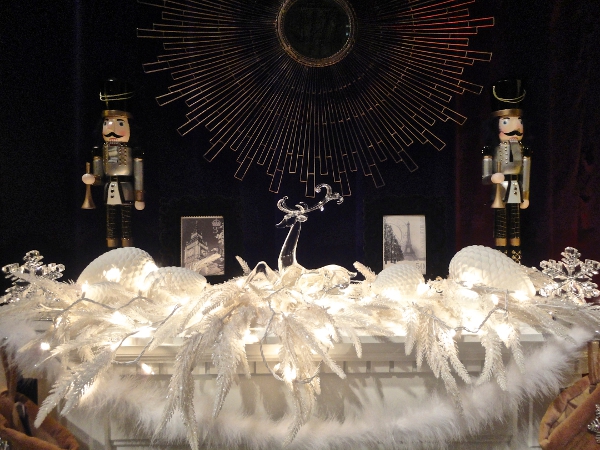 Atten-tion! Makeover inexpensive nutcrackers into your own unique soldiers of style using Ribbons, Pipe Cleaners, Pom-Poms and Bling!
Holidays are a time for special touches. For years I have been transforming off-the-shelf, ready made nutcrackers into the really expensive ones you often see in posh department stores – but for half the cost!
My soldiers started out life as a basic grocery store find with very little costuming. At $15 each they were nicely painted in a classic black and silver cuffed coat! I immediately picked them up thinking how great they would look with a little touch of my DIY flare.
Inexpensive dollar store or big box store nutcrackers can be boring and unadorned but are a great blank slate for customizing. Look for soldiers that have a good build, smooth finish, and most important, have a nicely painted face.
Use pipe cleaners, pom-poms, ribbons, cool looking gems, beads, buttons and jewels to accessorize your man to the max. I cut small pieces of gold pipe cleaners to outline my soldier's coat cuffs and brass office fasteners were used to create the shiny gold buttons.
Best part – almost everything I needed to make my guys stand on ultra glam guard was also available at the dollar store!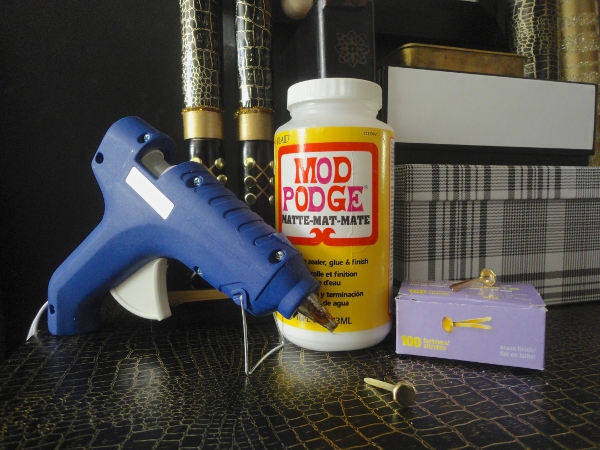 Materials Required
Inexpensive Nutcrackers
Glue gun
Glue sticks
Needle point pliers
Tweezers
White Glue
Mod Podge
Embellishments of your choice: Faux Gemstones and Jewels, Glitter, Buttons, Pipe Cleaners, Pom-Poms, Ribbons, Gift Wrap, Feathers, Beads, 1" Round Gold Fasteners, Fabric and Velvet scraps and, of course – Faux Fur & Feathers!
Instructions
1. Man Hunt!
Dollar stores or big box stores are excellent places to find nutcrackers at a good value! Look for soldiers that have a good build, smooth finish, and most important have a nicely painted face. If the colour of his coat, pants and hat is not a match to your holiday colour scheme, no worries, you can repaint them using regular latex house paint but just leave the face alone – trust me!
2. Bling King
Pipe cleaners, pom-poms, ribbons and cool looking gems are perfect for accessorizing your man to the max while beads, buttons and feathers make for a stage-worthy costume.
3. Fit To Print
Exotic snake giftwrap was used to create a cool pair of snake skin pants! I affixed the pants in place simply using Mod Podge. Also try using wallpaper scraps, graphic stationary or faux-fur for around the arms, cuffs and legs. Give new meaning to standing fierce!
4.Nude Nutcrackers
If jewels, gems and treasures aren't your look, strip the soldiers of their bling, beards and hair and then spray paint them a gloss or matte crisp snow white, bronze, gold, or silver for a great wintery effect! The new "it trend" in stores is the Nude Nutcracker – stripped down and literally "in commando" – the look is clean & modern!
The following two tabs change content below.
Nicholas is the DIY Editor for Canadian Home Trends Magazine, an award-winning Designer Decorator, and appears as a guest expert on City TV's CityLine. As Principal Designer, Interior Decorator and Stylist for
Nicholas Rosaci Interiors
, Nicholas creates chic, confident and glamorous spaces that cross the divide between Modern and Traditional.
Latest posts by Nicholas Rosaci (see all)