Cottage living is a Canadian tradition and for those lucky enough to have a home in the woods or by the lake, it can be an opportunity to express one's personality in a more casual way.
The style and personality of the cottage really depends on the homeowner. In my opinion, you should be free to experiment as you wish whether you want to do wicker casual or madmen mod. Here are ten of my picks for cottage chairs with personality.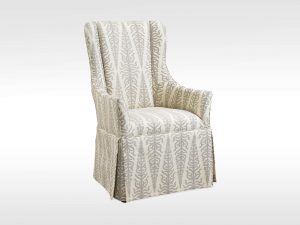 This slipcover wing chair from Brentwood Classics offers traditional shape in a casual and relaxed design that is perfect  for sitting by the window and reading your newest copy of Canadian Home Trends.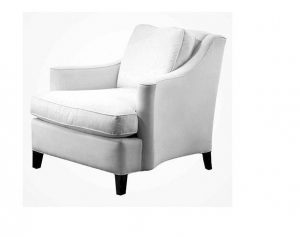 If you'd like a more elegant look, this chair from Whittington is comfortable and can easily be paired with more rustic pieces. You can express your personality with a variety of different fabric options.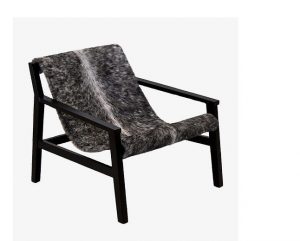 This cool 60's inspired chair from Whittington will add that personal touch to your space. Whether you have one or a pair, it is a good addition to a casual and eclectic room.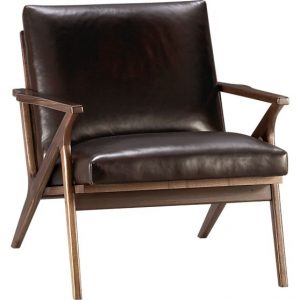 This chair from Crate and Barrel has classic lines which makes it perfect for a cottage. Leather upholstery makes this a durable piece of furniture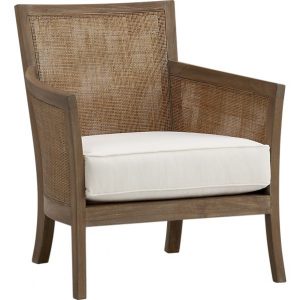 Another Crate and Barrel chair made with handcrafted rattan in a grey wash finish. The weathered and eco-friendly look suits the cottage life.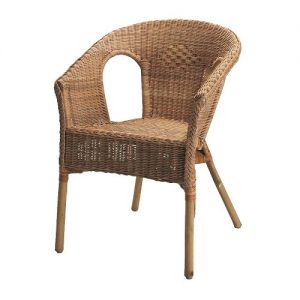 This wicker chair from Ikea is perfect for the porch. I have had two of these chairs for many years and the natural weathering just gives them added personality. For a very inexpensive price, you can have this chair and simply change it's personality with seat cushions from season to season.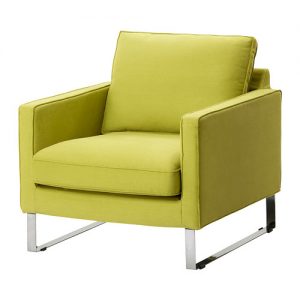 You can bring a modern city look to the cottage with this chair from Ikea. It is inexpensive and the cover is removable and replaceable. I love the colour as well.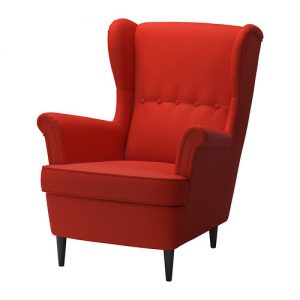 A fun red wing chair with a mod look from Ikea is a fun statement. If you're afraid to have such a bold piece in your home, the cottage is the place to have fun with decorating.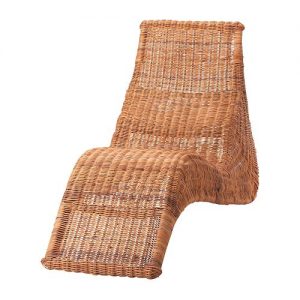 This lounger from Ikea is great for sitting in the sun with a cocktail. The chair is shaped perfectly to allow you to relax and enjoy the environment around you.

This gorgeous chair from the Majorca collection at Restoration Hardware brings that casual yet sophisticated Mediterranean look to your cottage. I love the weathered, chuncky look of the all weather wicker and the general large scale of the chair.
The following two tabs change content below.

Evelyn Eshun has been providing creative Interior Design solutions for her Residential Clients in the Toronto area for over a decade. Principal Designer at
Evelyn Eshun Interior Design
, Evelyn has participated in various Television programs over the years in addition to her Design business. With a passion for design and travel, Evelyn has translated her extensive and various experiences into a design philosophy which puts the Client's needs and functional needs first. Always striving for a unique and personalized solution for each Client, Evelyn prides herself on creating interiors which will stand the test of time. Whether transforming an old and tired property into a vibrant home or simply finishing a home with the decorating touches which make a house a home, the goal is always to collaborate with Homeowner, Trades and Suppliers to finish the project successfully.

Latest posts by Evelyn Eshun (see all)