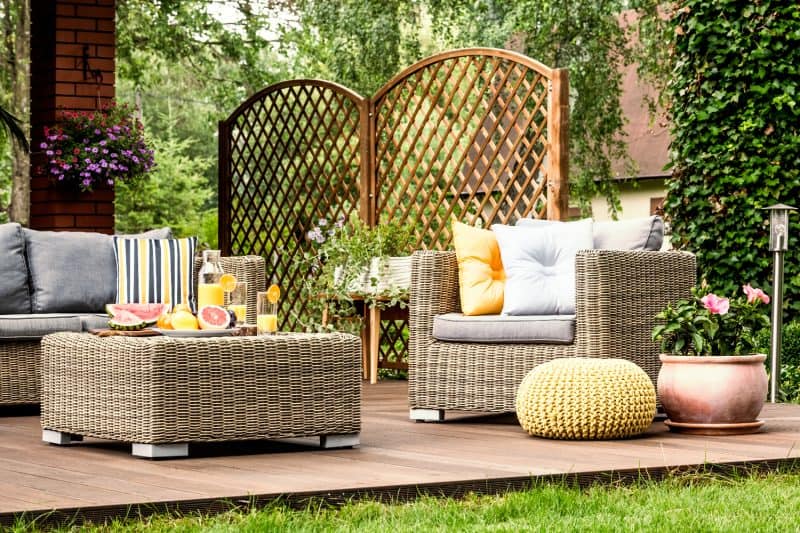 What should I put in my Backyard? Spring and summer are finally right around the corner and people are excited to start planning their time outdoors. Seven celebrity experts have teamed up to help you create your best outdoor experience yet. All seven will be at the Backyard Living Expo, at The International Centre, March 29-31. Come learn how to make the most of your backyard from a variety of HGTV celebrities, gardeners, chefs, DIY professionals, and outdoor build and design experts as they present on the Weber Grill Main Stage and the Pro Series Stage. Visit the show's website for a complete schedule of presentations.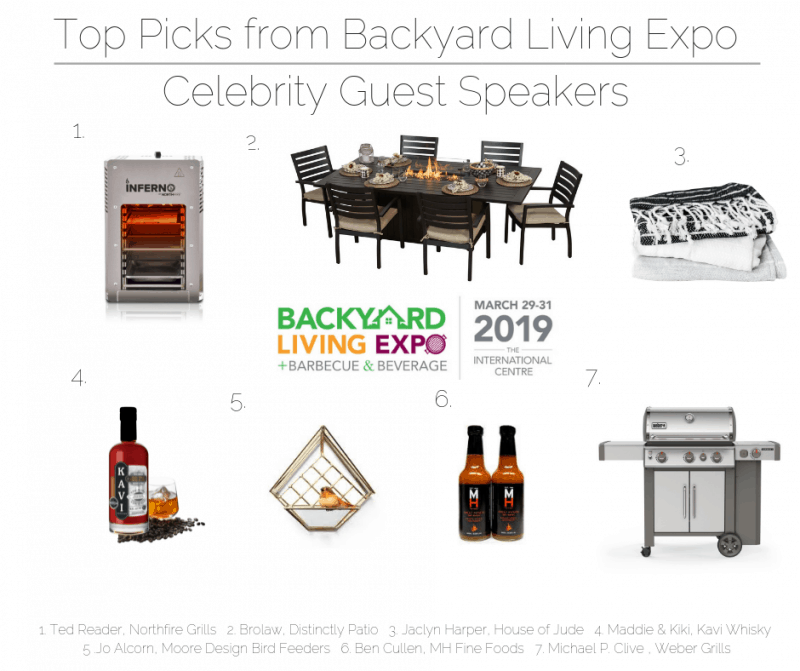 HGTV's BroLaws
Let's face it, spring is going to hit and we are all going to get super excited, put our patio furniture out, plan a BBQ and then Mother Nature is going to throw winter back in our faces – oh how Canadian of her! What should I put in my Backyard? We love to pick items that are weather resistant and can stay outdoors all year round without damage – you might have to spend a bit more for quality, but it will last you longer and save you on storage space! Also, if you don't have a fire feature in your outdoor space, what are you waiting for? It will extend your outdoor season into early spring and late fall. So if Mother Nature does rear her ugly head, you can still enjoy the great outdoors. We love this larger outdoor dining set with built in fire feature from Distinctly Patio.
Designer Jaclyn Harper
The very first thing you want to think about when designing your backyard is how you'll be using it. From there, try creating different zones. You can help distinguish these areas with different types of lighting and/or outdoor rugs or plants. For example, if you wanted to create an intimate dining space you could string lights from the fence to the side of your house, add a dining set, an area rug to ground the space and then some greenery to help make the area more inviting. The lighting from above helps to make the space feel more intimate! You can have the opposite effect by shining lighting from the ground upward. If you have a pool as we do, I don't ever forget about the touches of soft, luxurious and well-designed towels; I have fallen in love with the ones at House of Jude.
Chef Michael P. Clive, Weber Grill Master
Nothing says summer like a backyard barbecue so make sure you are grill-ready. Before your first big gathering of the year, give your gas and/or charcoal grill a thorough cleaning. Whether you are a novice or advanced griller, I recommend these must-haves, essential accessories for the grilling toolbox: a digital or app-connected thermometer, premium grill gloves, long-handled tongs and a durable grill brush. There is also nothing worse than running out of propane mid-gathering – always have an extra full propane tank available. If you're using a charcoal grill, make sure you have several bags of charcoal on-hand. My go-to grill this year is the Weber Genesis II S-335.
Maddie and Kiki, BBQ Entertainers
Psst! We are about to share one of our top-secret entertaining tips with you! The next time you host a backyard barbecue party, try smoking the cocktail glasses before filling them, table-side. It's so easy but SO impressive! Light a thumb-sized piece of fruitwood (Apple, cherry, peach), place it on a fire-safe cutting board, and cover it with your glass. As the flame extinguishes, beautiful fragrant white smoke will circle around the glass, flavoring it lightly. Pour in a finger (or two!) of Kavi Reserve Coffee Blended Canadian Whisky, neat. Serve alongside a salted chocolate creme brûlée and get ready for your guests to flood Instagram with pic upon pic of your spectacular creation!
Jo Alcorn, HGTV Designer
What should I put in my Backyard? I love to use outdoor space as an extension of the home. My own patio space flows nicely from my living room to outside, so I have included many of the same elements outdoors that you find inside my home. Pillows, rugs, décor and even a styled bar cart are all things I have on my patio, and I like to add to any outdoor space. Always remember the importance of outdoor items being washable or made for the season. I have an entire line of outdoor pillows that I created for our Canadian climate. Also remember that accessories are welcome outside and really set the stage for entertaining! Artwork, fountains, a mix of real and even faux greenery can set the stage for gathering, and, of course, tabletop accessories. I love the adorable Canadian, handmade bird feeders from Moore Design Birdfeeders. They'd make an amazing addition to any outdoor space.
Ben Cullen, Cullen's Foods and Mark's Choice
Coming off a long, cold winter, you might be dreaming of eating home-grown foods, prepared and served outdoors. Well, the fresh-food growing season will be here before we know it! Fact is, gardening season starts now so it is time to think about how you want your yard to look this summer. Are you a backyard farmer? Plan your harvest for maximum yield regardless of weather conditions. Want to have it made in the shade? Make sure you're selecting the right tree so that you and your family can come together for backyard mealtime around a happy and healthy living specimen. When it comes to backyard dining, I love MH Fine Foods sauces, a perfect addition to Cullen's navy beans for a BBQ baked bean side dish.
Chef Ted Reader
I barbecue all year long but after a long cold miserable winter I love nothing more than spending time in my backyard, enjoying time with my family and friends and firing up any number of my grills, smokers and fire pits. Summertime is BBQ time! Here are my tips for a successful summer of grilling and smoking foods. To start the season, give your barbecue a good spring cleaning; a clean barbecue is hotter and healthier, and proper maintenance produces more deliciousness. Consider replacing your grill brush; I recommend either wire coil brushes or wooden paddles. Both are a better alternative to the traditional wire bristles that tend to gum up and have the bristles fall out. If you are into live fire grilling and smoking of foods, try out a variety of charcoals from around the globe, each produces different levels of heat and flavor. If you want to try a new type of grill, I love the Inferno Grill. Most importantly, this year and every year – have fun! Enjoy time with your family and friends around the grill. Make deliciousness and bring happy smiles and full bellies! #itbetasty
For more great ideas, click here.
For more unique items for your home, click shopCHT.com.
The following two tabs change content below.

Canadian Home Trends' Style Editor, Jo Alcorn, Principle Designer and Founder of
Alcorn Home
. Jo has over 15 years experiences as a celebrity interior and home product designer, expert instructor, corporate ambassador, TV personality and a strong female entrepreneur, Jo has created a fabulous fan following. To add to credentials, she is a style editor & writer for multiple publications and blogs, a public speaker, and an avid animal/environmental advocate.

Latest posts by Jo Alcorn (see all)