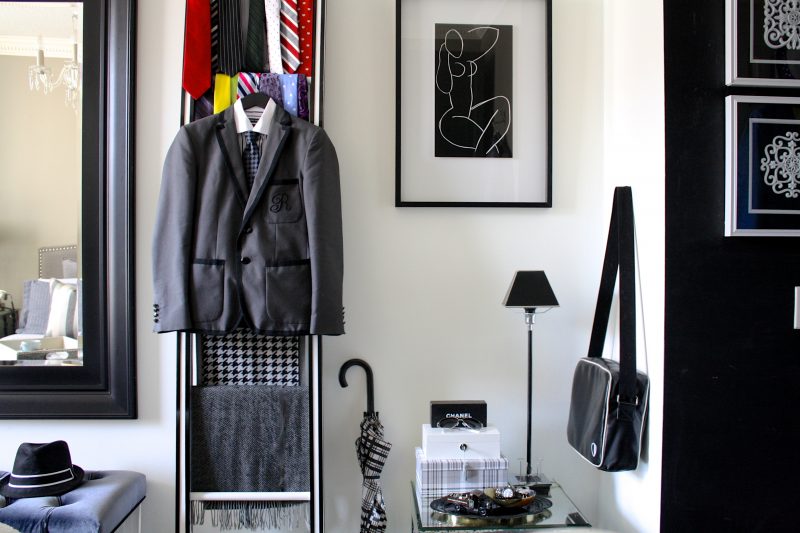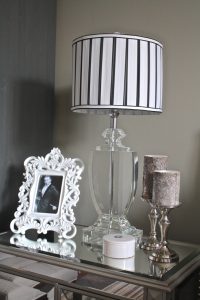 GOT STYLE
Guys, listen up! Designer Nicholas Rosaci shares some tips to build a better bedroom by introducing some menswear-inspired thinking.
Decorating for men doesn't have to be complicated – you just need to know the building blocks of what makes a good looking room. I like to look at decorating the same way you would construct a look with a suit. The perfect suit should be tailored, uncomplicated, and timeless – something that can be dressed up or down with ease.
MADE TO MEASURE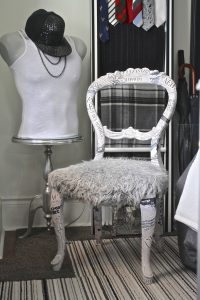 If you're like a lot of guys and unsure of your particular design style, choosing one that fits you properly is the first step. Is your taste more modern or do you prefer a traditional aesthetic? Maybe you are a balance of both worlds and have a more "transitional" style?
For many men, a transitional style of decorating works best where modern might be too cold and traditional too old school. Transitional style is all about the mix of both and allows you to take extra time to learn where your tastes lean and gradually make more confident design choices.
CENTER OF ATTENTION
The bed is always the focal point of any bedroom and I like to make it the point from which I decorate around. It must always look well made and handsome and, just like a great suit, it should always make a great first impression.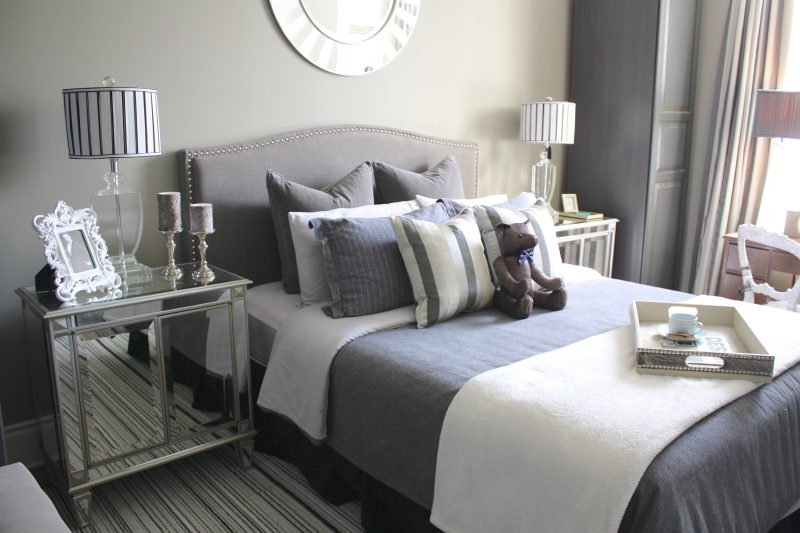 SHADES OF GREY
The grey suit is to man what the LBD (Little Black Dress) is to women – it works everywhere. In the home, the shade is sexier than ever. Grey is cool and confident but has a sense of maturity and wisdom about it, making it the perfect shade for the bedding.
STRIPES
Stripes are always trending in design and especially in menswear. Be bold and mix two different scales of stripes: one thick like a block stripe, and one thin like a pin stripe.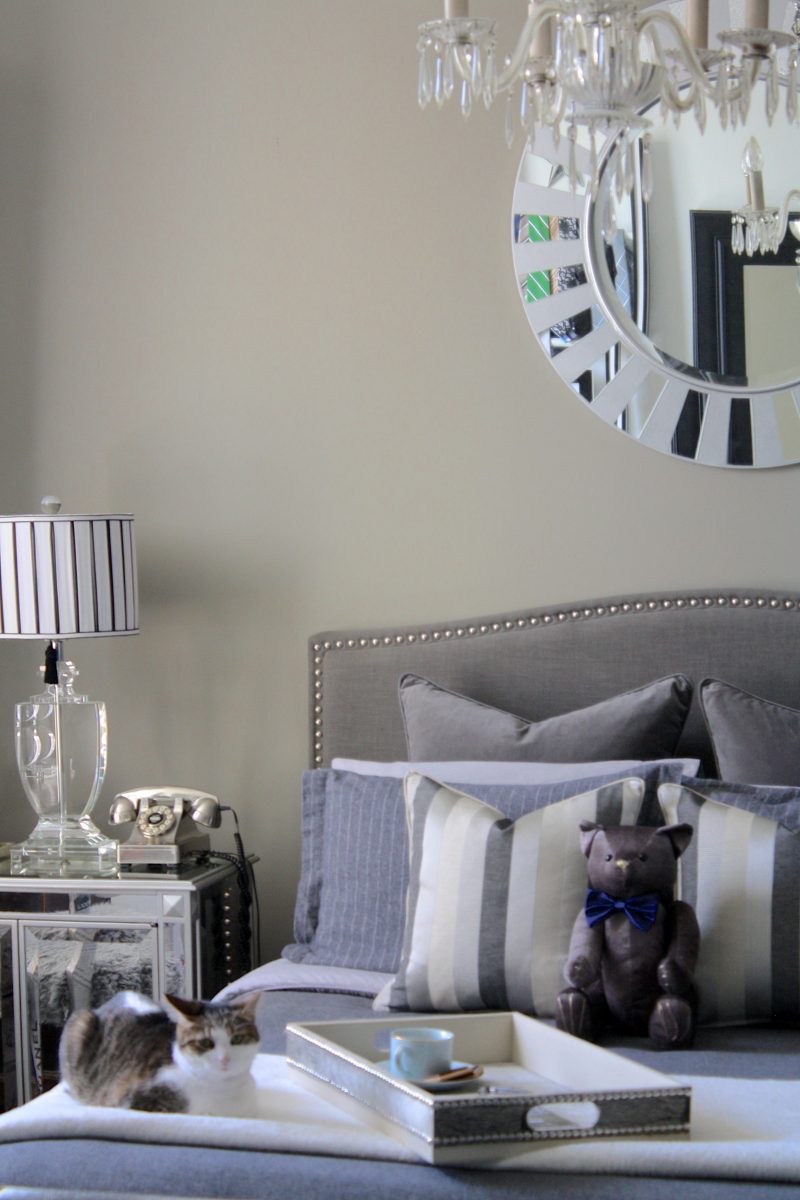 UNDER COVER
It's easy to cuddle up in flannel. A duvet cover in the material lends a masculine but soft touch to crisp, stone grey sheets. The look is timelessly handsome.
CHEAT SHEET
For many men the thought of shopping for bedding and coordinates can be pretty scary but it is no different than selecting a shirt. Crisp white always works, cotton feels great and polyblends wrinkle less.
The luxury of an ironed, high thread count, Egyptian cotton sheet is unsurpassed and the hallmark of any well made bed. If you hate ironing consider sending them out to be dry cleaned and yes, every man should own at least two sets of sheets – one for yourself and the other for any company that may stay over.
BEST FOOT FORWARD
Size does matter in the bedroom and when it comes to rugs, the perfectly made bed needs a  generously sized rug to ground it. The most common size for under-bed rugs is 8'X10', but you can go bigger and customize your floor with eye catching Flor carpet tiles.
DAPPER DRAPES
Men often think window treatments are feminine and forgo them but they are every bit an essential as a good coat is to protecting your suit from the elements. Drapery protects furniture and carpets from fading and is amazing at insulating spaces to keep a room warm in winter, cool in summer, and less noisy all around.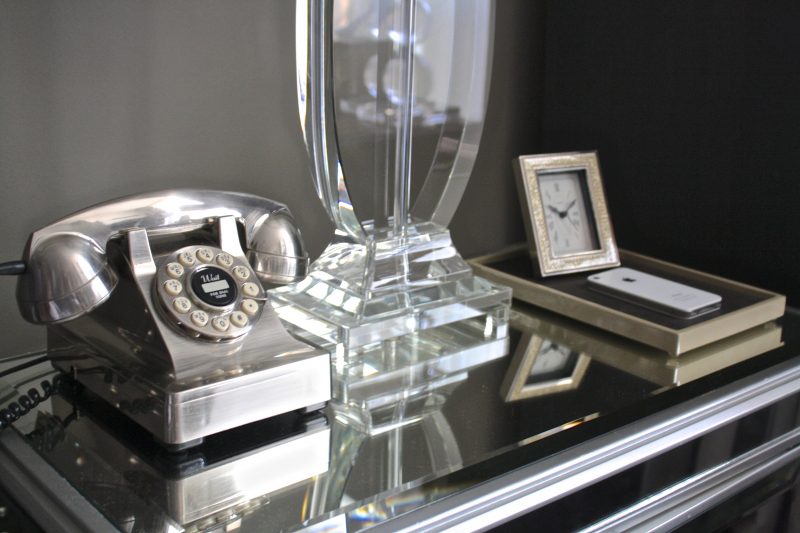 STATUS SYMBOLS
The details are always the finishing touches that give a room personality and attractive accessories are the perfect accompaniment to a dapper design.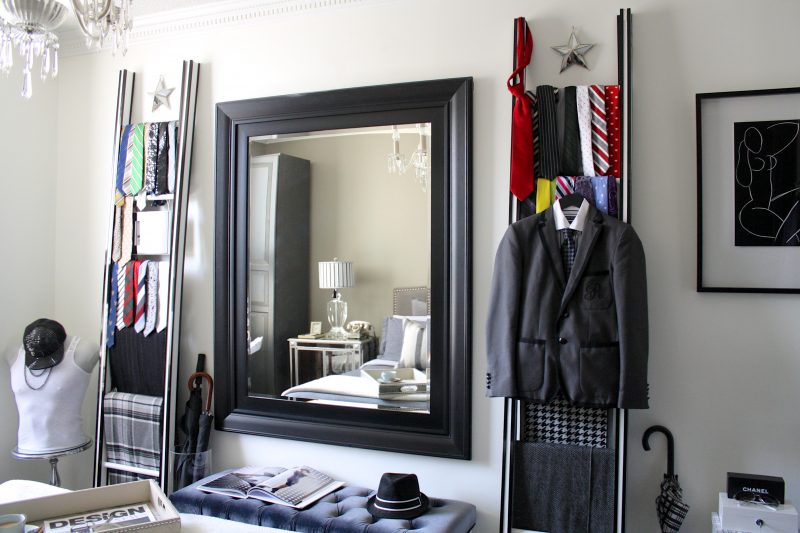 Gleaming metals like stainless, chrome, and brushed nickel add a high-end touch while mirror night side chests with crystal shield lamps make a lux statement! Chrome nail head detail adds a bit of rockstar edge to a head board and breakfast tray.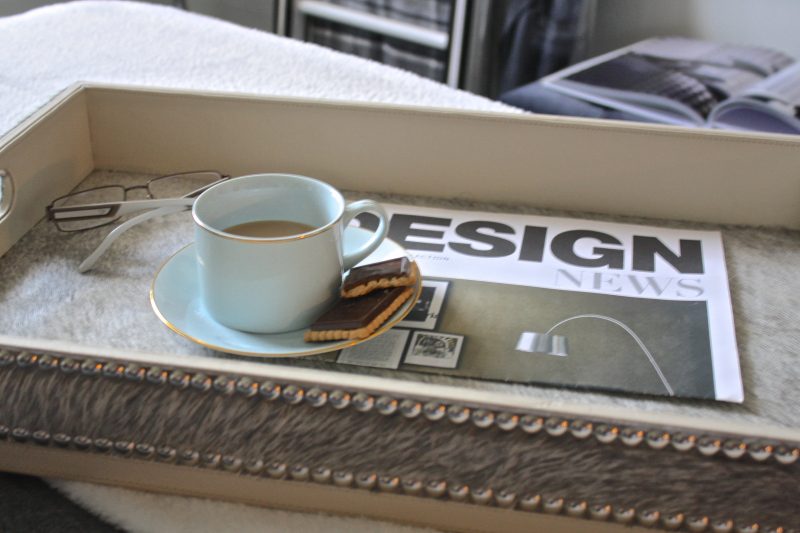 The following two tabs change content below.
Nicholas is the DIY Editor for Canadian Home Trends Magazine, an award-winning Designer Decorator, and appears as a guest expert on City TV's CityLine. As Principal Designer, Interior Decorator and Stylist for
Nicholas Rosaci Interiors
, Nicholas creates chic, confident and glamorous spaces that cross the divide between Modern and Traditional.
Latest posts by Nicholas Rosaci (see all)