Materials Required
Colourful and/or Patterned Decorative Umbrella
Various Faux Flowers and Greenery
Decorative Ribbon / Bow
Basic Packing paper
Hardware of your choice to hang
Instructions
1. Insert some rolled up packing paper into the bottom half of a closed umbrella to give the umbrella a more full shape.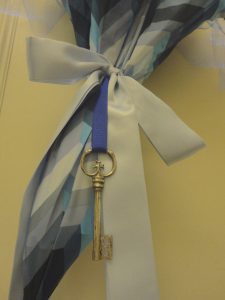 2. Create a large bow using a decorative ribbon and tie about halfway up the umbrella.
3. Separate some of the ribs of the umbrella to form a shallow pocket creating a vessel to hold flowers.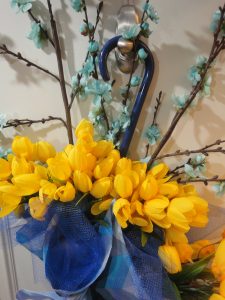 4. Select an assortment of faux flowers and greenery of your choice. Insert and arrange the assortment into the shallow pockets of the umbrella.
5. Hang the umbrella on a door at an angle if desired and primp the arrangement for the best effect.
The following two tabs change content below.
Nicholas is the DIY Editor for Canadian Home Trends Magazine, an award-winning Designer Decorator, and appears as a guest expert on City TV's CityLine. As Principal Designer, Interior Decorator and Stylist for
Nicholas Rosaci Interiors
, Nicholas creates chic, confident and glamorous spaces that cross the divide between Modern and Traditional.
Latest posts by Nicholas Rosaci (see all)