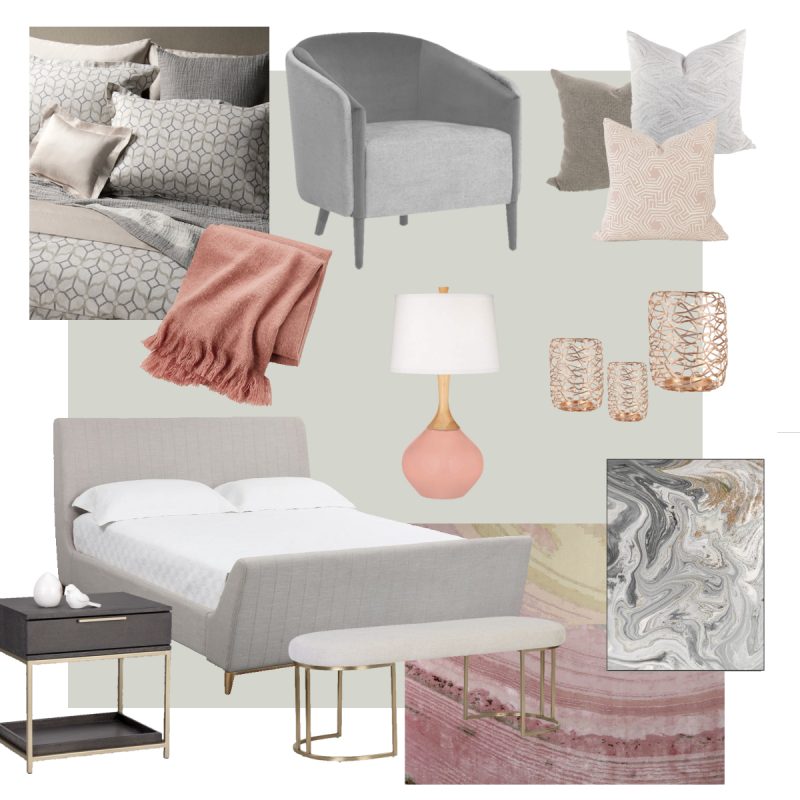 Neutral colors with a pop of soft color and metallic accents are the perfect recipe for a sophisticated master bedroom! Choosing furnishings in a neutral color allows you to invest in quality pieces that you can use for many years, simply changing up the accessories when you want a new look!
Mix Your Metals: Mixing metals gives a room more character. In this room, we've combined antiqued brass finishes with touches of rose gold for a unique look. To make sure the look is complete, add each metallic in at least 2-3 spots to tie them together. In this space the soft pink accessories also help to tie in the rose gold!
Layered Patterns: Layering rugs is a great way to add texture and interest to a space but you don't have to pick solid colors! Here, we've layered two rugs that have a similar style in different color tones to bring all of the colors in the room together!
Skip the Set: You're bedroom furniture doesn't have to be a matching set! You can create a much more personalized space by matching pieces with similar traits such as style, color or metallic finishes!
Sources:
For more great tips, click here.
To shop for home decor ideas, click here.
The following two tabs change content below.

Jacklynn Little, Principle Designer and founder of
Jacklynn Little Interiors
, has been designing most of her adult life and turned her talent and passion into a full time career 15 years ago. Her focus is always to help her clients achieve a functional and beautiful home all while giving them a positive design experience. Jacklynn takes the overwhelming design and renovation stress away from her clients so they can focus on the end results, "it can certainly be overwhelming." She works collaboratively with her client's style, needs and budgets to develop a space that is both creative, contemporary, and unique to her client's lifestyle. Jacklynn believes that everyone deserves to live in a beautiful home.

Latest posts by Jacklynn Little (see all)