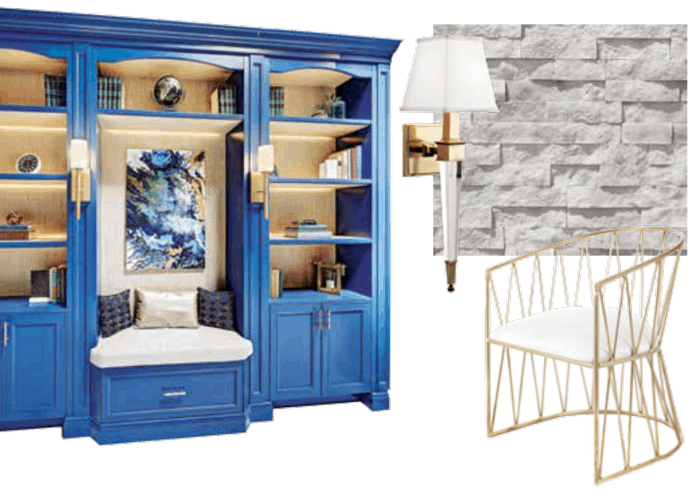 GOLDEN CHILD
Basement Decor Ideas – For a modern family room with plenty of visual interest, we took inspiration from a beautiful custom built-in bookcase that features New Castle door fronts paired with traditional moldings. Finished in a bold blue with gold details and accessories, this bookcase becomes the showpiece of the space. A Peninsula Ledgestone stone veneer in Cyprus creates the perfect feature wall, adding texture and interest without competing with the bold bookcase. To finish the space, choose furniture and lighting with luxurious finishes in gold and crystal for an elegant look.
Bookcase Designed by Nisa Choudhury of Lucvaa Kitchens, Manufactured by Lucvaa Kitchens, www.lucvaa.com; Stone Veneer, Fusion Stone, www.fusionstone.ca; Cleopatra Chair, The Goods, www.thegoodshome.com; Hudson Valley Wall Sconce, Living Lighting, www.livinglighting.com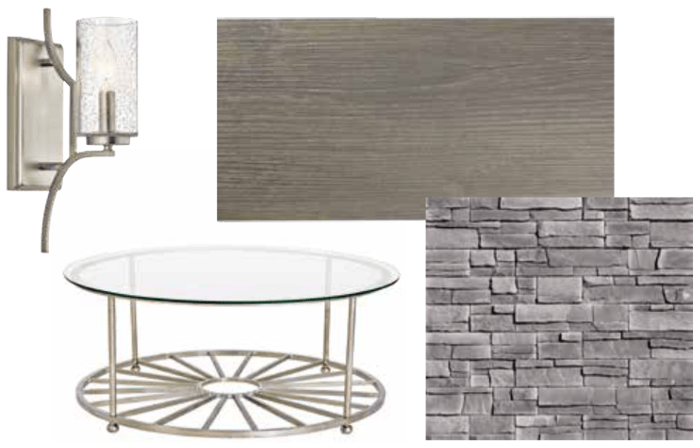 CLASSIC DRAMA
Basement Decor Ideas for a look that combines classic sophistication with dramatic dark colors and textures, pair a Great Lakes stone veneer feature wall in Carbon with a rich Kapalua floor. The stone veneer, which can be used for both interior or exterior applications, brings a touch of nature into the space. We chose furniture and lighting in brushed metallics and glass for a subtle touch of bling that brightens up the dark finishes of the wall and floor.
Stone Veneer, Fusion Stone, www.fusionstone.ca; Malibu Collection Flooring, 4 Corners, www.4corners.ca; Casper Coffee Table, The Goods, www.thegoodshome.com; Kichler Wall Sconce, Living Lighting, www.livinglighting.com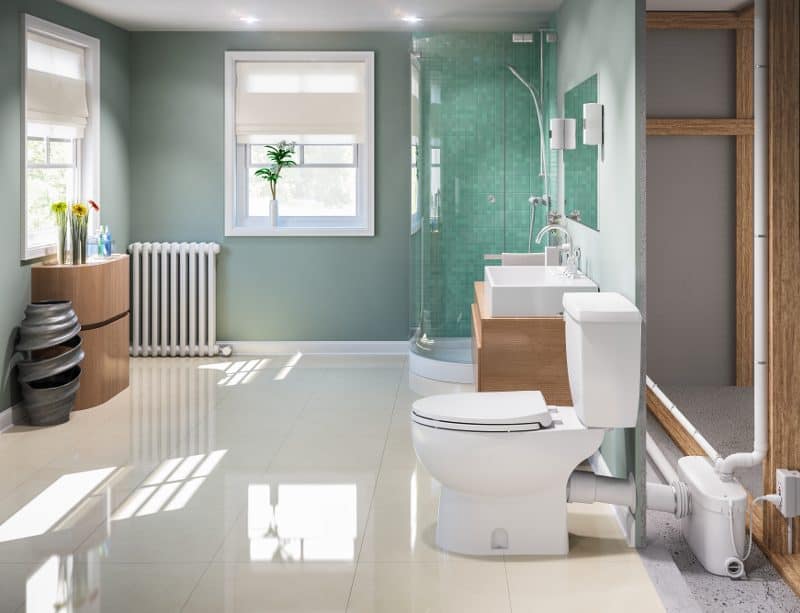 BATHROOM SOLUTION
Traditional basement plumbing solutions involve breaking and hauling away the concrete to install drain lines and a storage tank with a sewage ejector. In addition to the expense, these systems require space for a tank and can be prone to leaking and unpleasant odors. Using a SANIFLO above-floor plumbing system, you won't have these problems. SANIFLO systems, including macerating toilets and drain-water pumps, can be installed directly on top of any finished floor surface and can pump effluent and wastewater upwards, up to 25 feet vertically. These systems are clean, quiet and reliable so there are no leaks or odors, making them a perfect choice for adding a bathroom or laundry room to your basement.
For more great ideas, click here.
The following two tabs change content below.

Crystal Williams
As Online Editor for Canadian Home Trends Magazine, Crystal has a passion for design and decor. She enjoys browsing the web to find new, exciting decor ideas, DIY projects and unique products to share with her readers. With formal training in graphic design and a background in the event planning/design business, Crystal looks at design from all angles to give readers a fresh perspective.

Latest posts by Crystal Williams (see all)