From trash to treasure Nicholas Rosaci gives a castaway desk a Chanel inspired second chance.
To quote Coco Chanel herself: "The best things in life are free. The second best are very expensive." Lucky for us, our DIY Editor Nicholas Rosaci knows how to create Chic on the Cheap.
One afternoon while driving home I spotted a tired and dowdy desk on the side of the curb. I was immediately taken aback – why would such a great piece be relegated to the trash! I knew that with a little DIY ingenuity I could transform this simple desk into something of real beauty with minimal effort and cost.
SITTING PRETTY
A little "Chanel" can go a long way and is always the perfect designer to go to when you want to impress and show refinement. Let's face it – when your sitting at any desk it better make you feel and look your best – I am sure Coco would agree! There is something eternally classic about black and white so it was an obvious choice for my re-invention. I wanted the desk to resemble the chic boxes that my favourite designer's perfume bottles come packaged in. I wanted to create a desk that would certainly impress and look expensive which required the fit and finished to be impeccable. For that perfect finish, you can't skip important DIY steps when preparing for painting and must pay attention to the smallest of details.
CLEAN AND CLEAR
First, I gave the desk a good cleaning using a little soapy water and a scrub brush. When thoroughly dry, I began to lightly sand the piece with 80, 120, then 220 grit sand paper for a flawless finish, making sure to wipe the desk free of dust with a damp lint-free cloth.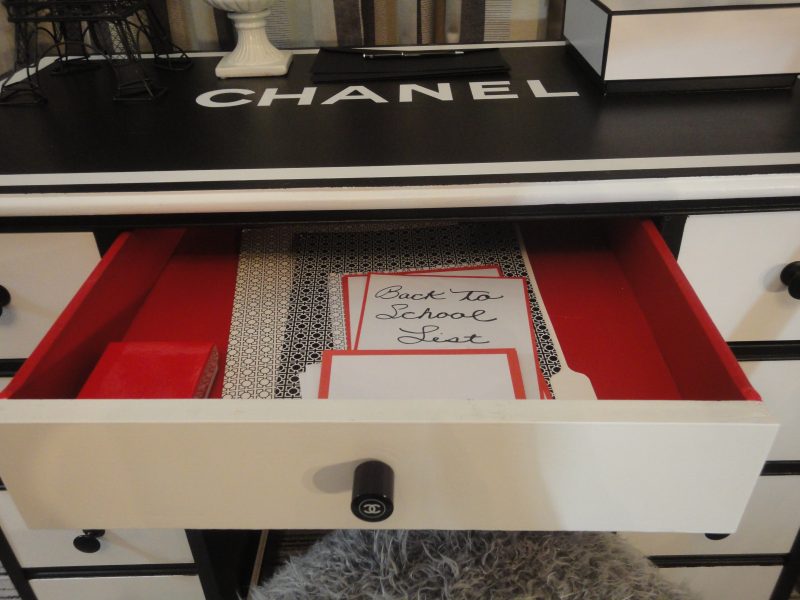 PEAK OF CHIC
I decided to paint the inside of the drawers two coats of a sophisticated red – No More Drama Behr Premium Plus Ultra Satin Finish (P140-7), available at the Home Depot. After drying for 24 hours, I used a foam roller to paint the drawer fronts a bright white. –Ultra Pure White Behr Premium Plus Ultra Satin Finish (1850)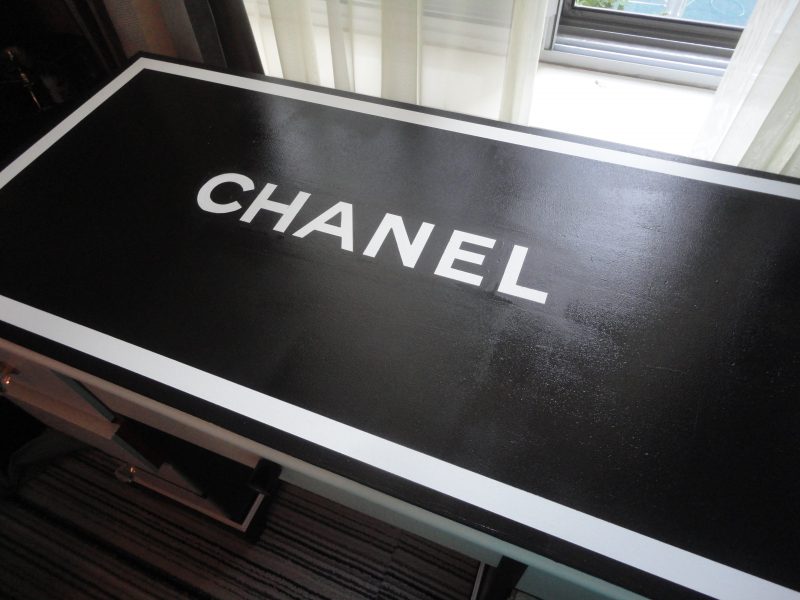 UNDERNEATH IT ALL
The desk top was painted with 2 coats of the same Ultra Pure White. Once dry and cured for 24 hours, I applied FrogTape to create a decorative border pinstripe detail that framed the desk top to achieve the Chanel look.
LETTER PERFECT
The Chanel logo was created in 1925 by Coco Chanel herself and has remained unaltered to this day. The font used is custom and nearly impossible to find in a stencil form but with a photocopy machine, I enlarged the logo on one of my perfume boxes, trimmed out the letters with an X-ACTO knife and then used a fine pencil to trace the legendary name onto the center of the desktop.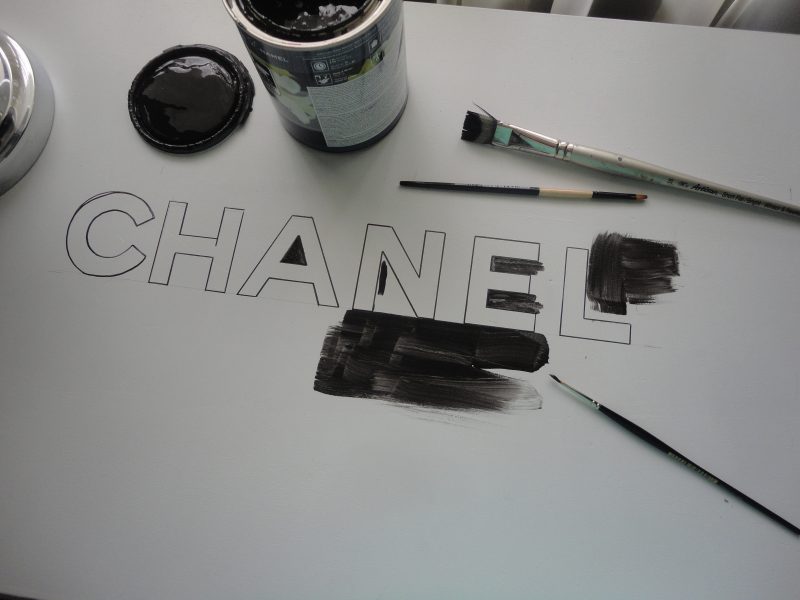 LOOKING SHARPIE
Even though I am a great painter, I feared that trying to accurately paint around the pencil outlined letters of the logo would be too difficult. I used a Sharpie "Chisel Tip" permanent marker to trace over the pencil lines, creating a thicker dark outline. The immediate area around the logo can then be easily painted using a fine artist's paintbrush
COAT OF ARMS
To complete the desktop, I used a final coat of Behr Premium Plus Ultra Satin Finish in Blackout (N510-7) and rolled over the rest of the desktop including over the FrogTape but not including the logo and the area immediately around it. Once dry, remove the FrogTape to reveal the finished desktop.
DESIGNER DETAILS
As a perfect and more authentic finishing touch, I sacrificed the perfume cap from one of my favourite Chanel fragrances Chanel DE Bleu and affixed it onto the center drawer with No More Nails heavy-duty glue. For the remaining knobs, I didn't have nine bottles of "Bleu" lying around the house so I opted for plain matte black knobs from Home Depot. Needless to say, the end result is so Co Co chic!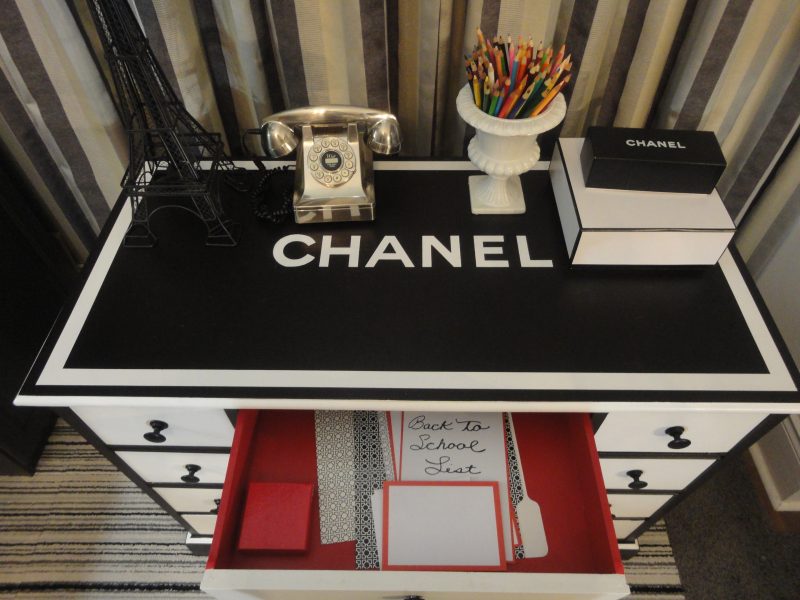 The following two tabs change content below.
Nicholas is the DIY Editor for Canadian Home Trends Magazine, an award-winning Designer Decorator, and appears as a guest expert on City TV's CityLine. As Principal Designer, Interior Decorator and Stylist for
Nicholas Rosaci Interiors
, Nicholas creates chic, confident and glamorous spaces that cross the divide between Modern and Traditional.
Latest posts by Nicholas Rosaci (see all)