I joined the annual trek to the High Point Market in North Carolina this past fall where I found an incredible amount of inspiration and knowledge. Being the premier trade show for the Interior Design industry, there is absolutely no lack of new and exciting things to see at this event.
Though there were many trends displayed by the various vendors, a few stood out to me. One in particular was the inclusion of natural elements like wood, snakeskin and various animal interpretations. Granted, you probably wouldn't want to include this trend in all your furniture and accents (too much of a good thing) but adding in items such as a mirror with a branch inspired frame or a sculptural branch finished in silver sprawled along your wall will add a wonderful organic feel to a space.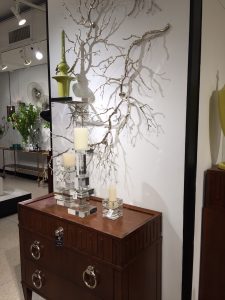 At the Phillips Collection booth, I fell for these two giant great dane sculptures. They are best displayed as a set and would express any whimsical and fun-loving personality perfectly.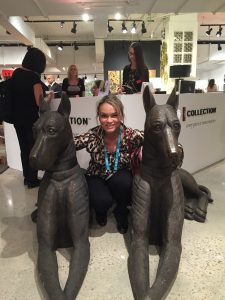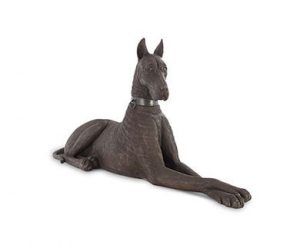 Branch details as accents or structural items on furniture are given a luxe look with metallic finishes.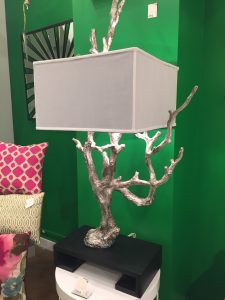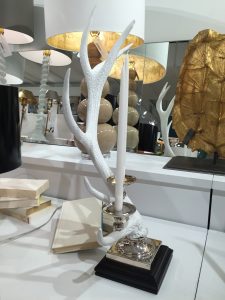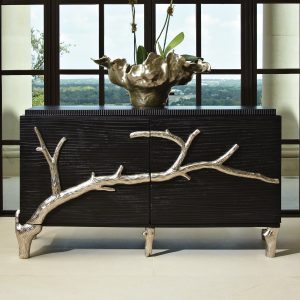 Horns and animal legs show up as whimsical elements in lamps and tables.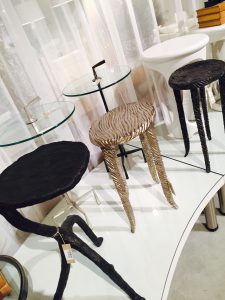 Rather than looking quite rustic and lodge-y, sculptures of fish and antlers are also dipped in metal to give them a more sophisticated look. When combined in multiples, a collection of these items can bring a sense of sophisticated fun to a large empty wall or entry foyer area.
A side table in the shape of a peacock could stand in any space beside a chair or by itself to serve both a functional and an artistic purpose.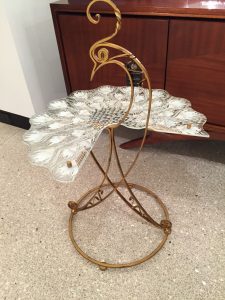 I also saw lots of natural textures like snakeskin used very elegantly on table surfaces.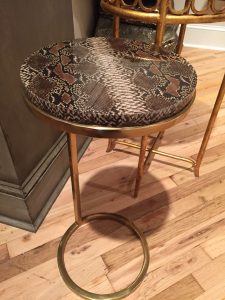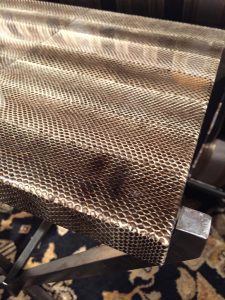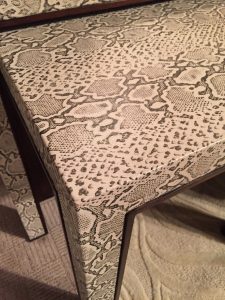 The rustic feel of wood is tempered by the addition of acrylic or highly polished metal.
Stone is used in its natural form as in this table top and sink.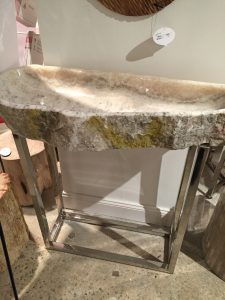 Tips for working with this trend:
Be conservative in the use of any one trend within the same space D
Displaying items in multiples for a dramatic look. The image below from Phillips Collection shows wood and stone in a beautiful display.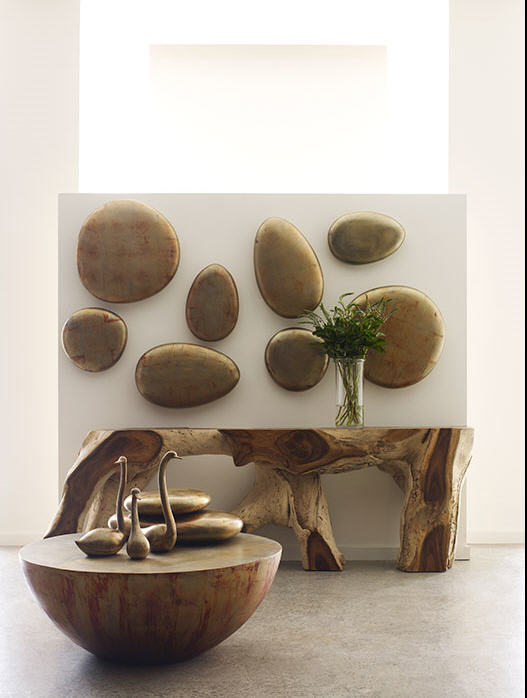 SOURCES: Global views, Phillips Collection, Cyan Designs, Century Furniture
The following two tabs change content below.

Evelyn Eshun has been providing creative Interior Design solutions for her Residential Clients in the Toronto area for over a decade. Principal Designer at
Evelyn Eshun Interior Design
, Evelyn has participated in various Television programs over the years in addition to her Design business. With a passion for design and travel, Evelyn has translated her extensive and various experiences into a design philosophy which puts the Client's needs and functional needs first. Always striving for a unique and personalized solution for each Client, Evelyn prides herself on creating interiors which will stand the test of time. Whether transforming an old and tired property into a vibrant home or simply finishing a home with the decorating touches which make a house a home, the goal is always to collaborate with Homeowner, Trades and Suppliers to finish the project successfully.

Latest posts by Evelyn Eshun (see all)