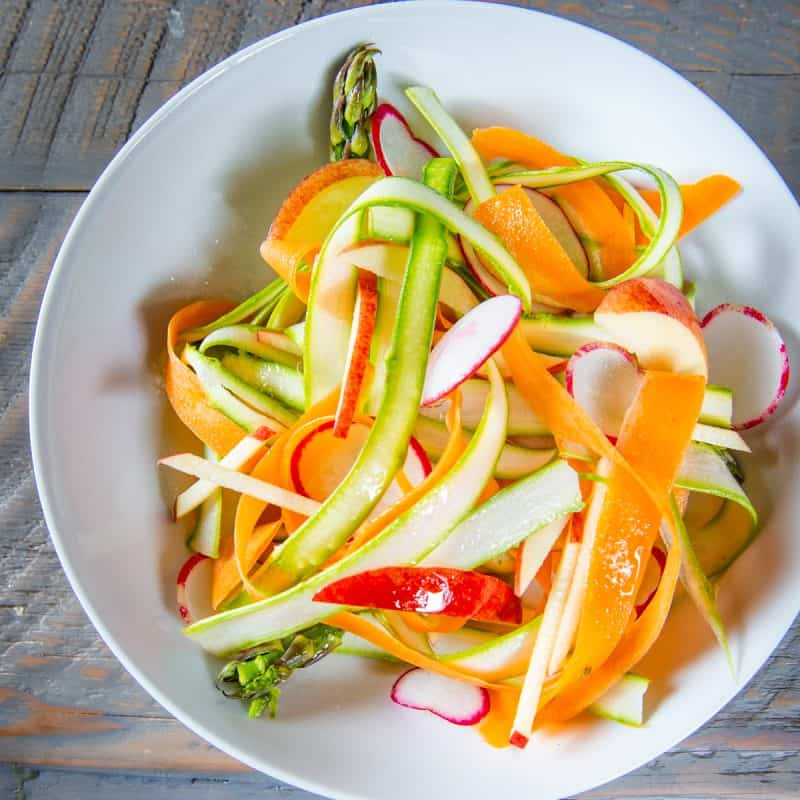 Shaved salads are a great way to showcase vegetables. Thinly sliced asparagus, sweet carrots, crisp radish and apple tossed in a lemony vinaigrette make for an incredible springtime salad. Serve it with brunch or as a side dish to a favorite entrée.
Recipe by Rob Thomas, www.chefrob.ca
SHAVED ASPARAGUS AND CARROT SALAD INGREDIENTS
1 bunch fresh asparagus
2 carrots
1 apple
3 radishes
DRESSING INGREDIENTS
3 Tbsp. grapeseed oil
2 Tbsp. freshly squeezed lemon juice
1 Tbsp liquid honey
sea salt
freshly ground black pepper
SHAVED ASPARAGUS AND CARROT SALAD DIRECTIONS
Shave fresh asparagus with a peeler, set aside in a large bowl. Then shave carrots with a peeler (shave off outer layer first).
Finish off by cutting the apples and radishes into thin matchsticks (or thinly slice or shave radish), add to bowl.
DRESSING DIRECTIONS
Combine dressing ingredients in a jar covered with a tight-fitting lid and shake to combine. Drizzle over salad and toss to coat.