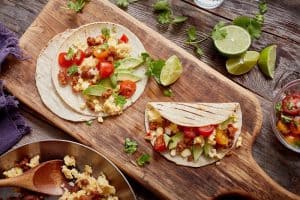 Cooking on the grill or outdoor stove is the perfect way to impress friends and family while enjoying delicious dishes. So why not heat up your next weekend brunch with these on-trend and spicy Mexican chorizo breakfast tacos?
Mexican Chorizo Breakfast Tacos
Prep time: 15 minutes
Cook time: 30 minutes
Makes: 12 tacos
Ingredients:
• 250g mild / spicy chorizo sausage, sliced and casing removed
• 3/4 cup finely diced onion
• 500 mL carton Burnbrae Farms' Egg Creations Whole Eggs Veggie and Feta
• 1 tsp ground cumin
• 1 tsp paprika
• 12 6-inch corn / wheat tortillas
• 2 cups diced tomato
• 1/3 cup chopped cilantro
• 2 tbsp lime juice
• 1 tbsp vegetable oil, divided
• Salt and pepper
• 1 avocado, sliced
• Optional: For a healthier alternative, replace corn tortillas with lettuce leaves.
Directions:
1. Cook chorizo, onions and Egg Creations in a large cast-iron pan on the grill at 375⁰F, mixing in cumin and paprika, until eggs are set. Remove from heat and keep warm.
2. Wrap tortillas in tinfoil and place over an indirect heat or grill until warm.
3. To make tomato salsa, mix onions with tomatoes, cilantro, lime juice and 2 tsp vegetable oil, then season with salt and pepper. Set aside.
4. Divide chorizo mixture among warm tortillas, then garnish with tomato salsa and avocado slices.
Find more delicious recipes at www.burnbraefarms.com.
www.newscanada.com