Budget-friendly makeover for your own space. Designing a beautiful space on a limited budget can be frustrating and seem impossible but it really doesn't have to be. For this design board, I wanted to create a stunning space for the client while still staying within their limited budget.
The client's space before: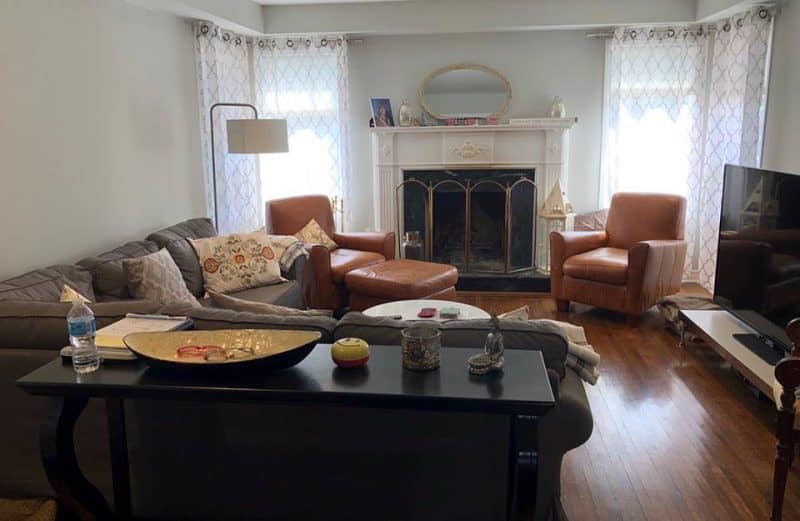 The Design Board: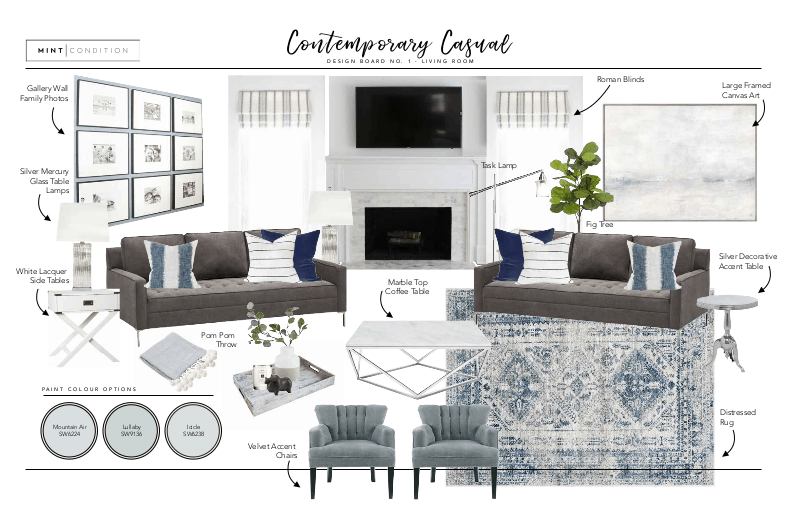 Here are a few tips you can use to plan a budget-friendly makeover for your own space:
Invest Where it Matters Most
Sofas will be used to sit on daily and rugs will need to stand up to regular foot traffic. On the other hand, decorative items may only ever be touched when you're dusting. It's important to invest in the best quality that you can afford for items that will undergo daily use. When choosing the bigger items, choose a style and color that offers versatility rather than going for trendy options. Trendy options are more likely to go out of style and look dated. For example, we choose a simple grey sofa so that if the homeowner wants to switch things up down the line, they aren't stuck in a particular look because of a colored or patterned fabric. If your current budget limits your ability to choose the best quality pieces, choose pieces that fit into your budget but can be upgraded in the future when finances allow. For example, an inexpensive sofa may only last you a few years but if you choose a popular style and color, you will be able to replace it with something that offers the same look with better quality down the line.
Affordable Artwork
Artwork can be expensive but it adds class and sophistication to the space. For this space, we choose a printed canvas piece which is an affordable alternative if you can not afford original artwork. I also included a gallery wall using black and white artistic family photos with large mats. This creates a cohesive, artistic look without the expense of pricey artwork.
Choose Timeless Finishes
You'll notice that I've included velvet chairs, crystal lamps with simple white shades, marble look finishes and chrome details. These give the space a luxurious look but with classic finishes that are unlikely to go out of style in the near future and will remain fresh and modern for a long time. If you love a trendy look, add current trends in inexpensive decorative items, throw pillows, etc.
Creative Sourcing
While boutique shops and high-end stores offer amazing pieces and amazing quality, not everyone can afford that. And that's okay! Creating a stunning space doesn't have to cost a fortune. Get creative in your product sourcing. Dollar store frames may not be as durable as custom framing but they are a lot more affordable and can be upgraded in the future. Big box stores don't always offer the best quality but they can provide a great look that works for your budget. Shopping online can also help save you some money though keep in mind, color matching and quality can be hard to determine online so shop with caution. Even used items from local thrift shops, flea markets, etc can be great for saving money as long as you are selective in choosing items that fit your design scheme and are in excellent shape.
Take Your Time
You don't need to finish the space overnight (unless you're staging the home for resell in which case, call me!). If you don't LOVE a piece, don't buy it just because you need to fill a spot. Especially when choosing decorative pieces, artwork and accessories, take your time to find pieces that work with your space and that you absolutely love. Sources:
For more great ideas,
click here.
For more unique items for your home,
click shopCHT.com
The following two tabs change content below.

Amanda Shields is the founder and lead designer at Mint Condition Staging. She aims to highlight the beauty of your home and hide its imperfections. Often times, Amanda's clients claim they don't want to sell their home after she is done showcasing it! This has led Amanda into, not only offering home staging as a service, but offering interior redesign and styling services for your forever home too. Amanda has a Bachelor's degree in Design from OCAD University and is a fully certified, CSP "Elite" Home stager that graduated with honours from the Canadian Certified Staging Professional™ program. She is also an affiliate of the Real Estate Staging Association and was recently awarded "Top Ten Rising Star Home Stager of the Year",competing against the best home stagers all across North America. Prior to her home staging career, Amanda has worked alongside celebrity designer, Joe Mimran as a member of his product design team. She has also managed design projects for Bed Bath & Beyond, Walmart, Target, PC Home, Homesense and Pottery Barn, to name a few.

Latest posts by Amanda Shields (see all)