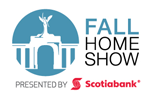 The Fall Home Show is coming up and I'm happy to be presenting there on Friday September the 21st and Saturday September the 22nd at 3 pm both days. There are lots of good reasons to attend a show like this particularly when you are planning a renovation in the house.
1) Get some inspiration by seeing what is new or tried and true in the market place. Usually you would have to go to many different stores to be able to look at products and suppliers for a renovation however a home show helps you see all aspects in one location.
2) You can often get some pretty good discounts when you are dealing throught the home show floor as many of the suppliers offer "home show" pricing and they may be more apt to negotiate with you while they are there.
3) You have the opportunity to comparison shop without having to travel from one store to the next. You may find several booths that have hardwood flooring and tiles so the ability to compare quickly and easily is worth it.
4) You get to learn from some of the extraordinary people they have on the stage speaking and sharing ideas, expertise, and keeping you from the potential pit falls through their experience. I will be speaking about the world of stone and tile (as I'm working with a great company called York Fabrica) and doing what I can to let you know about the properties of various kinds of stone as well as when and where is the best place to use the various products. Who doesn't like to get some advice from knowledgeable people?
Quick Tip: Organize your trip through the show with the show guide so that you are able to see the booths that pertain to your renovation first. The guide can certainly help you focus on what interests you. Once you have done that, then you can see everything else there is to see, perhaps buy something conceived and created by the person at the booth.
I hope to see you there – and don't hesitate to come with your questions —
The following two tabs change content below.

Canadian Home Trends' National Design Editor, Glen Peloso forged into the world of design 20 years ago after completing his Masters degree in Fine Art. As Principal of
Grafus Design Co.
, he has worked in residential, hospitality and commercial spaces for clients in several countries and has successfully designed over 300 projects in that time. TV Celebrity Designer and Canadian Home Trends National Design Contributor, Glen is also recognized as a design expert on The Marilyn Denis Show and from his past work as a host/designer of the internationally popular television shows Foodnetwork/HGTV`s Restaurant Makeover, and W networks 'Take this House and Sell it', and "Slice Network" show, Renovate my Wardrobe.

Latest posts by Glen Peloso (see all)