When the topic of storage comes up, I am reminded of the hilarious skit by the late George Carlin who joked about the 'stuff' which we accumulate and how no matter how much of it we get rid of, we end up replacing it with 'other stuff'. A very funny comedy routine, but not so funny when you consider that your stuff can overrun your daily lifestyle.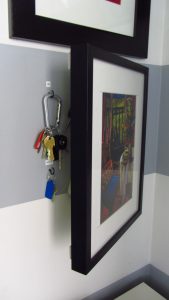 Our daily essentials can create clutter. Even our keys can create a mess on a table. Planq Studio came up with a fantastic solution! Simply hang a print on a hinge and hide your keys behind it. – www.planqstudio.com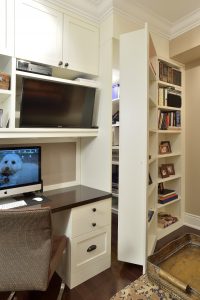 A 'secret doorway' hidden behind a bookcase is a fabulous way to add valuable shelf space in a doorway. The key element in this project is the use of high quality mechanism that easily allows you to swing the heavy bookcase with the pull of a finger. – www.evelyneshun.com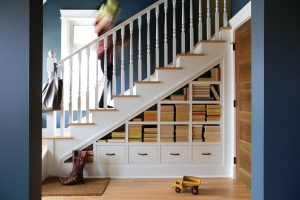 A shelf and drawer solution found under a staircase is genius! Whether it's a mountain of shoes, books or toys you're wanting to organize, a multi-functional staircase is the perfect solution for your staircase! – www.lynndonaldson.ca
You can declutter your closet and organize your fabulous handbags by hanging them on hooks on your closet bar. This simple fix will help keep your bags organized and in great shape!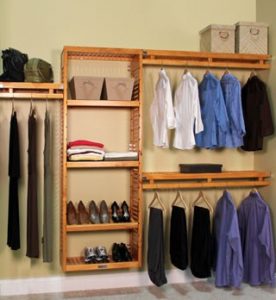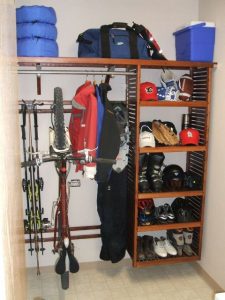 A do-it-yourself wood closet organizer kit "Closet-in-a-Box" is the perfect solution for homeowners looking to put order back into their lives. They are easy to install, come in a variety of finishes and help keep things neat and tidy. – www.johnlouishome.ca
The following two tabs change content below.

Evelyn Eshun has been providing creative Interior Design solutions for her Residential Clients in the Toronto area for over a decade. Principal Designer at
Evelyn Eshun Interior Design
, Evelyn has participated in various Television programs over the years in addition to her Design business. With a passion for design and travel, Evelyn has translated her extensive and various experiences into a design philosophy which puts the Client's needs and functional needs first. Always striving for a unique and personalized solution for each Client, Evelyn prides herself on creating interiors which will stand the test of time. Whether transforming an old and tired property into a vibrant home or simply finishing a home with the decorating touches which make a house a home, the goal is always to collaborate with Homeowner, Trades and Suppliers to finish the project successfully.

Latest posts by Evelyn Eshun (see all)