Dear Marc:
I am a holiday buff! I decorate our home in November and my wife starts baking holiday goodies at the first sight of snow. The first decoration that goes up is a wreath. I have an old one that is starting to look ratty. I always wanted to create a designer DIY Christmas wreath like the ones I see in magazines. Help!
Clarence
Dear Clarence:
'Tis the season to decorate! The holidays are a special time when we "deck out" our homes for family gatherings. The silver is polished, the refrigerator is stocked with eggnog and fruit cake, and we scour the malls trying to find a special gift for each and every loved one.
Each room in our home is made to look special and new with holiday ornaments and accessories. As we unpack decorations we haven't set our eyes on for the past twelve months, we sometimes come to a realization that last year's decorations have passed their "style expiry date"! Tinsel… need I say more?
Sometimes it's not the entire look that is dated, but rather a single piece such as a wreath. Now, being one who likes to have something unique and different, I like to customize my own DIY Christmas wreath . So grab a cup of coco, and let's try this simple, cost effective weekend project!
Birds and Berry DIY Christmas Wreath
Supplies:
– Grapevine wreath
– Small Silver painted branches
– Glue gun with glue sticks
– Feathers
– Ornamental bird
– Strand of artificial berries
– One inch ribbon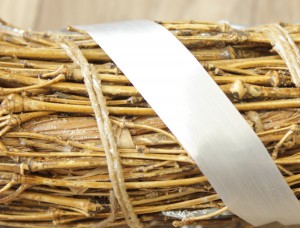 Step 1:
Wrap ribbon around the entire wreath. Glue the start and end points using the glue gun to keep the ribbon in place. In the same manner, wrap the strand of berries to the lower half of the wreath.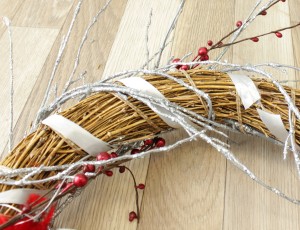 Step 2:
Wrap branches around the wreath and glue them in place.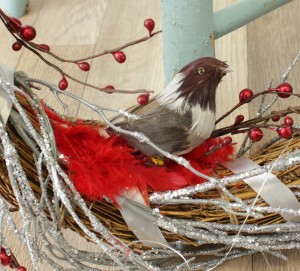 Step 3:
Glue feathers on the bottom ledge of the inner wreath to create a "nest". Glue an ornamental bird on top of the feathers.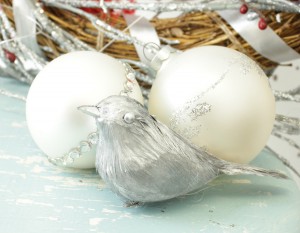 Step 4:
Hang your new DIY Christmas wreath and enjoy this wonderful time of year!
The following two tabs change content below.

Marc Atiyolil is the editor-in-chief of the home décor publication, Home Trends Magazine. His charismatic, down to earth approach can be seen first hand as the co-host of the Marc & Mandy Show airing on networks across North America. His mantra, "Be bold, be different, be unique – Yet keep it simple" is reflected in all of his work. Marc is an avid promoter of breaking down the myths of design and offering simple alternatives to complicated design processes.

Latest posts by Marc Atiyolil (see all)