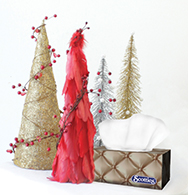 Dear Marc:
Your Berries and Bird Wreath was stunning! I'm so sick of the traditional holiday decorations that look tacky. I've decided to buy and make all new decorations this year. I know, it's quite an undertaking, but I'm eager to change my holiday look. Do you have a simple holiday project for an amateur DIY-er?
Sarah
Dear Sarah:
What a wonderful time of the year! As I was reading your question, a few childhood pictures came to mind – mostly those of tinsel, flashy garland and singing Santa Clause ornaments. Most can attest to the scaring and minor therapy needed in order to forget our parents' taste in holiday decorations. I remember when I was a young lad and I decided there would be no more tacky decorations this holiday season. I organized our decorations into two piles, one for chic decor and the other massive, overstuffed pile was filled with decor too tacky to be seen or hung.
I pleaded with my mother to buy new decorations, but to my chagrin, she didn't seem to mind the current holiday look. I'm sure the multi-coloured, tinsel-filled tree had its time in the limelight, but to my young eyes, it was ready to be kicked to the curb! As they say, "Nothing a little arson couldn't fix!"
I stared at the tree contemplating its makeover for some time and came up with a plan. I had saved up a little money, so decided to dedicate this fund to "beautifying" our holiday decorations. Although I had to be creative… how far can a twelve year old's chump change get you? Well in those days, not far.. not far at all. But that didn't stop me.
I made most of our decorations that year and bought the rest at rock bottom prices while bartering at flea markets. I was organized and focused. I chose my colour scheme, and kept it simple. I wanted to guarantee success on this project, so I wasn't about to blow my savings on stuff I wouldn't use. I carefully compiled each piece one by one to build an entire new look, and my tidiest work paid off as the new decorations were a success at the family gathering!
Although that was many years ago, I still create a fair amount of my holiday decorations. One of my favourite projects transforms cones and feathers into a stunning holiday accessory!
DIY Feather Christmas Tree Accessory
Supplies:
– Decorative cone
– Glue gun and glue sticks
– Feathers in the colours of your choice
– Strand of artificial berries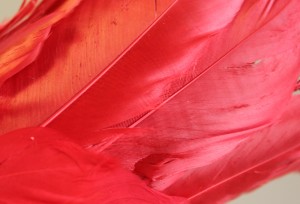 Step 1:
Kiss your fingers goodbye! Carefully look at each hand and analyze what normal hands look like. The next week following the project, they may be covered in burn marks. Hence be careful, the glue is hot. Start by gluing feathers at the bottom of the cone working your way up in a circular motion. Marc's Tip: Make sure that each feather is upside down so that the next row will hide its stem.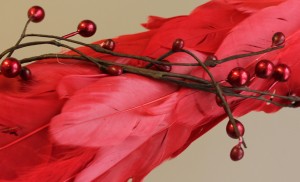 Step 2:
Starting at the bottom, glue the tip of the berry strand in place and wrap the rest of the berries around the cone till you reach the top. Glue the top of the strand in place.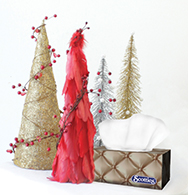 Step 3:
"Ta daaa" your new DIY feather Christmas tree accessory is ready to be put on display!
The following two tabs change content below.

Marc Atiyolil is the editor-in-chief of the home décor publication, Home Trends Magazine. His charismatic, down to earth approach can be seen first hand as the co-host of the Marc & Mandy Show airing on networks across North America. His mantra, "Be bold, be different, be unique – Yet keep it simple" is reflected in all of his work. Marc is an avid promoter of breaking down the myths of design and offering simple alternatives to complicated design processes.

Latest posts by Marc Atiyolil (see all)