Decorating for longevity is key when planning a room for kids. Most of us cannot afford to change a room's décor as often as our kids change their shoe size. The key to stretching your decorating budget is to plan a space using key investment pieces that can grow with your child.
Short-Term Fun
A room like this is fun for kids, but the longevity is very short-term. Photo Source
Fun Yet Transitional
This room is still fun but it will transition well into you child's teenage years with lots of space for homework and studies.
Keep Key Pieces Simple
This room is fun and whimsical with an accent wall and colourful flooring. The furniture's clean lines make this room easy to update as a child ages. Photo Source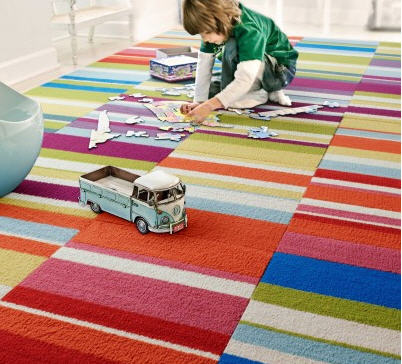 Pick Materials That Can Be Updated Easily
Consider a fun flooring material like carpet tiles from FLOR. Carpet tiles are available in a variety of patterns and colours and can easily be changed as the child grows to suit their changing tastes and needs. Photo Source
Choose Ageless Elements
Chalkboard paint on a feature wall is a fantastic idea for all ages. Your adolescent can draw and be creative while the teenager can write notes on the wall without facing consequences. Photo Source
Create Personality in the Accents
Built-in cabinets can enhance the function of your kid's room. From infant-to-toddler-to-teenager, consider a design which is simple and classic without funky shapes. Add personality in the room with unique cabinet knobs, cushions, pillows and other décor accessories. Photo Source
Make it Removable – Or Easy to Recover!
Consider a wall mural which doubles as a learning tool. There are removable wallpapers available to give you this look. If you are feeling ambitious, you can paint it yourself. When your child outgrows it, you simply paint over it. Photo Source
Decorate with Colour
Rather than creating a room with a "theme", decorate with colour as your principal inspiration. Paint is the easiest way to completely change the feeling of a space. If you wish to minimize the commitment, paint only one wall in a strong accent colour for that "pop" kids love to have in their spaces. Photo Source
The following two tabs change content below.

Evelyn Eshun has been providing creative Interior Design solutions for her Residential Clients in the Toronto area for over a decade. Principal Designer at
Evelyn Eshun Interior Design
, Evelyn has participated in various Television programs over the years in addition to her Design business. With a passion for design and travel, Evelyn has translated her extensive and various experiences into a design philosophy which puts the Client's needs and functional needs first. Always striving for a unique and personalized solution for each Client, Evelyn prides herself on creating interiors which will stand the test of time. Whether transforming an old and tired property into a vibrant home or simply finishing a home with the decorating touches which make a house a home, the goal is always to collaborate with Homeowner, Trades and Suppliers to finish the project successfully.

Latest posts by Evelyn Eshun (see all)