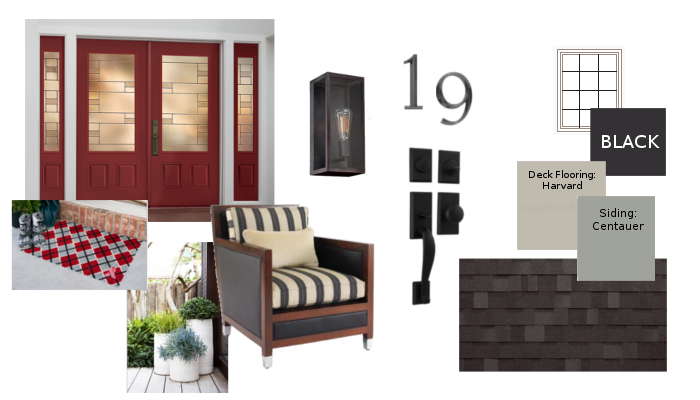 Creating Curb Appeal: To some the idea of a "street" look would be a ball cap, low cut jeans with one leg rolled up and some added bling. That is not what we are talking about at all. My idea of "street" look is the way your house looks from the street view.
With design, the goal is to ensure that the items in your home work together visually. The same should be true of the street and the neighbours you live around. You have opportunities to express yourself in details but the overall colour should be relatively neutral with strokes of the dramatic. Given the sunshine light quality in Canada, we generally need to stick to neutrals like grey, warm taupe, off white and muted pastel colours. Bright colours (blues, pinks, greens, etc) are better suited to tropical climates where the sun is far more intense.
I called this look the "Chanel – Simple Dress Look". The colour scheme is classic and timeless with Apex windows from All Weather Windows using Renolit EXOFOL-FX colour technology in Black. This new colour technology creates a bold, durable colour that will hold up to harsh Canadian weather for years to come. I combined the black windows with scales of grey in the shingles, porch floor and details. The elements of black in the porch lighting with Edison bulbs combined with hints of red in the welcome mat and front door and wood tone on the porch furniture. The white planters on either side of the porch steps focus the attention on the entrance while playing with the white stripe of the chairs.
Sources:
Siding Colour: General Paint's Centauer – CL2983M
Deck Flooring Colour: General Paint's Harvard – CL2953W
The following two tabs change content below.

Canadian Home Trends' National Design Editor, Glen Peloso forged into the world of design 20 years ago after completing his Masters degree in Fine Art. As Principal of
Grafus Design Co.
, he has worked in residential, hospitality and commercial spaces for clients in several countries and has successfully designed over 300 projects in that time. TV Celebrity Designer and Canadian Home Trends National Design Contributor, Glen is also recognized as a design expert on The Marilyn Denis Show and from his past work as a host/designer of the internationally popular television shows Foodnetwork/HGTV`s Restaurant Makeover, and W networks 'Take this House and Sell it', and "Slice Network" show, Renovate my Wardrobe.

Latest posts by Glen Peloso (see all)