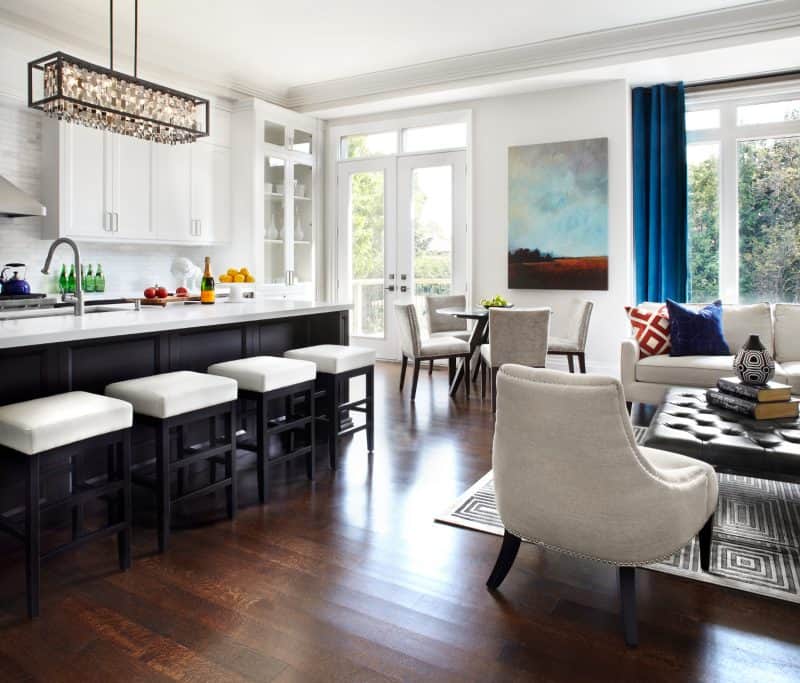 Designer Evelyn Eshun's well curated, contemporary design pays homage to the well-established homes of Toronto's Leaside neighbourhood. By emphasizing gracious simplicity, the designer focuses attention on materials and family comfort.
Eshun applied light and dark elements in the kitchen. "We used bright white cabinets and a deep walnut finish on the maple doors below. We pulled the cabinets all the way to the exterior wall and chose to finish the cabinets in white in order to keep the open and bright feeling," she comments. Eshun advises to "Keep all your dark elements below eye level." This ensures a sense of "expanse" in a room.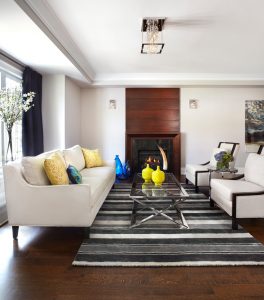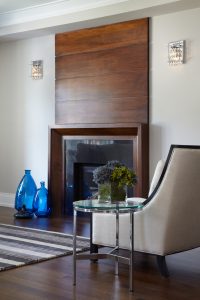 Art Deco's slim symmetrics and geometrics guide the design of the living room's refined lines. Encouraging both conversation and outdoor views, the cream coloured, understated, furniture blends with the creamily neutral walls. "For the purpose of longevity and decorating flexibility, I like to choose a neutral colour for the largest pieces of upholstery," Eshun remarks.
The long rectangle of the red, mahogany fireplace is echoed in the striped rug. Its cream and black strokes add resonance to the furniture's dark woods. "The rug was chosen for its linear, graphic look. It adds a dynamic feeling to the room," Eshun observes. The room's subtle details express themselves gracefully. "I love the crisscross pattern on the cocktail table," Eshun says.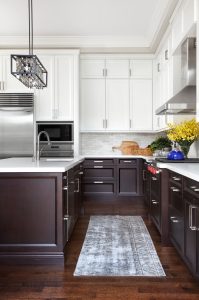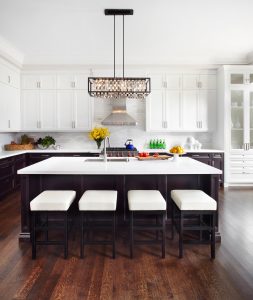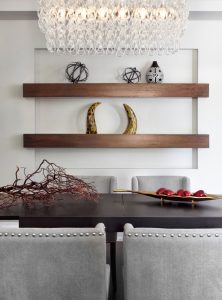 Accessories throughout the home add concise complexity. Their materials bring depth of feeling, as well as, reflective surfaces to leaven the dark woods with sheen and sparkle.
Throughout Eshun's design for the 4,000 sq. ft. living space, lighting provides "jewellery" for each room. "To me lighting is functional art. It allows you to inject personality and style into a space," Eshun states. The light fixtures' non-traditional interpretations of chandelier motifs, like crystal and delicate metallic, blend traditional and contemporary aesthetics.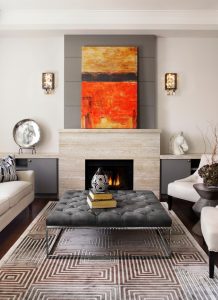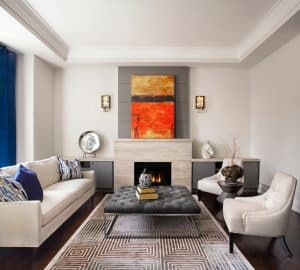 The dining room furniture is burnished with subtle luxury. "The chairs are a take-off from the classic parsons chair. The studs add detailing which elevates the simple design," Eshun notes. "Choosing chairs with a low back profile keeps the chairs from obstructing the view and lends a more contemporary look." A quiet complement to the stained, white, oak flooring, the dining table adds streamlined warmth to the room.
The design for the family room's fireplace is casual and emphasizes convenience. "Storage on either side is perfect for audio and miscellaneous items. Cladding the entire fireplace with stone, keeps it simple and clean," Eshun notes. A leather ottoman provides both seating and storage space. "Decorative trays can be used for added style and functionality of an ottoman as a cocktail table", Eshun explains. The rug diplomatically blends the room's neutrals and linear shapes.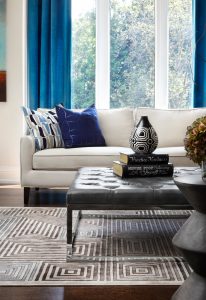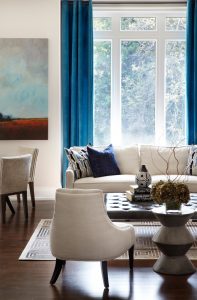 "Putting all the details together well before the project begins is the best way to ensure success in the planning and execution process. There is a flowchart involved from beginning to end which must be adhered to. Otherwise, delays and budget overruns can be encountered," Eshun advises.
Planning and playfulness enabled Evelyn Eshun to create elegance that embraces family and friends with warmth and comfort.
Sources:
Space Designed by Evelyn Eshun, Evelyn Eshun Interior Design, www.evelyneshun.com;
Photographer, Lisa Petrole Photography, www.lisapetrole.com;
Furniture, Sunpan Imports, www.sunpan.com;
Accessories, HomeSense, www.homesense.ca;
Light Fixtures, Universal Lighting, www.greatlighting.ca;
Curtains, Ikea, www.ikea.ca;
Art in Kitchen, Leftbank Art (Available Through Designers), www.leftbankart.com;
Kitchen; Parviz Kitchen and Bath, www.parviz.ca;
Back Splash, Tycos Tile, www.tycostile.com
The following two tabs change content below.

Evelyn Eshun has been providing creative Interior Design solutions for her Residential Clients in the Toronto area for over a decade. Principal Designer at
Evelyn Eshun Interior Design
, Evelyn has participated in various Television programs over the years in addition to her Design business. With a passion for design and travel, Evelyn has translated her extensive and various experiences into a design philosophy which puts the Client's needs and functional needs first. Always striving for a unique and personalized solution for each Client, Evelyn prides herself on creating interiors which will stand the test of time. Whether transforming an old and tired property into a vibrant home or simply finishing a home with the decorating touches which make a house a home, the goal is always to collaborate with Homeowner, Trades and Suppliers to finish the project successfully.

Latest posts by Evelyn Eshun (see all)