As Editor-in-chief of Home Trends Magazine, I've been fortunate to be in a unique position to watch trends grow and evolve threw the years. Trend reports are an interesting thing. While they are a prediction of the future, they are often based on movements and choices that are already in play and that continue to grow. The environment, our culture and society and the general state of the world all come into play, influencing the design decisions being made across the world. The pandemic has been a big player over the past two years, bringing with a desire for comfort, an increase in work from home environments and even a touch of nostalgia for years gone by! So let's take a look at some of the top trends I see coming into play for 2022!
Japandi – The Updated Minimalist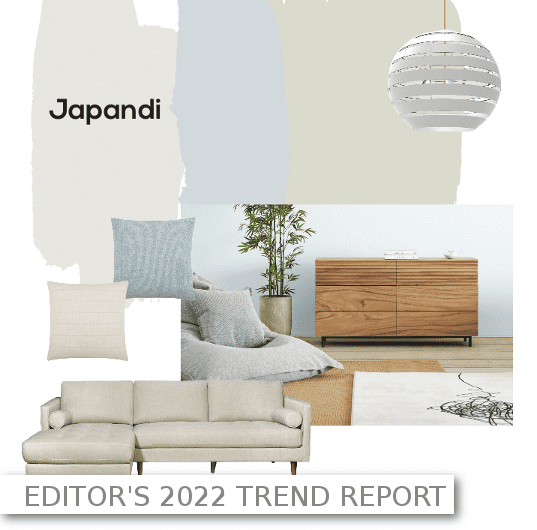 Earthy, natural Scandinavian color schemes meet the elegance and simplicity of the Japanese aesthetic in this updated minimalist style. This look focuses on warm, natural elements, muted color palettes and simple, less is more design principals.
Colors, Pure & Simple DR25-1, True Love DR129-1, Make a Wish, DR105-1, Beauti-Tone, www.beautitone.ca; Sofa, Style in Form, www.styleinform.com; Pillows, Bouclair, www.bouclair.com; Lighting, Living Lighting, www.livinglighting.com; Space Photo by Mobilia, www.mobilia.ca
Hybrid Workspaces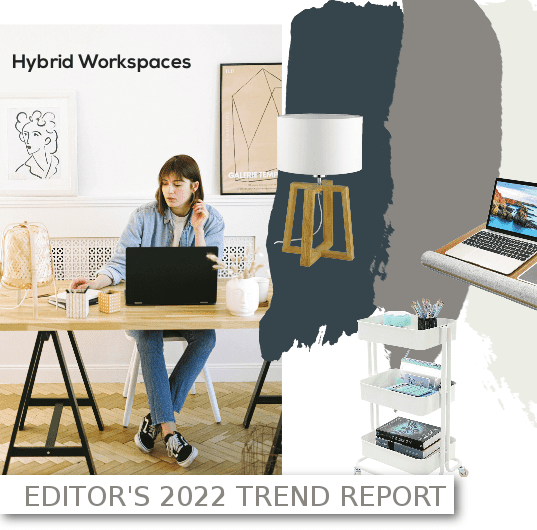 Employees and employers alike have discovered the benefits of a hybrid workspace over the past two years. As a result, we are turning more attention to our home offices. When selecting colors for your home office, it is important to keep your work requirements in mind. For work that requires a calm, focused, stress-free space, colors like warm whites, deep blues, earthy greens and mid-tone browns are recommended. If you love a pop of color, incorporate color in places like area rugs, chairs and accessories that are not in your direct line of sight while working! Alternatively, bold colors like yellow and true green can work well for spaces that need to boost creativity.
Colors, Gotta Have Hue DR124-3, Meditation DR101-1, Shady Affair DR35-4, Beauti-tone, www.beautitone.ca; Lap Desk, Best Buy, www.bestbuy.ca; Cart, Staples, www.staples.ca; Lamp, Living Lighting, www.livinglighting.com
Natural Inspiration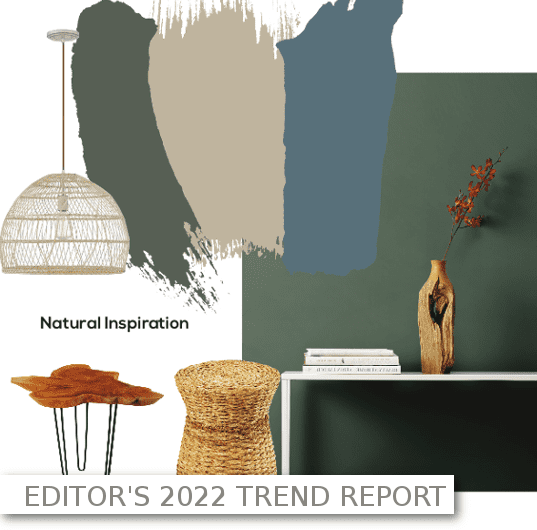 The warmth and comfort that we crave is often found in nature and as a result, materials, textures and colors inspired by nature are a popular choice this year. Materials like reed, cane and rattan combined with a wide range of neutrals and nature inspired colors like blue and green.
Colors, Sanctuary DR112-3, Mirror Brown FD055-0, Beyond Beautiful DR123-4, Beauti-tone, www.beautitone.ca; Stools, Winners, www.winners.ca
Urban Jungle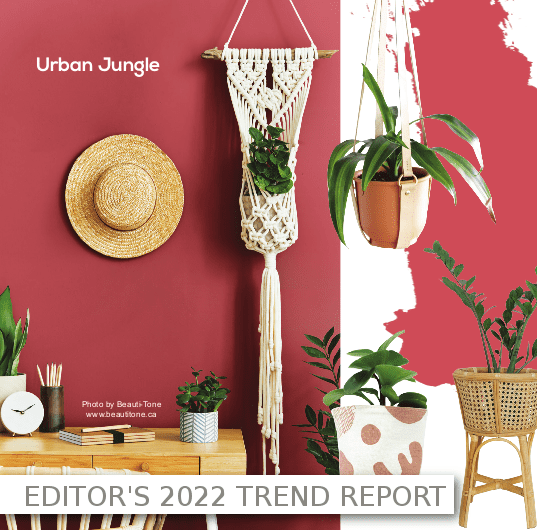 As an extension of the trend towards natural design, we are bringing plants back into our homes again. Designs that incorporate house plants, indoor gardens, colors and patters inspired by leaves, trees and flowers work together to create the feeling of an outdoor living space right in your home. Plant life adds a natural touch to every design style, from clean minimalist spaces to bold, colorful rooms. We love how Beauti-tone's Color of the Year, Warm Hugs, creates the perfect backdrop for a collection of plants in cute pots!
Space Photo, Beauti-tone, Featuring Color of the Year Warm Hugs, www.beautitone.ca; Hanging Pot, Buk & Nola, www.buknola.com; Plant Stand, Viridi, www.virindi.co; Small Planter, Smith Made, www.smithmade.ca
'90s Urban Revival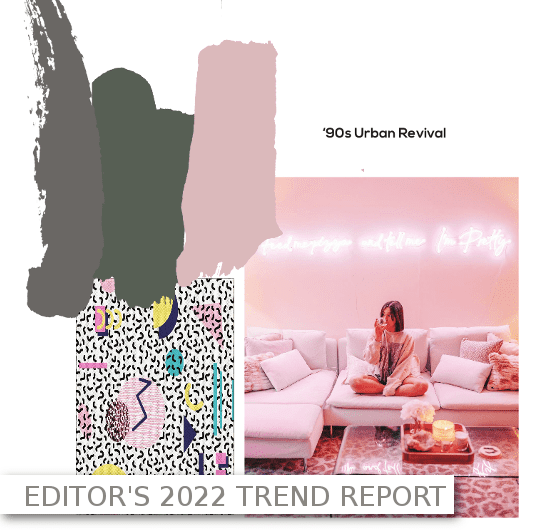 Childhood nostalgia brings back 90's trends like dreamy canopy beds, wicker/rattan, blond hardwoods, unique painted feature walls, blush pinks, hunter greens, browns, boho style, neon lights and wood cabinetry!
Colors, Into the Night DR36-4, Sanctuary DR112-3, Made you Blush DR70-0, Beauti-tone, www.beautitone.ca; Rug, Amazon, www.amazon.ca; Neon Lights, Radikal Neon, www.radikalneonsigns.com
Global Influences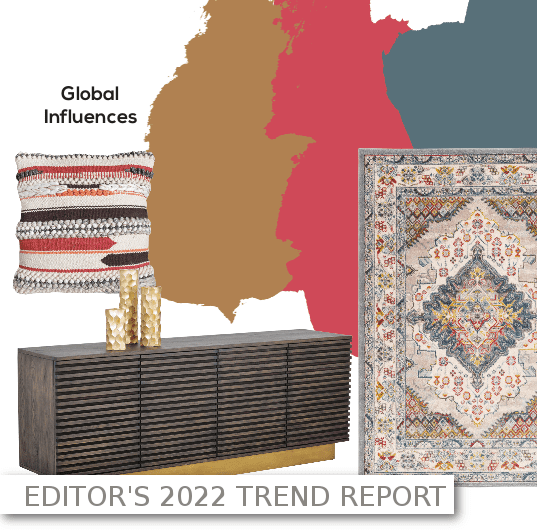 Homeowners who are looking forward to traveling again are incorporating aspects of design from their favorite destinations to create that exotic vacation feel in their homes.
Colors, Golden Nugget DR91-4, Warm Hugs D43-0-1598-3, Beyond Beautiful DR123-4, Beauti-tone, www.beautitone.ca; Console, Sunpan, www.sunpan.com; Rug, Lowe's, www.lowescanada.ca; Pillows, Style in Form, www.styleinform.com
The following two tabs change content below.

Marc Atiyolil is the editor-in-chief of the home décor publication, Home Trends Magazine. His charismatic, down to earth approach can be seen first hand as the co-host of the Marc & Mandy Show airing on networks across North America. His mantra, "Be bold, be different, be unique – Yet keep it simple" is reflected in all of his work. Marc is an avid promoter of breaking down the myths of design and offering simple alternatives to complicated design processes.

Latest posts by Marc Atiyolil (see all)