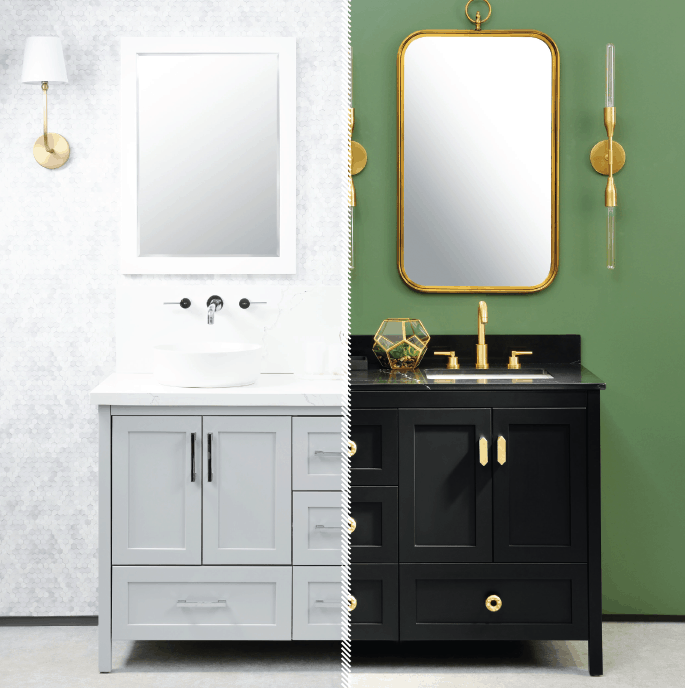 Bathroom vanity design plans by designer and Event Editor Evelyn Eshun who created two stunning looks using custom vanities from Dezign Market.
Casual Modern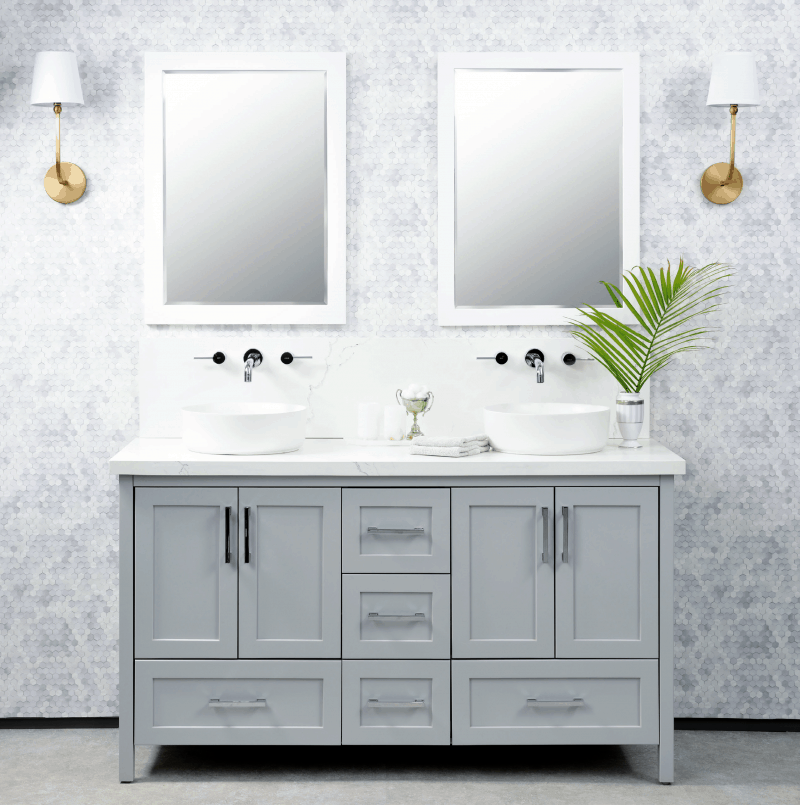 For this look, we paired a cool gray colored vanity with wall mounted faucets, vessel sinks and a quartz countertop with a 1 1/2" edge for a traditional and luxurious look. The quartz countertop mimics the look of real marble with none of the upkeep.
We mixed metals within the space to create visual interest, choosing brushed brass light fixtures and polished chrome faucets and hardware. The sconces are not specified for bathrooms so it would be important to use overhead pot lighting above the vanity for even lighting.
The cool gray color of the vanity is a subtle color choice. Choosing white accents including white mirrors allows the vanity to stand out and take center stage.
Bold Elegance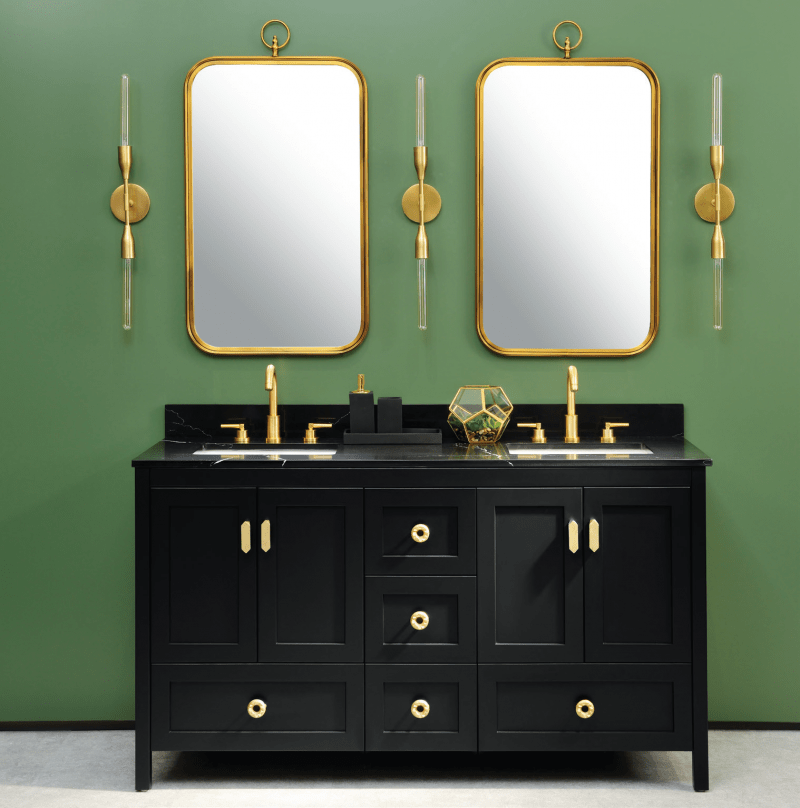 For this look, we used the same vanity but gave it a completely different personality with a black finish, undermount sinks and a 3/4" countertop for a more contemporary look. Undermount sinks are easy to maintain and do not take up any space on the counter, creating a seamless look. The timeless black marquina marble countertop is a very hard and durable marble, perfect for those who want a low maintenance natural material.
For this look, we splurged on three sconces for extra lighting to the area. Sconces should be hung about 50" to 65" from the floor to the center of the light fixture's box.
The black, gold and green combination provides plenty of visual stimulation so we kept accessories simple, opting for black accessories that are bold and elegant but blend in quietly at the same time.
All In The Details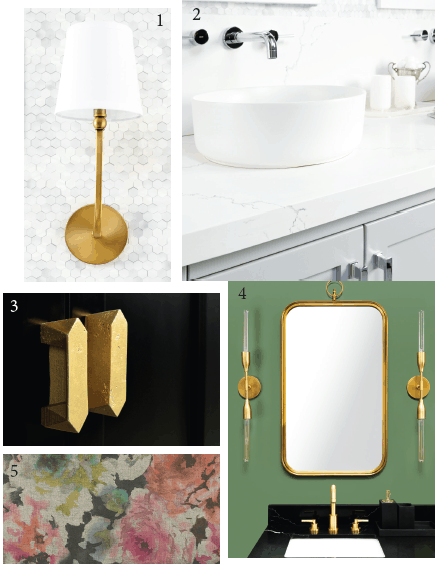 A textured vinyl wallpaper creates a stunning and easy to maintain backdrop for this look. – Prime Walls, www.primewalls.ca
In our bathroom vanity design plans vessel sinks add a personal touch to any bathroom. It's important to ensure that the height of the faucet is appropriate for the sink you choose and that you have the proper clearance for your hands to fit under the spout. – Dezign Market, www.dezignmarket.com
Everything can be customized on these vanities. For this look, we splurged on gorgeous hardware from a local artist. – Shayne Fox, www.shaynefoxhardware.com
We chose a paint color that is elegant and bold but still very natural and welcoming. We selected brushed brass fixtures and faucets for added glamour and unique mirrors for a glamorous art décor touch. – Peale Green HC-121, Benjamin Moore, www.benjaminmoore.com; Mirrors, Renwil, www.renwil.com
This gorgeous wallpaper print would make a gorgeous feature wall, adding a touch of romance to our Bold Elegance look. – Prime Walls, www.primewalls.ca
Custom For You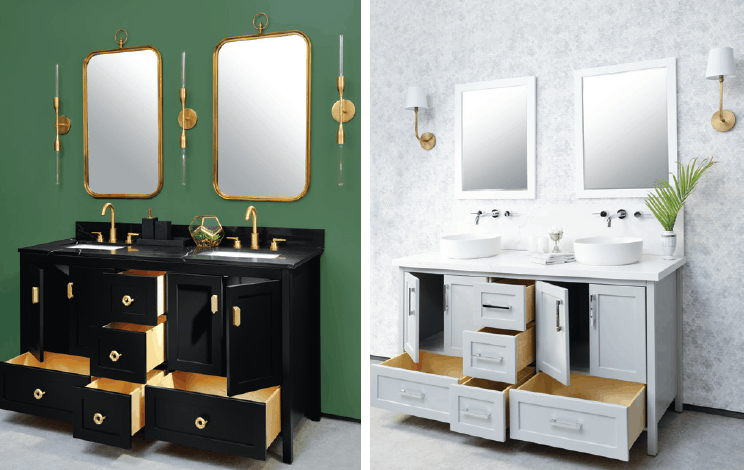 Bathroom vanity design plans includes the DM Bath Collection features a shaker style vanity made from solid maple with soft close doors and drawers. The collection includes ten sizes from a 24" floating vanity to a 72" double vanity. DM Bath offers a timeless style that can be completely customized to suit your style. There are five colors available or you can have it custom painted to any color you wish. You can then top your vanity with a selection of countertop and sink options including under-mount, bowl, and vessel sinks. For a finishing touch, Dezign Market offers a fantastic selection of hardware, faucets and mirrors you can select from or you can source your own for a truly one of a kind piece! For this showcase, we used a 60" double sink version which offers amazing storage with a variety of drawers, perfect for keeping small items organized. – Dezign Market, www.dezignmarket.com
For more decor ideas click here.
For more unique items for your home, click shopCHT.com.
The following two tabs change content below.

Evelyn Eshun has been providing creative Interior Design solutions for her Residential Clients in the Toronto area for over a decade. Principal Designer at
Evelyn Eshun Interior Design
, Evelyn has participated in various Television programs over the years in addition to her Design business. With a passion for design and travel, Evelyn has translated her extensive and various experiences into a design philosophy which puts the Client's needs and functional needs first. Always striving for a unique and personalized solution for each Client, Evelyn prides herself on creating interiors which will stand the test of time. Whether transforming an old and tired property into a vibrant home or simply finishing a home with the decorating touches which make a house a home, the goal is always to collaborate with Homeowner, Trades and Suppliers to finish the project successfully.

Latest posts by Evelyn Eshun (see all)