Rich Colors in Decor Evelyn's Double Take: Rich, Saturated Color. DESIGN AND EVENT EDITOR EVELYN ESHUN CREATES TWO STUNNING MODERN LOOKS USING RICH, SATURATED COLORS.
Photography by Larry Arnal
THIS EDITION OF THE DOUBLE TAKE WAS FUN! I LOVED THE CHALLENGE OF CREATING LOOKS THAT WERE RICH IN COLOR WHILE SHOWCASING TWO KEY COLOR LESSONS: YOU CAN USE COLOR AS A NEUTRAL AND YOU CAN CREATE A MONOCHROMATIC SCHEME BASED ON A BOLD COLOR. – EVELYN ESHUN
In The Shadows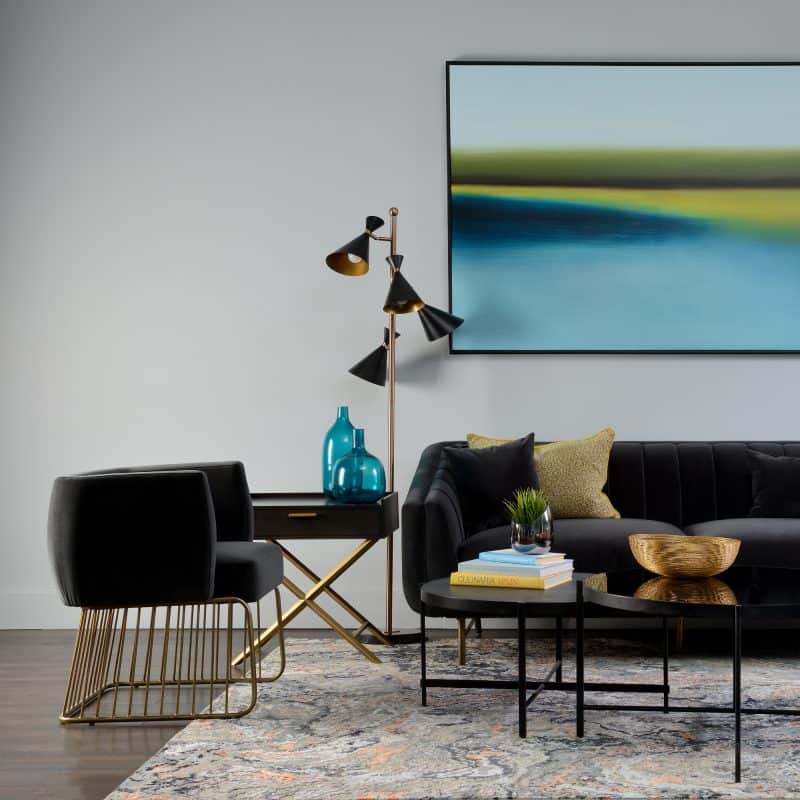 In this space, a structural, mid-century inspired, deep shadow gray sofa sets the stage for a neutral look with a shot of color that keeps the space from being too visually heavy.
I picked the art right after selecting the sofa, to give me inspiration and direction for Rich Colors in Decor colors. Art is a great starting point for any room and gives a space its personality. On the sofa, we only used one colorful pillow that offers texture and a bright pop of color. We used vases and books that picked up the color in the art. The warmth of antique brass is also evident in this look, reflecting light in the space.
Pour a Glass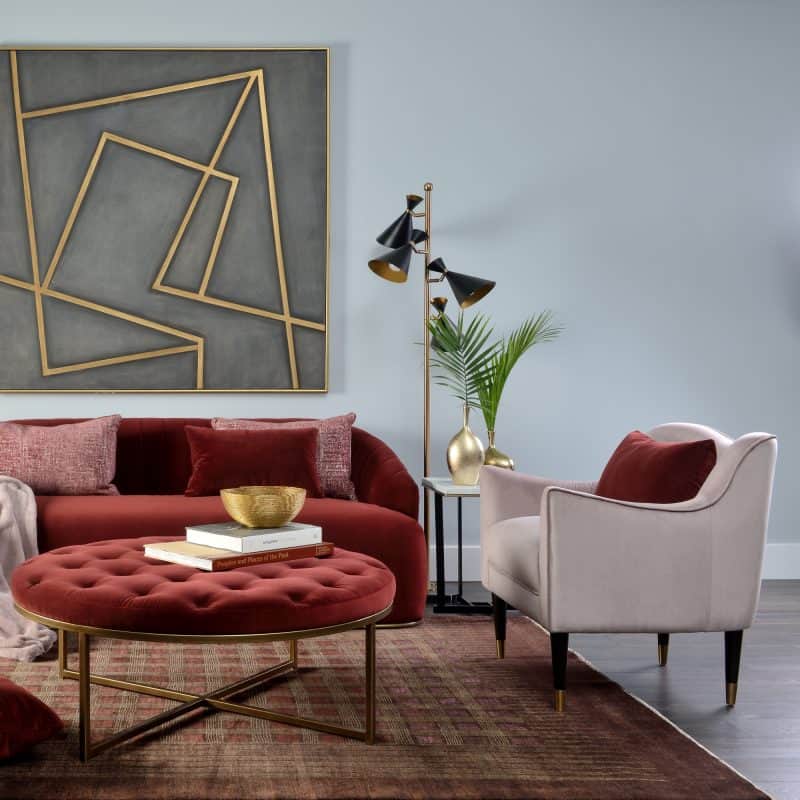 In this space, a curvy merlot sofa is treated like a neutral and paired with pieces in various saturations of the same color to create a monochromatic look. The Astrid sofa is glamorous and reminiscent of the art deco era.
A monochromatic scheme can have a flat and monotone look, so the fabric of the pillows and silk weave in the carpet add texture and detail. Contemporary art picking up on the brass adds some angles to the space and a few rich green palm leaves add a natural touch. The Bow chair in blush sky is the lightest form of red with curves that are complementary to the sofa and the Endall ottoman. The Endall ottoman's antique brass X frame base reflects light and adds structure
All In The Details
The area rug from Kasra Persian Rugs has a geometric design which contrasts nicely with the curves of the furniture. The color complements and grounds the space, allowing the furniture to blend into the rug adding that dark glamorous feeling to the space. – Kasra Persian Rugs, www.kasrapersianrugs.com
When using darker colors, ensure that there is metal in the space to reflect light. – Sunpan, www.sunpan.com
This area rug is a wild explosion of various colors which adds brightness and luminosity to the space. – Kasra, www.kasrapersianrugs.com
Black nesting tables are perfect for a small space since they can be moved around and manipulated to give more or less surface space. – Sunpan, www.sunpan.com
Channel Upholstery
For this Double Take, I was inspired by the rich and saturated colors which I saw when visiting Sunpan Imports. The use of upholstery details such as tufting and piping accented by metal details led me to want to pick a common design element, rather than a piece of furniture. So I chose channel upholstery detail as my constant this time. This allowed me to choose two sofas which are very different and both utterly fabulous to look at and sit in. – Sunpan, www.sunpan.com
For more amazing designer spaces click here
We hope you enjoyed Evelyn's Double Take: Rich Saturated Color!
For more inspiring ideas, click here.
For more unique items for your home, click shopCHT.com.
The following two tabs change content below.

Evelyn Eshun has been providing creative Interior Design solutions for her Residential Clients in the Toronto area for over a decade. Principal Designer at
Evelyn Eshun Interior Design
, Evelyn has participated in various Television programs over the years in addition to her Design business. With a passion for design and travel, Evelyn has translated her extensive and various experiences into a design philosophy which puts the Client's needs and functional needs first. Always striving for a unique and personalized solution for each Client, Evelyn prides herself on creating interiors which will stand the test of time. Whether transforming an old and tired property into a vibrant home or simply finishing a home with the decorating touches which make a house a home, the goal is always to collaborate with Homeowner, Trades and Suppliers to finish the project successfully.

Latest posts by Evelyn Eshun (see all)