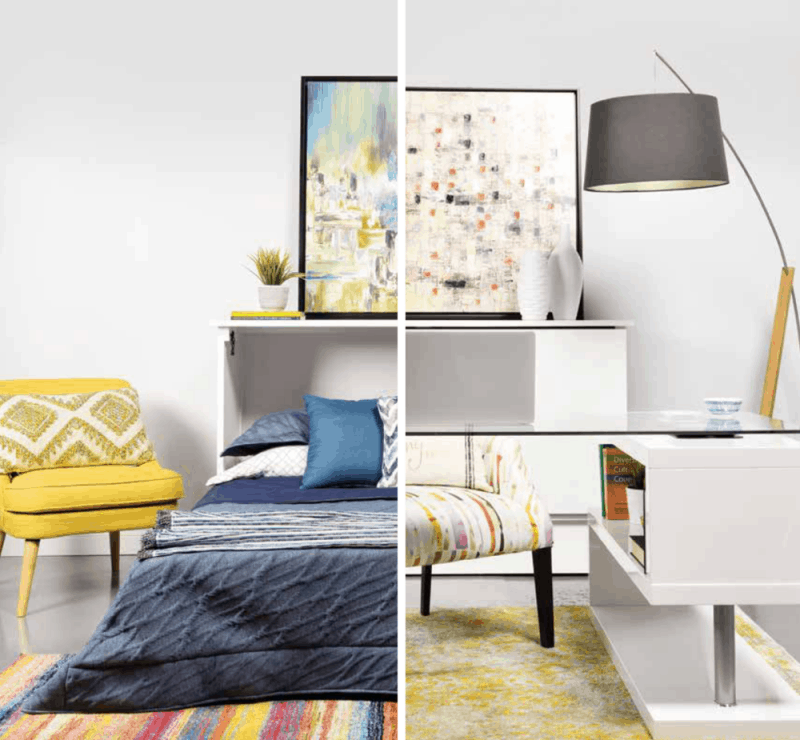 Guest Bedroom/Home Office Design with Design and Event Editor Evelyn Eshun. She shows us how a spare room can double as both a guest bedroom and a home office with a Sleep Chest. – Photography by Larry Arnal
Fresh & Lively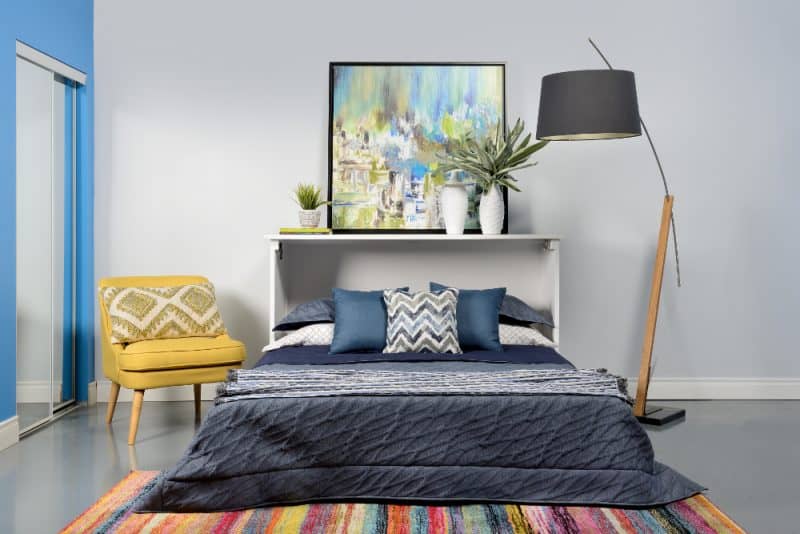 For our guest bedroom, I created a fresh and lively look, perfect for a guest or a youth's room. Denim bedding, much like a well-loved pair of jeans, adds texture and subtle color. The area rug adds a punch of color with an array of stripes. I picked up the yellow from the rug and introduced a mid-century inspired, slipper-style chair. A large abstract art piece is leaning against the wall rather than being hung. This is the perfect choice for a space where you cannot put holes in the wall or want to be able to easily move it.
Elegant & Modern
To convert this room into an elegant home office with a feminine touch, I chose a beautiful chair with slight curves and an airy feeling in a beautiful colored, lighthearted fabric. For the desk, I chose a fabulous modern style desk with a glass top that swivels 360 degrees. The Sleep Chest is closed and I changed out the artwork for a layered look. A yellow and gray accent rug adds an air of sophistication and pulls color from the chair.
Sleep On It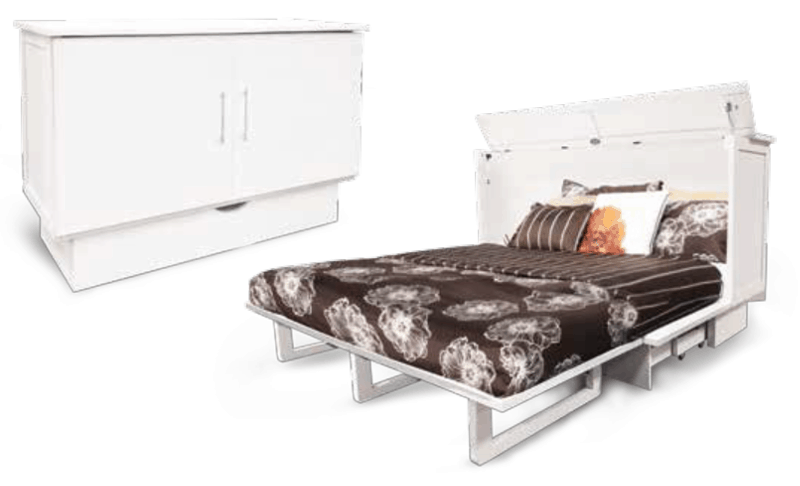 This
Sleep Chest
is a great alternative to a traditional murphy bed as you don't have to install it on a wall. It comes in a variety of styles and finishes making it the perfect fit no matter your preferred décor style. I particularly love the Madrid as it lends well to a contemporary setting. This
Sleep Chest
, a great piece of multi-functional furniture, comes with a mattress and best of all, assembles with minimal effort. – Evelyn Eshun,
www.evelyneshun.com
Creative Space
Guest Bedroom/Home Office Design
For more great ideas,
click here.
For more unique items for your home,
click shopCHT.com.
The following two tabs change content below.

Evelyn Eshun has been providing creative Interior Design solutions for her Residential Clients in the Toronto area for over a decade. Principal Designer at
Evelyn Eshun Interior Design
, Evelyn has participated in various Television programs over the years in addition to her Design business. With a passion for design and travel, Evelyn has translated her extensive and various experiences into a design philosophy which puts the Client's needs and functional needs first. Always striving for a unique and personalized solution for each Client, Evelyn prides herself on creating interiors which will stand the test of time. Whether transforming an old and tired property into a vibrant home or simply finishing a home with the decorating touches which make a house a home, the goal is always to collaborate with Homeowner, Trades and Suppliers to finish the project successfully.

Latest posts by Evelyn Eshun (see all)