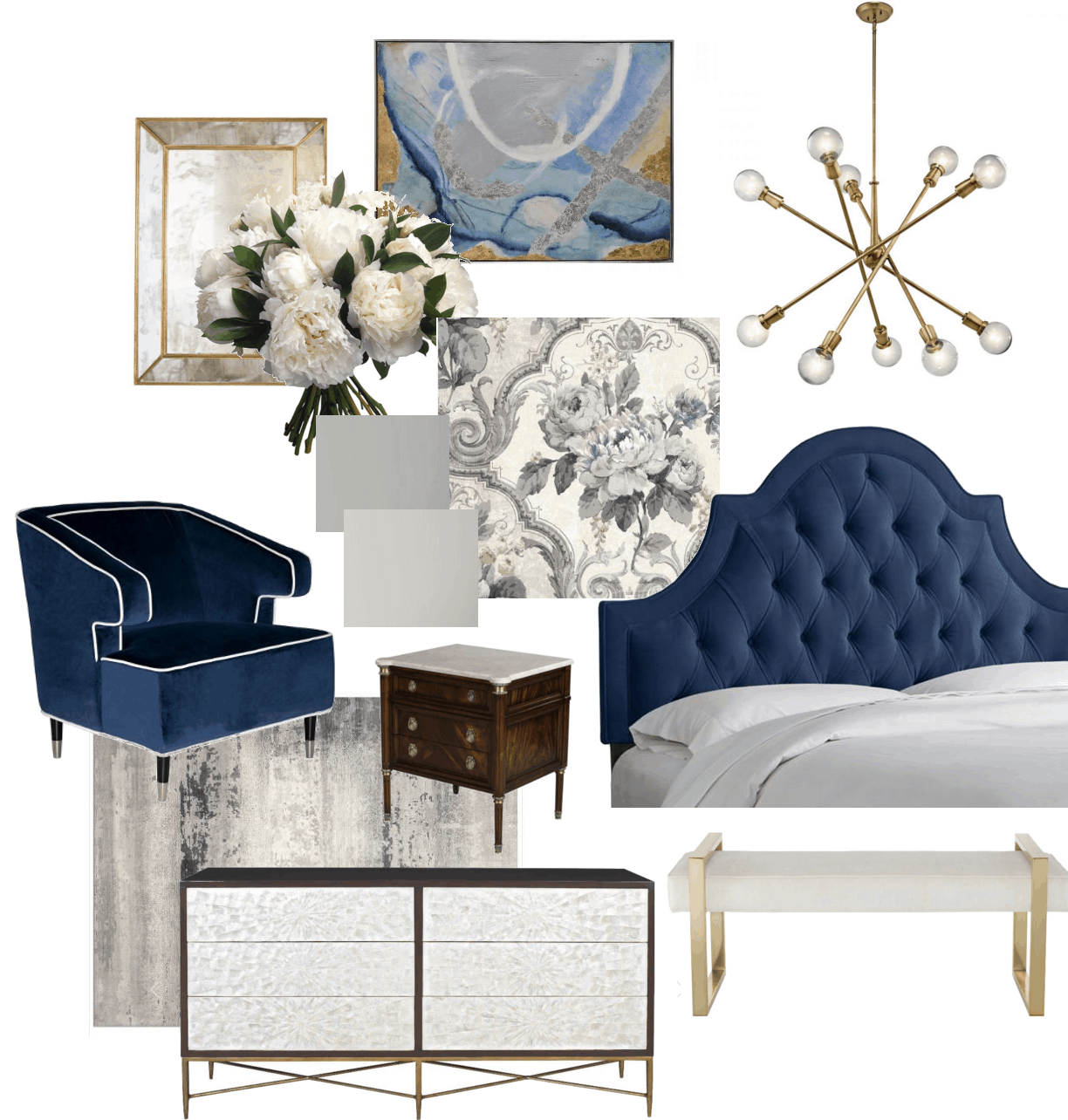 The bedroom is a private space where we begin and end our day. It should be a place where one feels safe and the room should express your personal style; what makes you feel good and what relaxes you.
Classic, traditional design and decorating will never be "out of style", however in this age of fast paced days, we tend to want spaces which are less busy visually and very calming. I was inspired by the Concrete Floral wallpaper from the Brockhall collection by Nina Hancock for it's classic French overtones. It's neutral color scheme is contemporary in its expression. I would suggest only installing it on the headboard wall of the bedroom with a soft neutral on the balance of the walls.
Evelyn's Design Tips:
An upholstered headboard in a regal and bold navy blue creates a focal point on the bed and adds an elegant statement.
Gilded gold in the Kichler Chandelier from Living Lighting works together with traditional mahogany to create a luxurious feel.
A plush armchair offers contemporary expression with piping in an accent color.
A contemporary area rug pulls all the colors together and tempers the traditional elements.
Contrasting styles (traditional and contemporary) will give a space an overall collected look which reflects a room being decorated over time and with loving care.
Contemporary art provides contrasts to traditional elements
Sources:
The following two tabs change content below.

Evelyn Eshun has been providing creative Interior Design solutions for her Residential Clients in the Toronto area for over a decade. Principal Designer at
Evelyn Eshun Interior Design
, Evelyn has participated in various Television programs over the years in addition to her Design business. With a passion for design and travel, Evelyn has translated her extensive and various experiences into a design philosophy which puts the Client's needs and functional needs first. Always striving for a unique and personalized solution for each Client, Evelyn prides herself on creating interiors which will stand the test of time. Whether transforming an old and tired property into a vibrant home or simply finishing a home with the decorating touches which make a house a home, the goal is always to collaborate with Homeowner, Trades and Suppliers to finish the project successfully.

Latest posts by Evelyn Eshun (see all)