Materials Required
Standard Green or other coloured garden hose (short length)
Lightweight fabric Garden Gloves
Glue Gun and Glue Sticks
Rubber coated Wire Twist ties
Pipe-cleaners
Faux Flower Blooms
Decorative Ribbon / Bow
Hardware to hang wreath
Instructions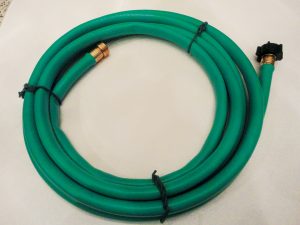 1. Wind the garden hose into a circular wreath shape and discreetly secure with wire twist ties or a dab of hot glue to keep the hose from unraveling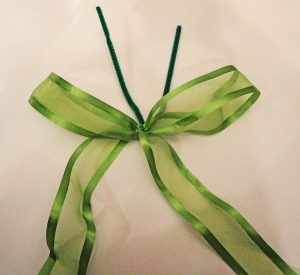 2. Create a large bow with the ribbon and use a pipe cleaner to pinch the middle of the ribbon. Affix the garden gloves to the back of the bow using the same pipe-cleaner ends twisted to keep in place.
3. Attach the bow / garden glove assembly to the front of the garden hose with hot glue or a twisted pipe-cleaner.
4. Discreetly affix the faux flower blooms along 1/3rd section of the hose where the bow and garden glove assembly is attached, and secure in place with a dab of hot glue, twisted pipe-cleaners or the stems of the blooms. Pick bloom colours that will complement the colour of the garden hose.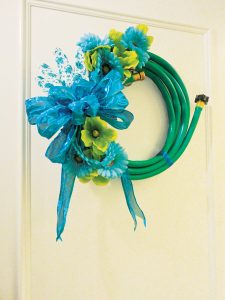 5. Hang wreath on door for a whimsical and fun spring summer effect
The following two tabs change content below.
Nicholas is the DIY Editor for Canadian Home Trends Magazine, an award-winning Designer Decorator, and appears as a guest expert on City TV's CityLine. As Principal Designer, Interior Decorator and Stylist for
Nicholas Rosaci Interiors
, Nicholas creates chic, confident and glamorous spaces that cross the divide between Modern and Traditional.
Latest posts by Nicholas Rosaci (see all)