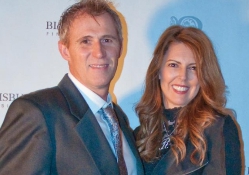 Rhonda and Robert of Bloomsbury at the Kitchen & Bath International Show in Las Vegas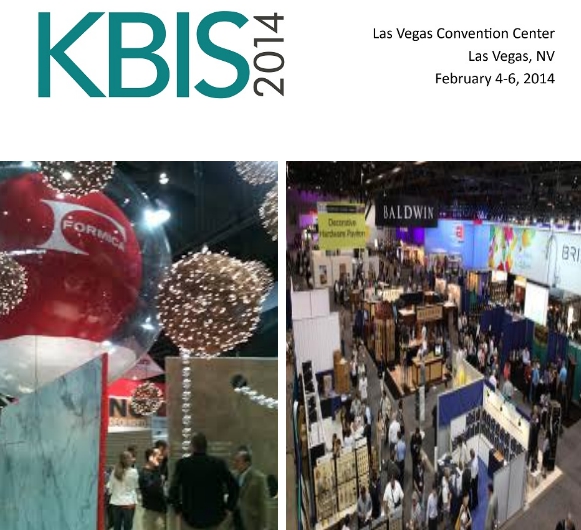 We are very excited to share our experiences during Design and Construction Week last week in Las Vegas at the KBIS Show for Kitchen Industry experts.
There is nothing more exciting than starting off a new design year at KBIS for kitchen and Bath Industry Professionals;  it's a fresh start and full of possibilities, it is always fun to see what is trending in the world of design.
The focus this year was on Personalization and Customization which is right up our alley,
At Bloomsbury our whole business is based on the needs of our clients looking for the type of custom work we offer, but now everything from sinks to taps and appliances have elements or options of personalization incorporated into the mix.
Customization always comes with a higher price tag but people who want these luxury features realize you get what you pay for. These nicer features really add to the enjoyment of use and overall esthetic so the extra cost is usually not a big factor for something you only buy once and use so frequently and have to look at everyday.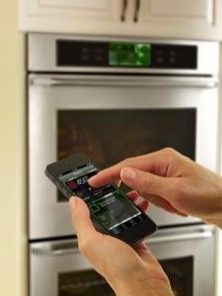 Best in Show & Best in Kitchen: Gold: The Discovery iQ 30'' Wall Oven by Dacor
Recipient of two awards, the Dacor wall oven is a showstopper. Its unique connectivity feature allows users to access their oven from their smartphone or tablet from inside or outside the home.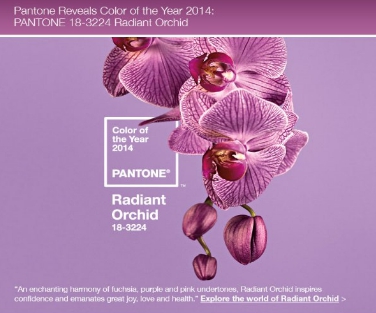 New colour for 2014- Radiant Orchid
So pretty!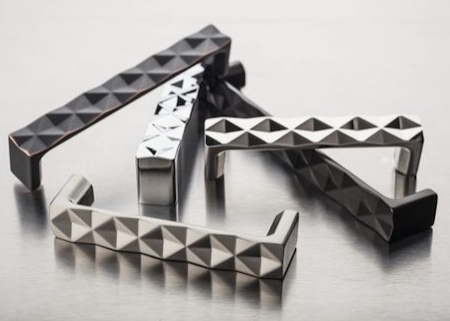 New Hardware from Top Knobs – Quilted modern…love it!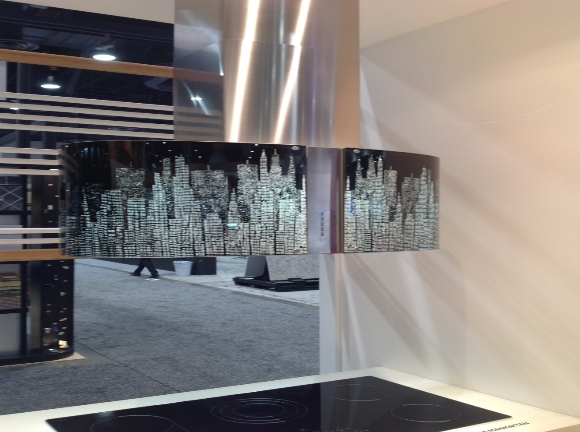 Loved this cool Range hood…I will have to work it in next time we design a Downtown Condo or Bachelor Pad.

This New stone counter top material is Quarzi, from Fiandre's "Precious Stones Collection" hard to believe this is a man-made creation!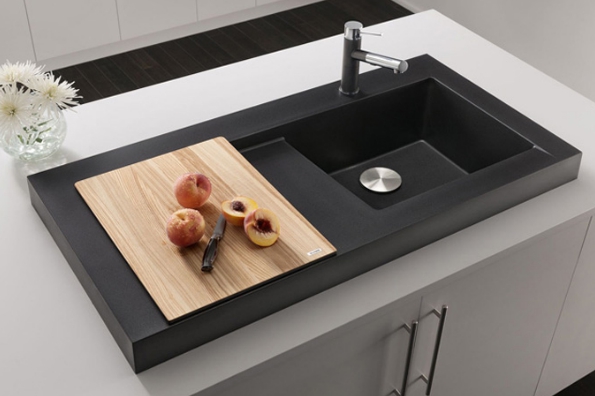 New Blanco Modex sink with an integrated cutting board. Now, this is different from just placing a cutting board on top of the sink. While chopping you can sweep remnants right into the sink. When you lift the cutting board, you notice a sloped area which helps remnants slide down into the sink area.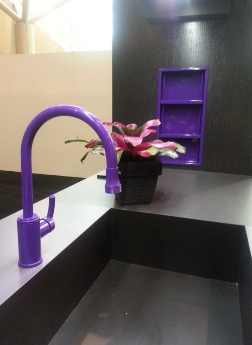 Did you know you can customize and colour coordinate your faucets in more than just a few finishes? One of our favorite companies (Rubinet) for faucets showed their beautiful range of colours and options at KBIS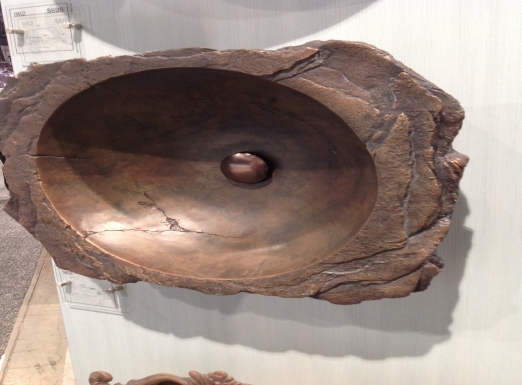 The Plumbing fixtures ruled the show
Rustic chic…great for the cottage!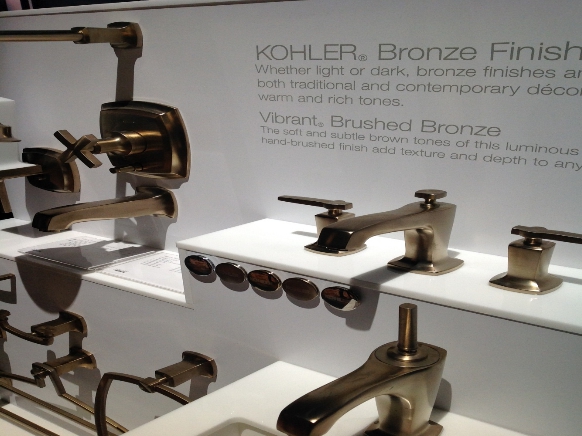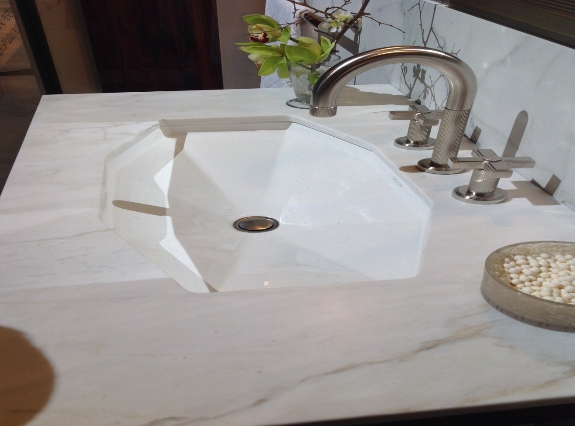 New from Kohler
Robert checking out all the new Gadgets.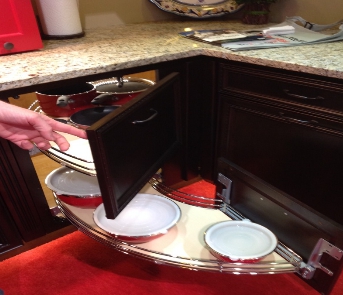 Just when you think you've seen it all…a curved Magic corner!!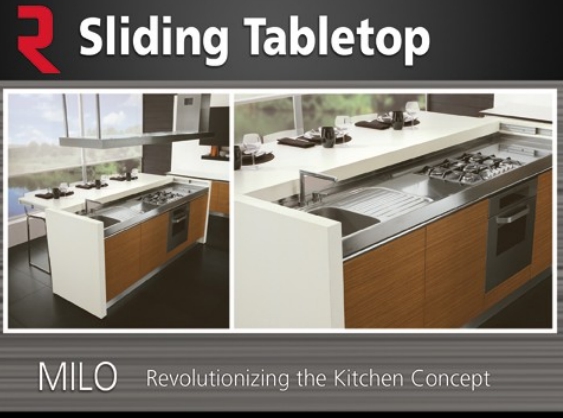 MILO sliding tabletop…interesting …very new from Richelieu
New Viking Professional line very revolutionary ideas here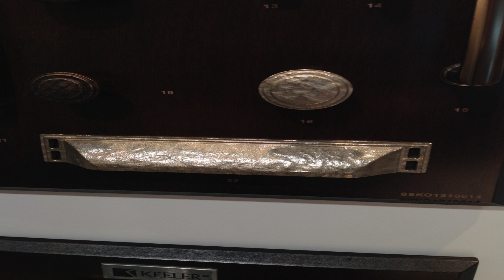 Great to find more amazing hardware for our Selection,we are seeing more gold finishes and more Crystal shapes and styles ..Bring on the Bling!
This Is a great transitional post design…I will for sure be incorporating this into some kitchen designs this year
SILESTONE INTRODUCES NEW OCEAN COLLECTION
Six New Colours Inspired by the bold look of Exotic Granite
Modern, Stunning , indestructible
That's it!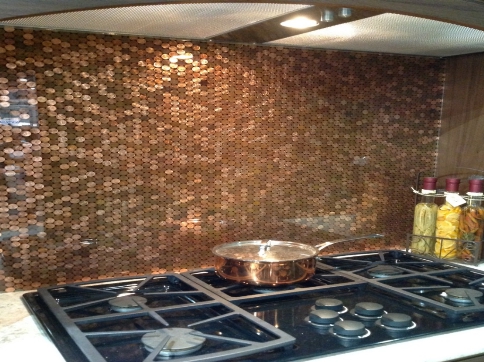 CLEVER DO IT YOURSELF DESIGN
This is a great example of clever design…I regret did not note down which booth this was in but I could not pass by without a photo. This is all COPPER PENNIES ….! Behind a sheet of glass …so cute, and now the penny is a collector's item so what a great way to display them. Loved it!
Or high-end custom tile …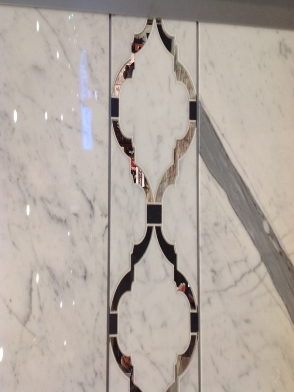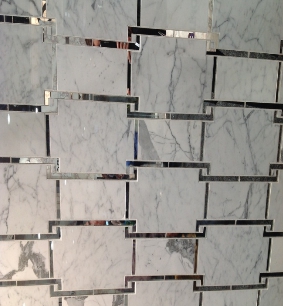 GREY – IS THE NEW WHITE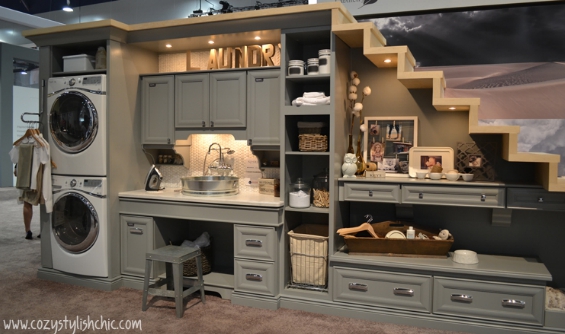 Well… not really, but Grey has been a big trend for us over the last few years and now we are really seeing it taking off in the US as well…this is a great use of under-stair space done by Omega Cabinetry
As always Hats off to great design. Well done!
They even tucked in a little spot for the dog bed…so cleaver!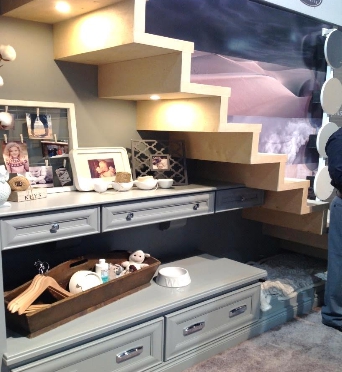 Las Vegas it all decked out so beautifully for Chinese New Year… it is the Year of the Horse- symbolizing a Year of Improvement… I like that! Happy New Year!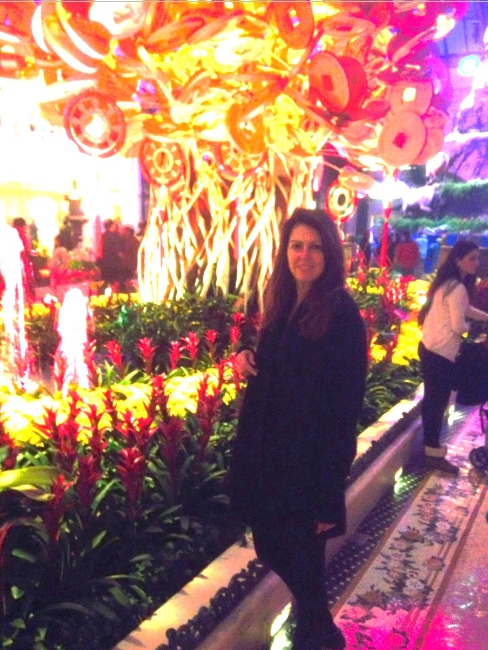 The following two tabs change content below.

Rhonda Thornton, Principal of
Bloomsbury Fine Cabinetry
, is an accomplished Kitchen Designer with over 17 years of residential kitchen design and planning experience. Bloomsbury Fine Cabinetry is a leader in design and manufacturing of truly Custom Cabinetry, specializing in the art of Bespoke English-Style cabinetmaking, built to with stand the test of time and trends. Rhonda has collaborated on well over 500 kitchen projects and has had the privilege to contribute her expertise to some of the most stunning homes and cottages in the GTA.

Latest posts by Rhonda Thornton (see all)