Today was my final day in in High Point, North Carolina. It has been a very productive experience. After a number of seminars and networking events along with miles and miles of walking through various showrooms, I'm leaving with much inspiration and knowledge.
Elegance, glamour and intricate details are back and that is a good thing!
A collection of small side tables in a variety of finishes, styles and shapes allow you to bring whimsy and personality to your space.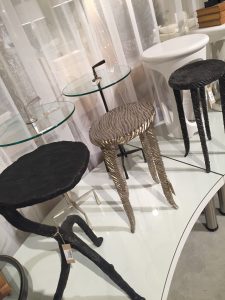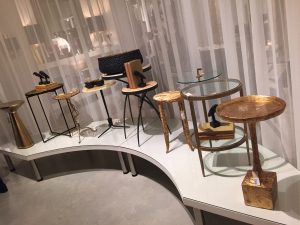 Natural elements are brought into the home in creative ways.
Copper, rose gold and gold are everywhere. Mixed with wood, it brings warmth and a traditional feeling to the most clean lined pieces.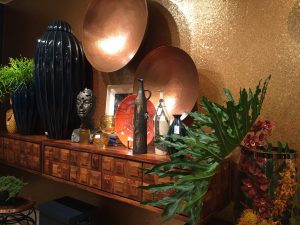 Classic navy blue is the new 'black'. It is truly a colour which goes with everything.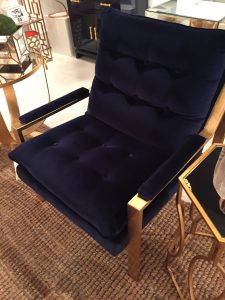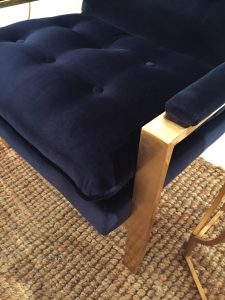 High gloss and mirror finishes bring sparkle and a heavy dose of glamour to the table.
Details and dressmaker elements are added to furnishings.
Contrast creates drama and emphasizes shapes.
Cut-out shapes create pattern and texture.
Today I head back home to recover and get to work implementing some of the fabulous things I learned into my own design projects!
The following two tabs change content below.

Evelyn Eshun has been providing creative Interior Design solutions for her Residential Clients in the Toronto area for over a decade. Principal Designer at
Evelyn Eshun Interior Design
, Evelyn has participated in various Television programs over the years in addition to her Design business. With a passion for design and travel, Evelyn has translated her extensive and various experiences into a design philosophy which puts the Client's needs and functional needs first. Always striving for a unique and personalized solution for each Client, Evelyn prides herself on creating interiors which will stand the test of time. Whether transforming an old and tired property into a vibrant home or simply finishing a home with the decorating touches which make a house a home, the goal is always to collaborate with Homeowner, Trades and Suppliers to finish the project successfully.

Latest posts by Evelyn Eshun (see all)