Another early morning – and yesterday was a great day full of inspiration and motivation. There is a really positive vibe in the air which makes for a very enlightening experience.
Yesterday I had the honor of meeting Christopher Guy Harrison, the man behind one of the worlds' most exclusive lines of furniture. A feast for the eyes; I saw pieces which will in fact are the 'Antiques of the Future'.
Glam is back and even the most casual furnishings are sprinkled with glamorous elements like brushed and gilded gold and copper.
Tooled leather is used on chairs to add a hand wrought feeling.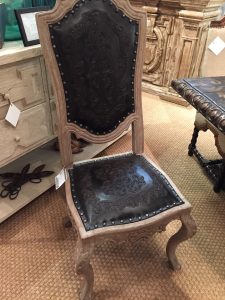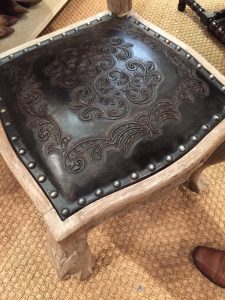 Gold and copper can be seen in all finishes from polished to brushed. Interiors and reveals are wrapped in the metal finish adding a dynamic design element to the simplest of shapes.
Acrylic is used in simple contemporary styles as well as incredibly intricate pieces. I fell in LOVE with this chair; simply breathtaking.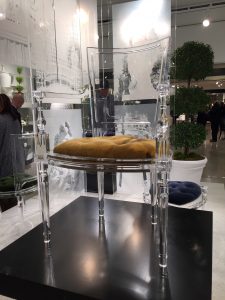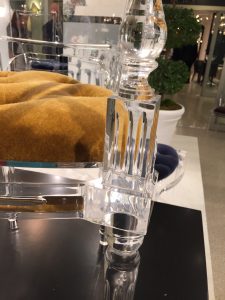 Nature is brought inside in this lamp with the impression of a branch wrapping sensually around the simply structured base.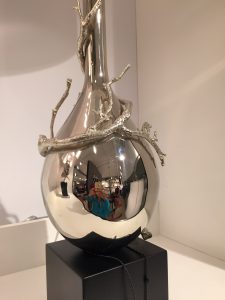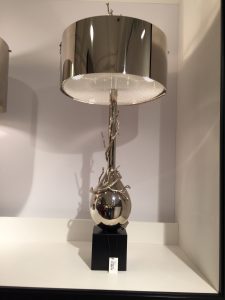 Mirrors are antiqued with beautifully executed patterns applied to the back of the glass.
Hits of colour such as citrine, orange and turquoise are used in glamorously shaped accessories.
MidCentury Modern is raging in a very big way with touches of the roaring 20's .
I'm off to another day of adventures… can't wait to see what will be bestowed on my imagination.
The following two tabs change content below.

Evelyn Eshun has been providing creative Interior Design solutions for her Residential Clients in the Toronto area for over a decade. Principal Designer at
Evelyn Eshun Interior Design
, Evelyn has participated in various Television programs over the years in addition to her Design business. With a passion for design and travel, Evelyn has translated her extensive and various experiences into a design philosophy which puts the Client's needs and functional needs first. Always striving for a unique and personalized solution for each Client, Evelyn prides herself on creating interiors which will stand the test of time. Whether transforming an old and tired property into a vibrant home or simply finishing a home with the decorating touches which make a house a home, the goal is always to collaborate with Homeowner, Trades and Suppliers to finish the project successfully.

Latest posts by Evelyn Eshun (see all)