Earlier this summer I spent a design-filled weekend in one of North America's best places to go for a dose of creative inspiration – New York City. The purpose of my trip (well, really the excuse for my trip) was to attend ICFF, the International Contemporary Furniture Fair. The walk from my mid-town hotel took about 20 minutes and ended in a gritty neighbourhood on Manhattan's west side. Not sure what to expect as I entered the enormous convention center, I walked through the door and found myself in Candyland. If you could imagine what Willy Wonka's world would look like for a designer, this would be it.
What lay before me was aisle upon aisle of amazingly creative furniture, décor and accessory design. Their creators, mostly artisans and small business owners, had traveled from all over the world (including Canada) to showcase their wares. Slowly and carefully I worked my way from one end of the convention center to the other, making sure I didn't miss a thing. After a few minutes I noticed a trend beginning to emerge. It was the lighting design that consistently made my head turn. Aisle after aisle, it was lighting that stole the show.
In the last several years there has been a definite progression in lighting, moving towards increasingly innovative and sculptural design. What I saw at ICFF took this to the next level. I would call it illuminated ceiling art. The focus was on form, materials, shape and colour. The fixtures were made of everything from wood to blown glass, pipes to painted Velcro. And they just happened to house light bulbs as well.
Lighting is one of the things that can completely transform a space and add real wow-factor to your room. When choosing a fixture, don't just look at the colour of the finish and the wattage. Look also at the lines, the materials, how the light filters through it, the scale (go big if your room can take it), and the uniqueness of the piece. Think about the kind of impact it will have on your space – formal or casual, funky or classic? If the fixture doesn't elicit any excitement, just walk away. With so many interesting options, why not go for something fantastic?
Here's a look at some of my favourite designs:
1. Scraplights, made from intricately detailed corrugated cardboard by Greypants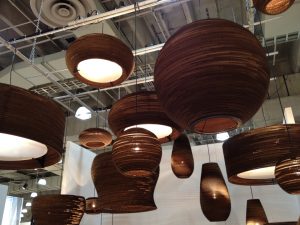 2. Hand blown glass and brass fixtures in progress by Lindsey Adelman Studio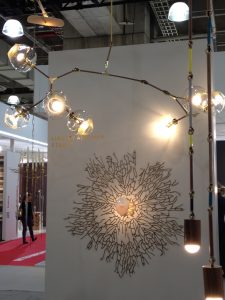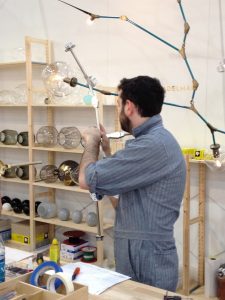 3. Kelly Chandeliers from the Blackened Gold collection by Canadian design team Gabriel Scott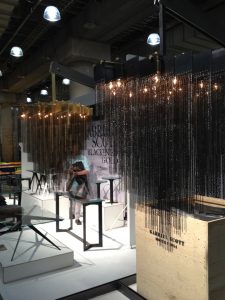 4. Glowing circular fixtures by Nuvo
5. Cloud chandelier, made hand frosted glass orbs designed to create an irregular texture reminiscent of 19th century glass frosting techniques, by Apparatus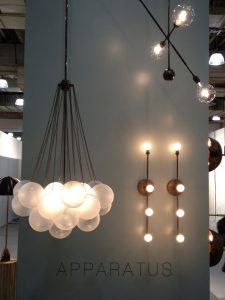 6. Primal Lighting by A.D. Injection Lab. Look carefully and you'll see the silhouettes of our primate ancestors.
7. Skyline inspired pendants made from recycled cardboard by CARTONPLANET
7. This amazing fixture by British designer Rachel O'Neill is made from painted Velcro!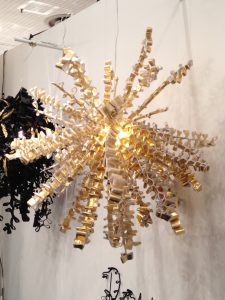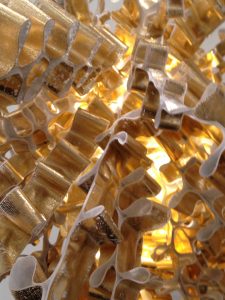 8. Daydream fixtures made from colourful Japanese hand woven paper, by Tomomi Sayuda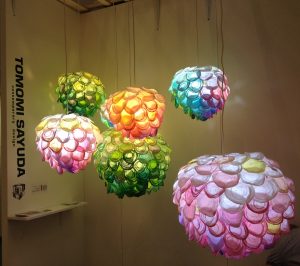 The following two tabs change content below.


Latest posts by Laura Stein (see all)