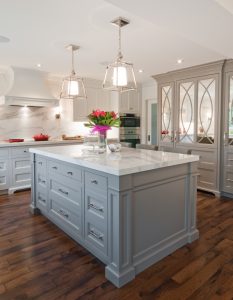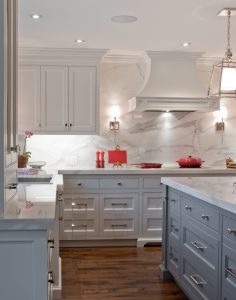 KITCHENS AS LIVING SPACES
Busy families gravitate to the kitchen for more than just cooking and eating. A spacious 4' x 8' island in this kitchen makes it easy for a family to enjoy many activities together and allows children to be close at hand while dinner is being prepared.
INTRICATE DETAILS
Custom details and beautiful features are key to creating a stunning kitchen. A custom classic-style range hood with a beautiful porcelain faux marble backsplash, elegant sconces and custom hand-painted framed cabinetry create a gracious focal point in this kitchen.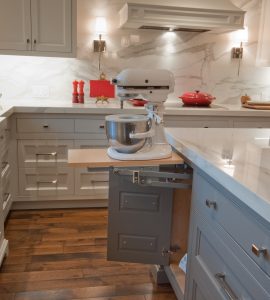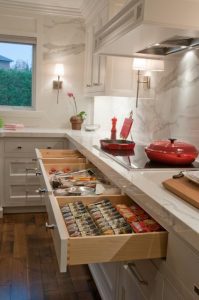 CUSTOMIZABLE STORAGE
Today's kitchens combine elegance with functionality. Creative ways to tuck appliances away and organize kitchen essentials built right into the cabinetry are key to creating a welcoming kitchen. Bloomsbury is recognized for building kitchens with these characteristics.
INTEGRATED APPLIANCES
A 36" Sub-Zero refrigerator is designed to be seamlessly hidden and appear as a furniture piece. The mirrored doors add a touch of glam and help reflect light around to help open up the space. Integrated refrigerators, a trademark detail of a Bloomsbury kitchen, is becoming increasingly popular in modern kitchens.
ABOUT THE DESIGNER
Meghan Palmer is a professional kitchen designer and project manager with Bloomsbury Fine Cabinetry. Meghan worked together with the homeowners to transform the kitchen in this older Toronto home into a custom space that is the centrepiece of their home.
The following two tabs change content below.

Rhonda Thornton, Principal of
Bloomsbury Fine Cabinetry
, is an accomplished Kitchen Designer with over 17 years of residential kitchen design and planning experience. Bloomsbury Fine Cabinetry is a leader in design and manufacturing of truly Custom Cabinetry, specializing in the art of Bespoke English-Style cabinetmaking, built to with stand the test of time and trends. Rhonda has collaborated on well over 500 kitchen projects and has had the privilege to contribute her expertise to some of the most stunning homes and cottages in the GTA.

Latest posts by Rhonda Thornton (see all)