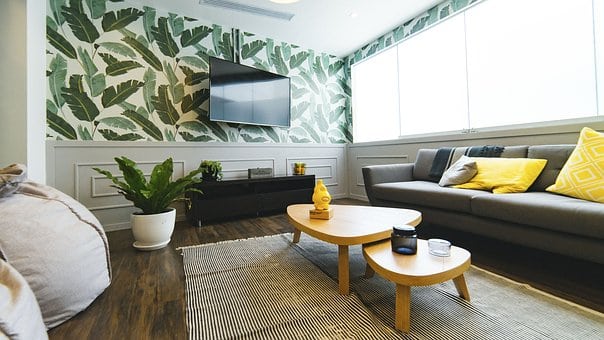 Q. I love going to the movies but I don't get to go as often as I would like. How can I create a home theatre area at home?
Once only an option for the rich and famous, home theatres have made their way into the rest of our homes. Advances in technology have made them both affordable and possible in a relatively small space. Often an underused area with little natural light and low ceilings provides the perfect retreat for your viewing pleasure.
SCREEN CITY There are a variety of technological options available to screen film and television in your home. A simple option is a large LCD TV and a home theatre in a box system. If you want to get a little fancier and pricier, a sophisticated custom-built system complete with a video projector and wall speakers is a good option as well. In terms of selecting the size of screen that best fits your viewing needs, both the room and budget will be your deciding factors. It is best to discuss your options with the pros to establish the ideal size for you. They may ask you to divulge details such as the existing lighting in the room, the distance from seating to screen, your preferable viewing angle, as well as, your interest in screening in 3D. Research the choices ahead of time to take advantage of their knowledge as well as to get the best deal on your purchase.
THE AUDIENCE IS LISTENING Over the past few years, advancements in speaker technology has given the average viewer the potential for a very high quality of sound to accompany picture. Without overpowering the room, put careful thought into how you can customize the acoustics in your space to optimize sound quality. Consider all of the hard and soft surfaces in your media room and take into account their affect on sound. Improve acoustics easily by adding a plush carpet to the room and soft fabric shades to your windows instead of hard blinds. This helps to control the echo effect. For the ultimate indulgence, hook everything up to a universal remote to control the AV equipment, the lights and even the shades with the touch of a button.
VIP SEATING Comfort and visibility are key to an enjoyable home theatre and one of the most important components is great seating. It's imperative to ensure that each seat delivers an equally good view of the screen to keep your audience happy. Comfy sofas and recliners are standard options but for an authentic viewing experience, you will want to shell out for real theatre style seating. Typically, 2 rows of 4 seats will fit comfortably in a 20 x 13 foot theatre. For even better viewing, elevate the back row with a pre-built platform to really wow your guests. There are several design options available and some even come in genuine leather with cupholders in the armrests while others require zero wall clearance, reclining forward into the room instead of back against the wall which makes the most of a tight space.
HIDDEN DETAILS The technical specifics of a home theatre or media room are more important than other spaces in the house. Custom wiring is a smart, effective choice that will improve both the functionality and the look of the room. Between the lighting, video, audio and internet access (if streaming videos or playing games online) there are lots of wires and cables accessing the room. Placing unruly wires behind the basement's drywall, in low-profile tubing throughout the room, or even in floor receptacles beneath electronic seating will prevent them from becoming an eyesore.
– Text by Kim Bartley
The following two tabs change content below.

Kim Bartley, Principal of Kim Bartley Design, brings 25 years of business ownership and management to the table. Kim's keen eye for design lends her rooms an edgy sophistication while remaining current and functional. Her philosophy is that your home should make you happy and reflect your lifestyle and changing needs. Focusing on unparalleled client care, Kim aims to make the design experience positive and enjoyable at each phase of the project. She works collaboratively with her clients to develop spaces that are clean and modern but still warm and approachable. Kim believes that everyone deserves to live in a beautifully designed space and focuses on truly "getting" her clients.

Latest posts by Kim Bartley (see all)