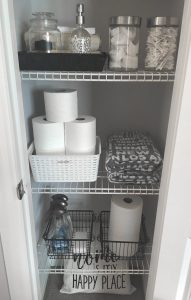 We asked organization expert Mikela Correia: What are your favorite linen closet organization hacks?
Linen closets often serve a variety of purposes. Bed linens, towels, cleaning supplies and more share a common home in this space. Here are some hacks to help you maximize the space:
1. Wire baskets are one of my favorite supplies when it comes to storage. They are easy to clean and allow the items inside to remain visible, yet contained!
2. A small rolling hamper in your linen closet will allow you to avoid putting damp towels in your clothing hamper. A removable insert is a must! Every few weeks, take it out of the hamper and toss it in the wash to keep it clean and fresh.
3. Simplify your cleaning routine by grouping cleaning products together in a small wire or plastic basket and store them in the linen closet so they are close at hand when it comes time to clean!
4. Whether you're looking for a little bit of extra space sufficed by a couple of hooks, or a full blown storage system, never underestimate the real estate value of the inside of a closet door. – Mikela Correia, www.Spaces-Simplified.com