When Should You Skip The Draperies? As stagers, we are often questioned by homeowners as to why we recommend removing some, and possibly all, window coverings in a home that is being shown for sale. While window coverings (curtains/drapes, valences, blinds/shades etc.) can be a wonderful decorative element in any home, and also provide a much-needed function beyond decoration (e.g. reduce/block sunlight/heat, provide privacy etc.), they can actually detract from the important elements of a home that is being considered for purchase. Even when a seller's existing furniture is being used, taking away these coverings can make a huge difference in terms of the way the house is presented.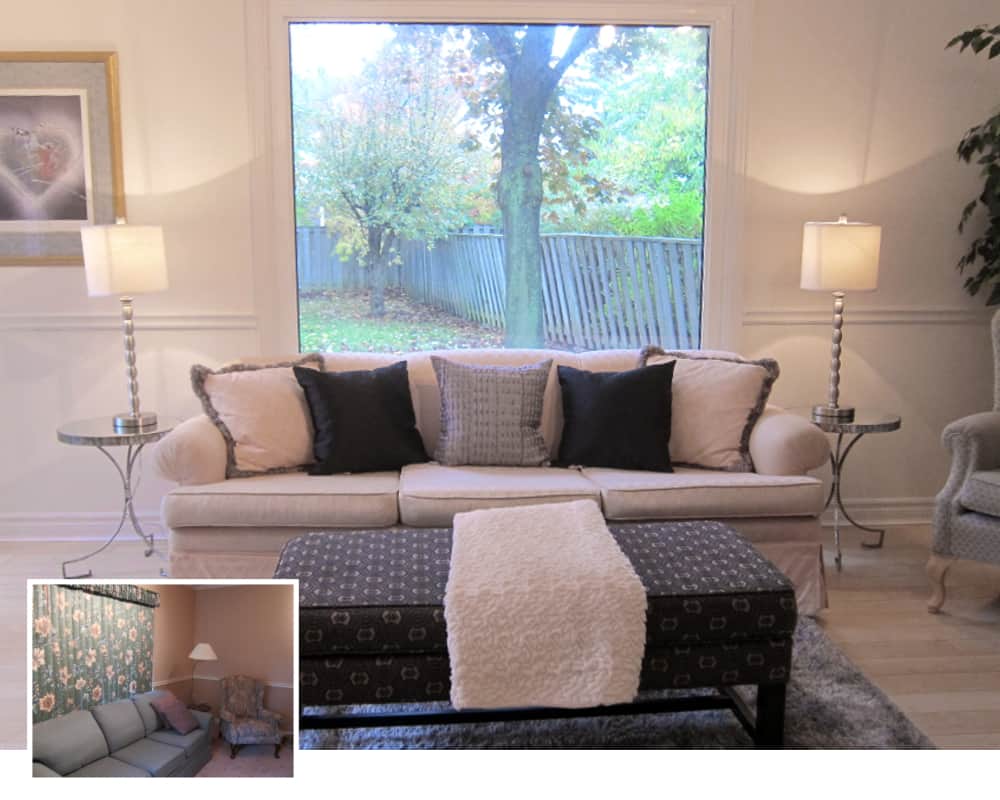 Before: Outdated curtains hide a view of the back yard and make the home feel older. After: An uncovered window leads the eye outside, making the room feel larger!
Things to Consider:
The View – Are the window coverings blocking an amazing view of the outside? Or are they covering an unattractive view e.g. neighbor's house wall? Maybe sheers are all that is needed!
Light – Are the window coverings blocking out a lot of light or are they dark in color? Does the room appear darker/smaller than it should even when all lights are turned on?
Color – Are the window coverings so bright/colorful/full of patterns that they take the focus away from a key focal point in a room such as a window or a fireplace? Does the color of the window coverings not match anything else that is in the room?
Dated – Are the window coverings out of date (e.g. white lace, flower patterns, tassels etc.) or too old fashioned in color (e.g.pink) that they make the house appear older than it is?
Heavy – Are big/opulent valances being used too close to the ceiling so that the room seems not as tall, especially in MLS photos?
Dirty/Dusty/Wrinkled – Have the window coverings been neglected for a while? Will they make it appear as if the homeowners have not properly maintained their house?
Size/Length – Are the window coverings not properly sized for the space or are they hung too high or too low?
Outside Appearance – When looking at a home from the outside, are there multiple colors showing through the windows or do all windows have a consistent look?
Value – Do the window coverings add value to the home or are they considered permanent fixtures? For example, wood shutters mounted inside window frames.
Before: Oversized, heavy curtains make the room feel small and dark. After: Simple sheers hide a view of the neighbor's brick wall while allowing plenty of light and the rooms feel larger.
Note: When Should You Skip The Draperies? When selling a luxury home, window coverings are definitely more of a must/expected by buyers. However, the same questions above will apply in order to decide whether they stay, get removed or should be updated.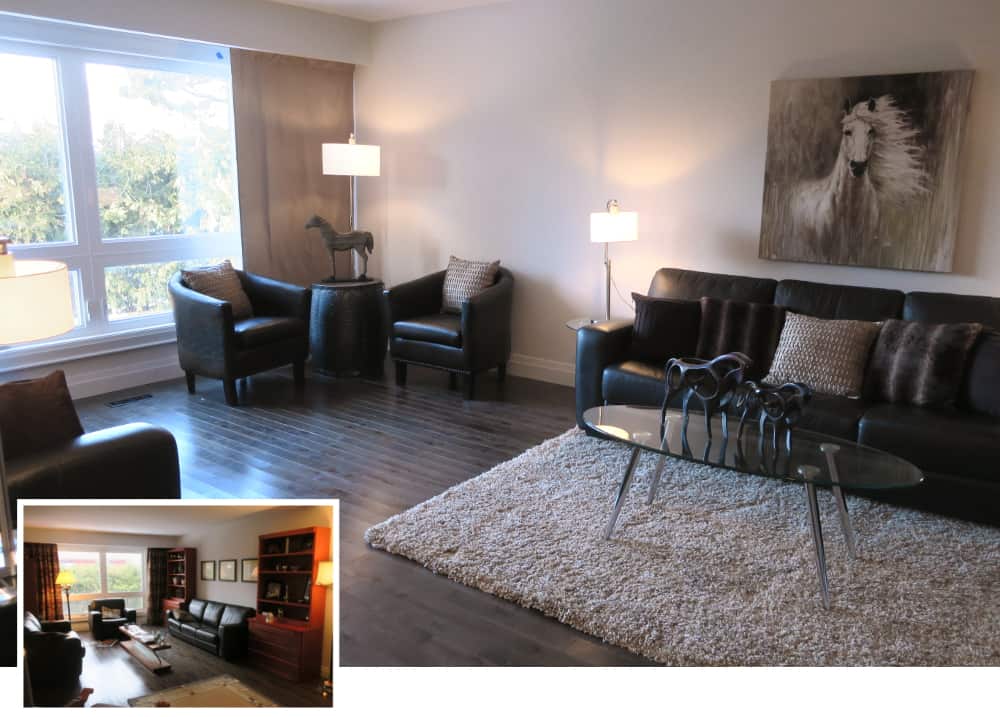 Before: Dark, heavy drapes make the window feel smaller. After: Light-colored, simple drapes still provide a finished look while keeping the focus on the view.
When Should You Skip The Draperies? Finally, if the homeowner is intending to take any window coverings with them when they leave it is a good idea to remove items prior to showing the home to avoid confusion on what is included in the listing. Window coverings that are left up are typically considered part of the home sale.
For more great ideas, click here.
For more unique items for your home, click shopCHT.com
The following two tabs change content below.

After spending close to 20 years either in or serving the corporate world, and helping friends and family decorate and renovate their homes, Laurie established Love This House in 2013, combining her desire to help people with a strong passion for home decorating. Laurie brings a wealth of knowledge to any work she does having extensive educational degrees (Bachelor & Master Science (Chemistry), Master Business Administration (Marketing), Culinary Arts and certifications (Certified Staging Professional, Certified Colour Consultant, Residential Renovation Project Manager, Eco Professional (Energy efficiency/Universal Design, Downsizing Specialist, Senior Move Manager).

Latest posts by Laurie Usypchuk (see all)