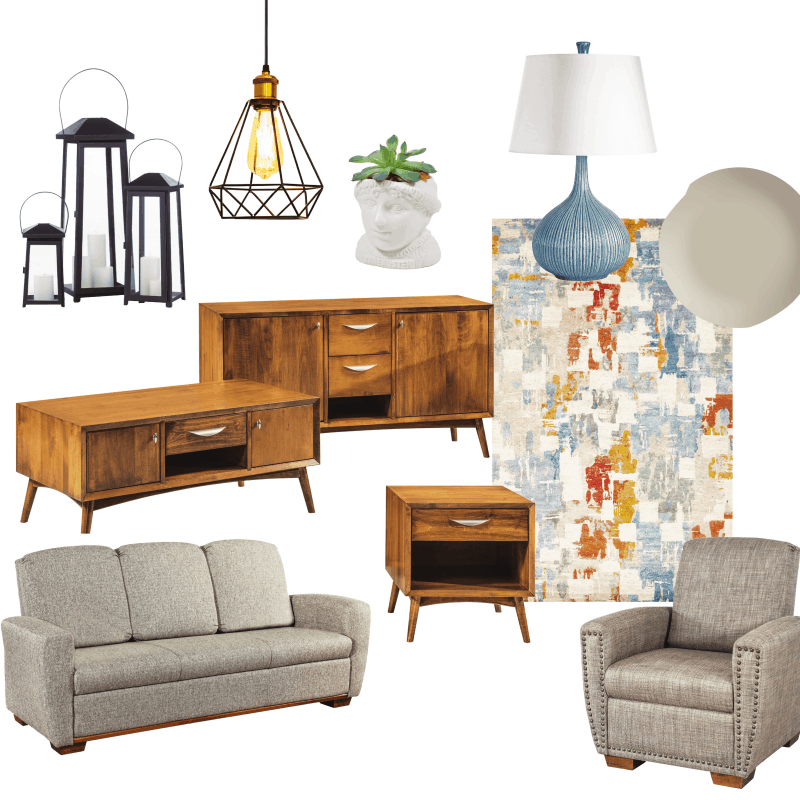 Welcoming Family Room Designer: Marc Atiyolil, Editor-in-Chief, Canadian Home Trends Magazine and Co-Host, Marc & Mandy Show
Welcoming Family Room Description: A family room should be comfortable and fun, but that doesn't mean it can't be stylish! The key to creating the perfect family room is to balance style and function and infuse a touch of whimsy for a truly personalized space.
Selecting a neutral sofa and chair creates the perfect starting point for a versatile space. This set from Signature Fine Furniture offers classic comfort with modern, clean lines for a look that is both stylish and cozy! To bring natural warmth into the room, we selected warm natural wood tables that also offer plenty of storage to help hide clutter, a must for any family room.
To visually offset the heavier feel of the furniture pieces in the room, we choose lighter pieces for accents and accessories. Selecting furniture with legs, allowing you to see more of the floor, also helps to give the space a lighter, more airy feel.
Finishing the look with plenty of texture, soft color accents, a hint of black and a touch of whimsy creates a fun, inviting and stylish room the whole family will love!
Welcoming Family Room Sources:
The following two tabs change content below.

Marc Atiyolil is the editor-in-chief of the home décor publication, Home Trends Magazine. His charismatic, down to earth approach can be seen first hand as the co-host of the Marc & Mandy Show airing on networks across North America. His mantra, "Be bold, be different, be unique – Yet keep it simple" is reflected in all of his work. Marc is an avid promoter of breaking down the myths of design and offering simple alternatives to complicated design processes.

Latest posts by Marc Atiyolil (see all)