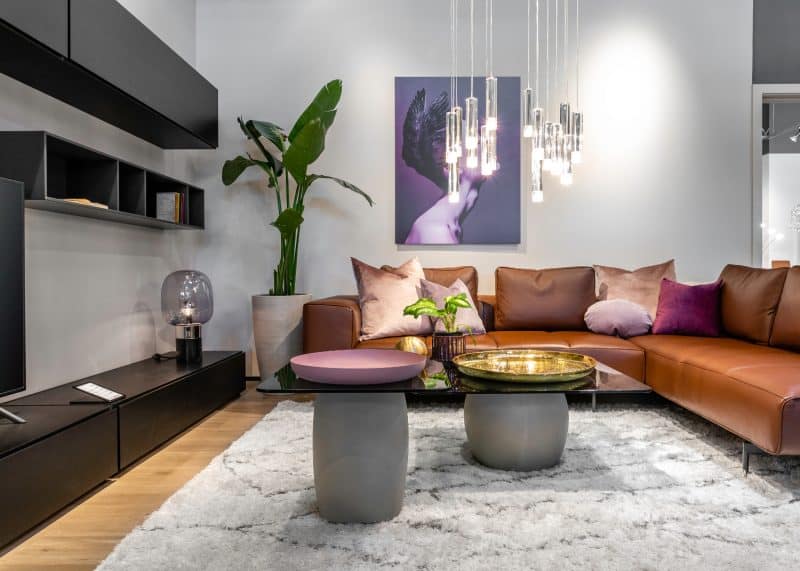 Modular Sofa Refresh with Karla Dreyer. The star of this refresh is a modular, brown leather Amsterdam sofa. The goal was to create a fresh and light look. This beautiful space shows that even if the bigger elements in the room feel darker, you can still add lighter elements to freshen it up. The first step was to pair the sofa with a textured area rug that has an almost shag look to it which really softens the space.
The brown leather of this sofa works well as a neutral which gave us the freedom to be creative with color selection. I fell in love with the bold and beautiful art piece which we hung off-center for added drama. This became the jumping off point for the color palette. I then selected a variety of cushions in various shapes and sizes within the mauve/blush/purple color family. A great way to create a unified color scheme with visual interest is to select one color you love and then add in different shades of the same color. I continued the same color theme in a few handpicked accessories and added a touch of gold for a bit of glam.
Overall, this modular sofa refresh is a lesson in less is more. Adding a few carefully selected, bigger, bolder items rather than a lot of little items resulted in a space that is fresh and modern. To finish the look, a large plant in the corner adds life and freshness to the room while keeping with that same large scale theme.
Design by Karla Dreyer, www.karladreyerdesign. com; Photography by David Kimber, www.kimberimages.ca; Amsterdam, BoConcept, www.boconcept.com; Furniture and Accessories, BoConcept,
www.boconcept.com
For more great ideas, click here.
For more unique items for your home, click shopCHT.com.
The following two tabs change content below.

Karla is an award-winning Interior Stylist who believes in living authentically at home and in life. Her work has been featured in ELLE Magazine, Style at Home Magazine, Rue Magazine, Design*Sponge, Western Living, Modern Sanctuary and Vancouver Magazine. She is a regular guest expert on City TV's Breakfast Television, CBC, produces the reoccurring "How to Style" series on the Marc and Mandy Show, and for Canadian Home Trends Magazine. She has been awarded Best of Houzz Design, Customer Service, and the Influencer Award. She also produces a weekly You-Tube Show with Design Tips & DIYs.

Latest posts by Karla Dreyer (see all)