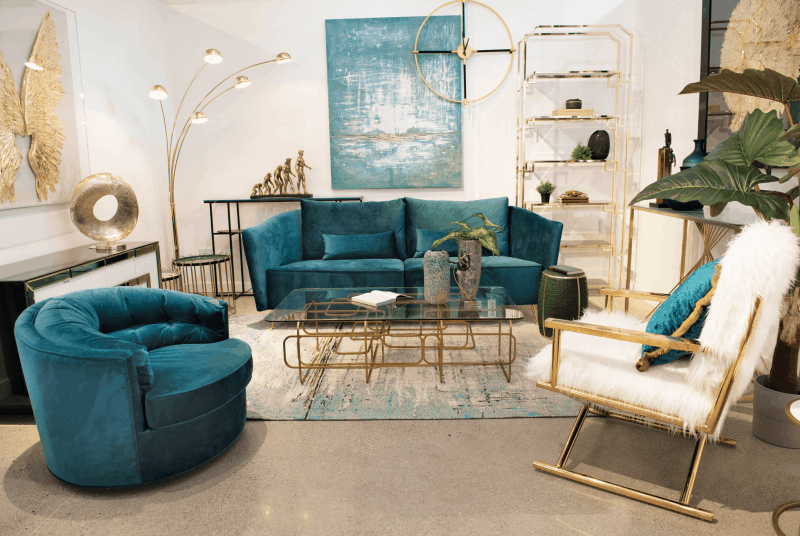 This Refresh is all about committing to color! Color, and how it is used, can determine the look and feel of a space. Much like in fashion, using colored furniture in all the same colors creates a very sleek and sophisticated look even with the use of vibrant colors. In this space, we pulled together a mix of materials in velvet, high gloss, textured art and sculptures. – Designer Karla Dreyer
WALL ART: Wall art can add a dramatic touch to a space. In this space, the contrast of gold on black versus gold on white adds visual interest across the space along with glam, texture and a touch of whimsy.
CURL UP: A cosy chair in a luxurious velvet makes for the perfect place to curl up with a good book after a long day!
CREATE YOUR OWN WALL ART: Layering pieces over each other, like this art piece and wall clock, creates a unique and eye catching touch.
THE HUMAN CONDITION: Décor can be more than just pretty. Décor can evoke emotion, promote ideals and encourage discussion as well. These fantastic pieces add a decorative touch but also speak to strength, support, community and human condition!
SMART ACCENTS: Accent furniture and décor in black and gold help to ground the space and add a sophisticated touch of glam. A console table is a great choice for a living space as it adds the decorative touch of a table with built-in storage as well!
Furniture and Accessories: Kare Design Vancouver

The following two tabs change content below.

Karla is an award-winning Interior Stylist who believes in living authentically at home and in life. Her work has been featured in ELLE Magazine, Style at Home Magazine, Rue Magazine, Design*Sponge, Western Living, Modern Sanctuary and Vancouver Magazine. She is a regular guest expert on City TV's Breakfast Television, CBC, produces the reoccurring "How to Style" series on the Marc and Mandy Show, and for Canadian Home Trends Magazine. She has been awarded Best of Houzz Design, Customer Service, and the Influencer Award. She also produces a weekly You-Tube Show with Design Tips & DIYs.

Latest posts by Karla Dreyer (see all)