Designer Karla Dreyer shares tips for designing or updating your kitchen!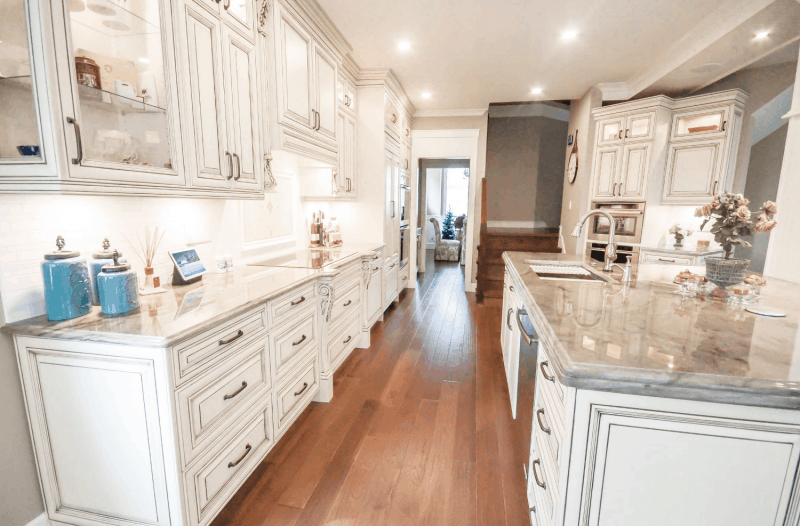 THIS LOOK: When it comes to creating a timeless, luxurious kitchen, nothing beats the look and feel of custom furniture-style cabinetry! In this kitchen, it's all about details. From framed cabinet doors to stunning moldings and elegant hardware, every aspect of this kitchen is meticulously thought out to create a stunning space you'll love for many years to come.

Elite Kitchen & Bathroom
CREATE A NEEDS LIST
Consider how you function in your kitchen. For example, do you have a large family and mostly cook at home? Do you need a large fridge or do you love cooking and a gourmet stove is important to you? Is having a large kitchen island you can sit around a priority? Knowing how you live in the space and what is most important will help in making decisions on where to spend and where to splurge.
A FUNCTIONAL FLOOR PLAN
You will need to have a detailed floor plan drawn up so that you can get a sense of the flow of the kitchen. Is that dreamy 10 foot island going to fit? Each home and floor plan are unique. Is it an open space? How does the 'working triangle' look in your kitchen?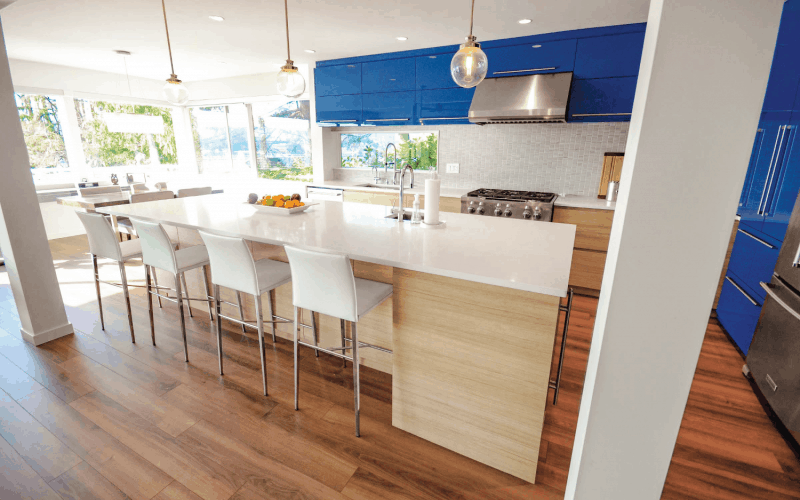 THIS LOOK: This kitchen, which won a 2020 CHBA Award for Best Kitchen Renovation, is the perfect example to show that a sleek, modern kitchen doesn't have to be boring! Glossy blue cabinets mixed with pale wood tones and a gorgeous backsplash create a stunning space that is bright and airy with just the perfect amount of fun!

Elite Kitchen & Bathroom
MATERIAL SELECTION
It's important to have an overall plan of how the materials work together. For example, you will want to see how the cabinet style and color, work with the backsplash tile and countertop. Knowing your style is a great start but it's important to make sure you love the materials going into your kitchen. Also consider other decorative items at this time such as pendant lighting and bar stools.
PATIENCE
Kitchen renovations can definitely be a lesson in patience as during the renovation we don't have access to the room in our home we use the most. Keep your eye on the long-term plan and know you'll be enjoying a kitchen you love that suits your needs and aligns with your style.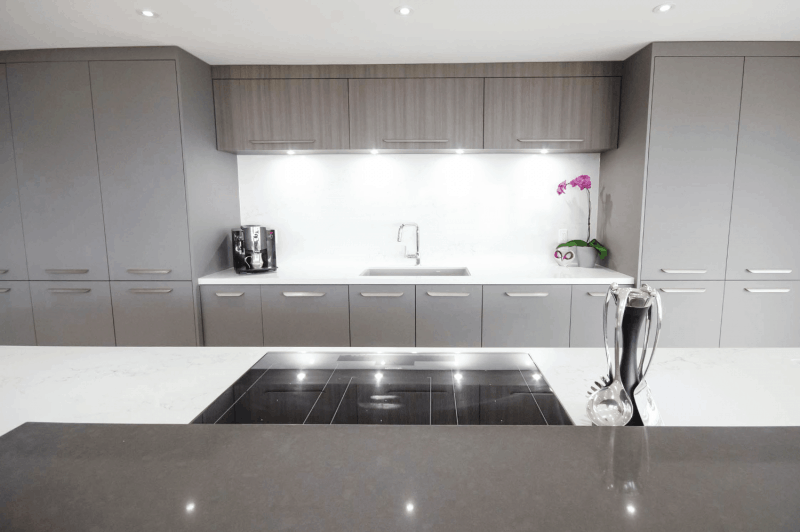 THIS LOOK: Over recent years, high gloss flat panel kitchens have been a popular choice but today, many homeowners are choosing a more subtle matte finish that offers that modern, minimalistic look without the constant fingerprints that are a concern with high gloss finishes!

Elite Kitchen & Bathroom
The following two tabs change content below.

Karla is an award-winning Interior Stylist who believes in living authentically at home and in life. Her work has been featured in ELLE Magazine, Style at Home Magazine, Rue Magazine, Design*Sponge, Western Living, Modern Sanctuary and Vancouver Magazine. She is a regular guest expert on City TV's Breakfast Television, CBC, produces the reoccurring "How to Style" series on the Marc and Mandy Show, and for Canadian Home Trends Magazine. She has been awarded Best of Houzz Design, Customer Service, and the Influencer Award. She also produces a weekly You-Tube Show with Design Tips & DIYs.

Latest posts by Karla Dreyer (see all)