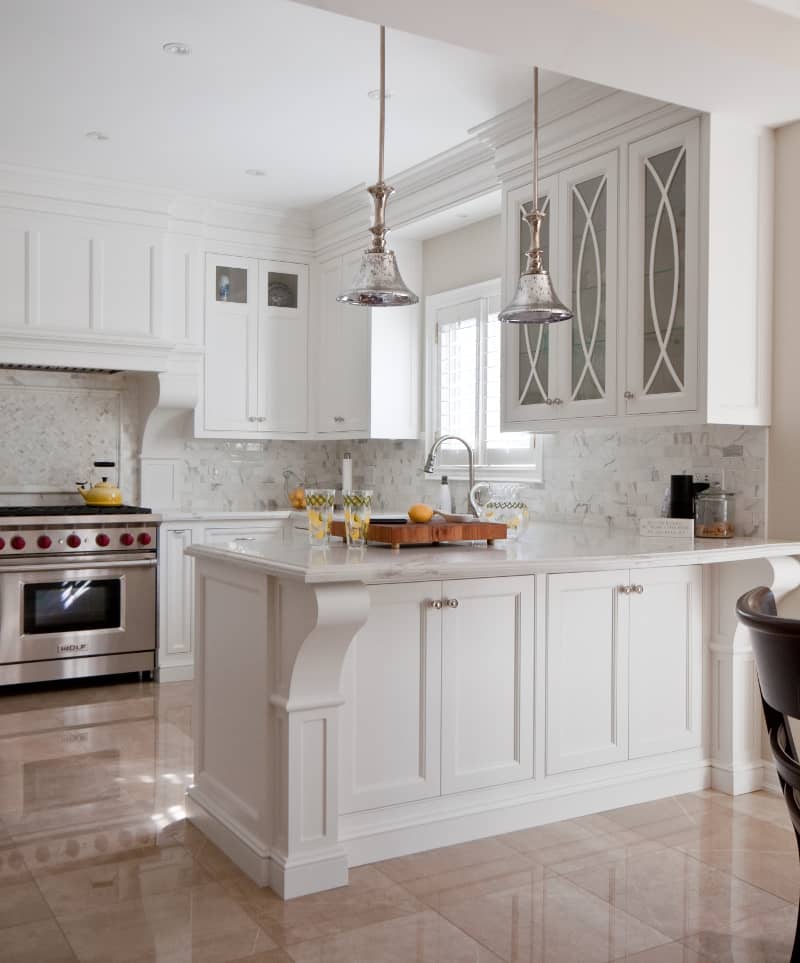 Designer Jack Creasy creates a small kitchen that feels majestic and offers creative storage options.
Before:                                                                                                    After: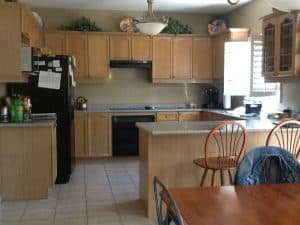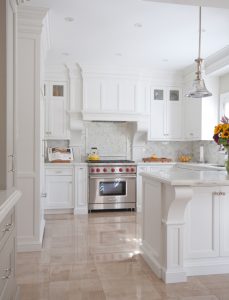 CANADIAN HOME TRENDS CAN YOU TELL US ABOUT THE HOMEOWNERS VISION FOR THIS RENOVATION?
JACK CREASY The homeowner had an outdated kitchen that was lacking in storage. They had their hearts set on adding an island as a design feature in the new kitchen but space was tight and the existing layout worked well. As they say; "if it's not broke, don't fi x it." Instead, the decision was made to use custom built, furniture style framed inset cabinetry to achieve an elegant look with plenty of detail while adding creative storage options to make the best possible use of the available space.
CHT CAN YOU EXPLAIN HOW YOUR DESIGN COMPENSATED FOR THE SMALL SPACE?
JC The cabinetry was taken all the way up to the ceiling with beautiful big crown molding to give a grand look that is both proportional and majestic which is hard to pull off in a small space. While the peninsula made more sense than an island, we designed and detailed the peninsula based on an island they loved in the Bloomsbury showroom. With great storage on the working side and chunky brackets with a decorative base on the seating side, the peninsula feels more like a fabulous island!
CHT WHAT STORAGE OPTIONS WERE INTEGRATED INTO YOUR DESIGN?
JC The taller cabinets actually add an extra shelf all around the room and the decorative posts beside the range are actually pull outs for additional storage. We also added a swing out accessory to the corner cabinet for easy storage for large bowls and pots.
Designer Jack Creasy, Senior Designer and Project Manager, Bloomsbury Fine Cabinetry
Custom Cabinetry, Bloomsbury Fine Cabinetry
Refrigerator, SubZero
Range, Wolf
Microwave, Panasonic
The following two tabs change content below.

Rhonda Thornton, Principal of
Bloomsbury Fine Cabinetry
, is an accomplished Kitchen Designer with over 17 years of residential kitchen design and planning experience. Bloomsbury Fine Cabinetry is a leader in design and manufacturing of truly Custom Cabinetry, specializing in the art of Bespoke English-Style cabinetmaking, built to with stand the test of time and trends. Rhonda has collaborated on well over 500 kitchen projects and has had the privilege to contribute her expertise to some of the most stunning homes and cottages in the GTA.

Latest posts by Rhonda Thornton (see all)