The highest price house in the area, this home had been on the market for over 3 months with only a few very low offers. Once the house was updated and staged, it sold in just 5 days at 98% of list price. The biggest difference? A fresh coat of paint!
The Kitchen Before: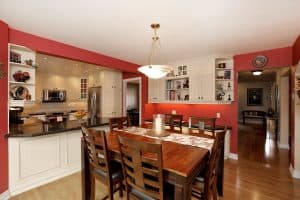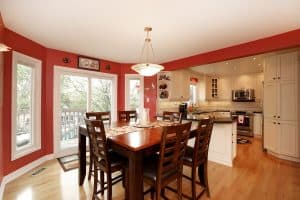 Paint is one of the easiest/greatest value additions to any home. It makes the greatest impact with the least cost and time invested. Paint has the power to enhance or detract. When selling a house, it needs to enhance the key selling features of a house. A newly renovated kitchen is one of the top key selling features of any house. When buyers see "work" they immediately see cost/$. They also tend to overestimate the cost and time that will be involved in doing the work which translates into lower offers and more time on the market. In this house, the red paint color was detracting rather then enhancing the beautiful kitchen.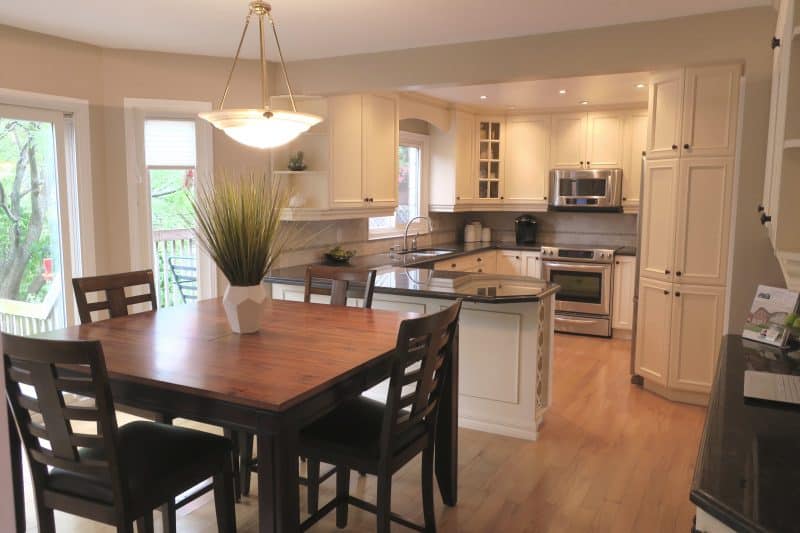 Red is a very strong color and it is known to increase appetites when used in eating areas. However, it is very polarizing color; you either love it or you hate it. It also has many cultural interpretations in terms if its meaning. Definitely not universally appealing which is what we strive for in preparing house for sale. Red paint is also known for being extremely hard to cover up, often requiring multiple coats to keep the color from bleeding through. This just adds to the feeling of "work". Dark paint, especially near ceilings, tends to make the ceilings come down in appearance, making rooms look smaller. This is especially true when used on bulkheads.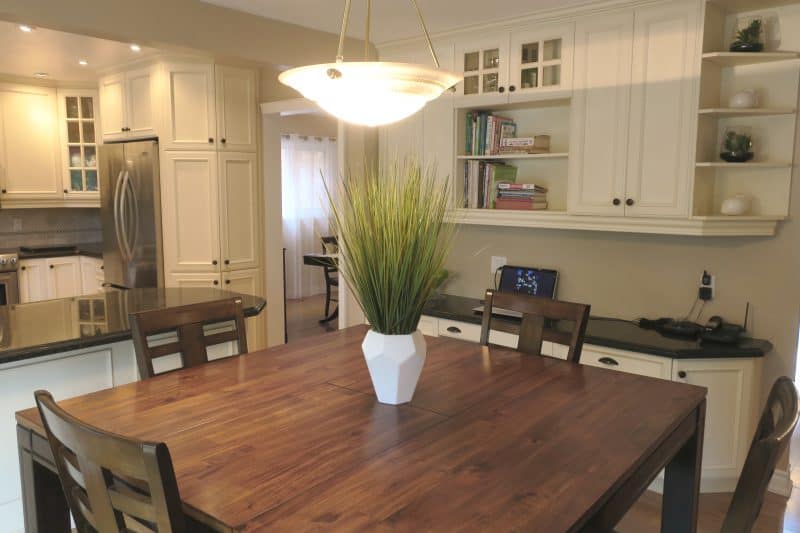 Tip: When selecting a color, you need to consider how the paint looks in all types of lighting (natural vs. artificial) and throughout the day. You also need to consider how it changes the color of items situated next to it. The reflection of the red paint actually made the square table look more red rather then its true color.
The following two tabs change content below.

After spending close to 20 years either in or serving the corporate world, and helping friends and family decorate and renovate their homes, Laurie established Love This House in 2013, combining her desire to help people with a strong passion for home decorating. Laurie brings a wealth of knowledge to any work she does having extensive educational degrees (Bachelor & Master Science (Chemistry), Master Business Administration (Marketing), Culinary Arts and certifications (Certified Staging Professional, Certified Colour Consultant, Residential Renovation Project Manager, Eco Professional (Energy efficiency/Universal Design, Downsizing Specialist, Senior Move Manager).

Latest posts by Laurie Usypchuk (see all)